G Flip's Flirtatious New Music Video With Chrishell Stause Is Getting Mixed Reactions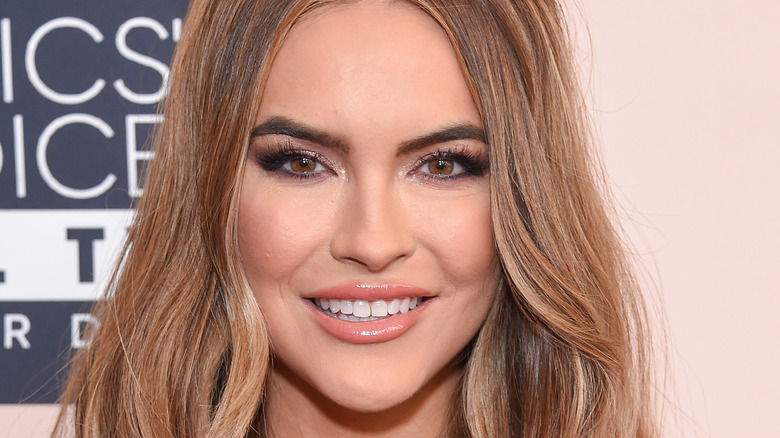 DFree/Shutterstock
Just a day after Chrishell Stause posted an emotional Instagram video shedding more light on her relationship with G Flip, saying in part "it's about the person" and their "heart," the much-buzzed-about music video on which the couple met has dropped. The song, which showcases G Flip both singing and drumming, is called "Get Me Outta Here" and features some heavy making out as well as Stause looking more sexy than we are used to seeing the "Selling Sunset" star.
Although fans saw a brief clip of the video on the Netflix show's season 5 reunion, during which Stause also confirmed her relationship with the non-binary star she refers to as G, this is the first time we've gotten to see the entire thing. And let's just say that the steamy footage is getting some mixed reactions — both from people who are shocked to see this side of Stause and from those who applaud her participation in the project and her new romance.
Commenting to the YouTube video of "Get Me Outta Here," plenty of fans shared their positive feedback. To be fair, one person admitted what many of us may have been thinking by saying, "[I] wasn't properly prepared for that at all." Still, many fans couldn't help but notice how authentic the connection between the duo seems to be.
Many fans are there for Chrishell Stause in G Flip's new video
Fans got a chance to see the full-length "Get Me Outta Here" music video for the first time on Thursday, which features a very sexy Chrishell Stause and a lot of lip locking between the "Selling Sunset" realtor and her new partner, G Flip.
Taking to the comments section of YouTube, one fan had an inquiry that most of us are also wondering, writing to the artist, "Questions for G – Was the chemistry instant for the two of you? Chrishell is an actress but this seems like more [than] acting." Many other fans agreed with the observation that the chemistry between the stars was evident. As one commenter noted about the feel of the video: "chemistry is on point."
But fans were divided about Stause showing a sexier side of herself, with one person praising her and declaring, "I love thissss so hot and also love this for Chrishell!!!" But someone else said the video doesn't reflect the realtor's personality at all, while another non-fan demanded to know what she was even doing.
Meanwhile, over on Twitter, the video was mostly gaining accolades with someone simply calling it "amazing." Another fan felt the video was "stunning and brave."