Camryn Grimes And Cait Fairbanks Preview The 'Teriah' Wedding On The Young And The Restless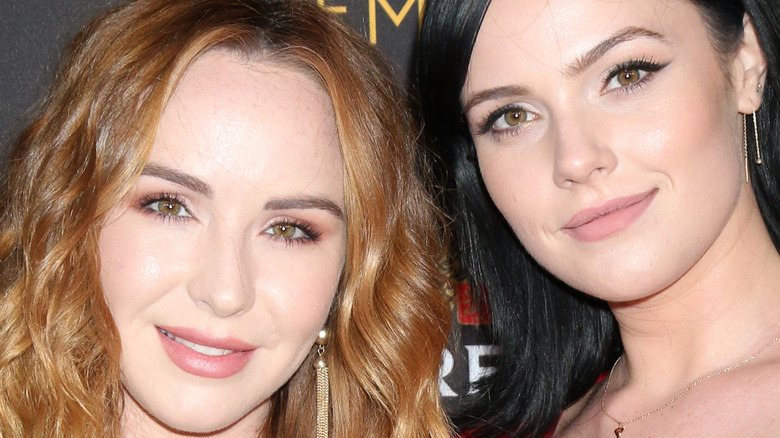 Kathy Hutchins/Shutterstock
When Mariah Copeland and Tessa Porter marry on "The Young and the Restless" on May 13, it will be a long time coming for fans of this couple that first got together in 2017. The two women, who had always thought of themselves as heterosexual, started out as friends but eventually realized they had feelings for one another (via Soaps In Depth). After much soap opera angst, they fell in love and moved in together, with fans clamoring for a "Teriah" wedding ever since.
Although Mariah's stepfather, Rey Rosales (Jordi Vilasuso), was just killed in a car crash when he had a heart attack behind the wheel (via Soaps.com), her mother, Sharon Rosales (Sharon Case), insisted she and Tessa still go ahead with their planned wedding date of Friday the 13th. With a date like that, the wedding is sure to be unique and actresses Camryn Grimes and Cait Fairbanks are excited to be a part of it. They also offered a preview of the event and what might come after.
Camryn Grimes and Cait Fairbanks know they're making 'history'
The long-awaited Mariah-Tessa wedding will be the first LGBTQ wedding the 49-year-old "The Young and the Restless" has ever aired and both Camryn Grimes and Cait Fairbanks understand the gravity of that milestone.
"It's a lot of pressure, but for us it was just like another day at work," Grimes told ET Canada. "And then ... the enormity of it hits you and you realize what is being taped is ... I mean it is ... it's history."
For Grimes, it will also be a first for her on the soap she has called home since 1997. The actress was only a child when she joined "Y&R" as Cassie Newman and played her until 1985 when the character was killed as a teen. Although Grimes made appearances as Cassie's ghost, she didn't rejoin the soap regularly until 2014 when Cassie's heretofore-unheard-of twin, Mariah Copeland arrived in town (via Soaps In Depth). After spending so much of her life on the CBS soap, the recently-engaged Grimes finally gets to have an on-screen wedding.
What comes next for Mariah and Tessa?
While the wedding promises to be a quirky affair with both brides wearing traditional white dresses with flowers adorning their hair (via People), that doesn't mean it will be happily ever after for Mariah Copeland and Tessa Porter on "The Young and the Restless." This is a soap opera after all, and happily ever after often means boring with very little airtime and drama to play.
"It is a soap opera, happiness doesn't always..." Camryn Grimes started, while talking to ET Canada, with Cait Fairbanks interjecting with the blunt truth about bliss and daytime pairs. "It's the kiss of death," she said.
However, Fairbanks welcomes the drama that is sure to ensue for Mariah and Tessa after they say their "I dos."
"It's kind of exciting and it's also just a part of being on a soap," Fairbanks said. "If we get the grace to be just like every other couple on the soap, I think both of us are very excited about it."