An Important Bridgerton Role Is Being Recast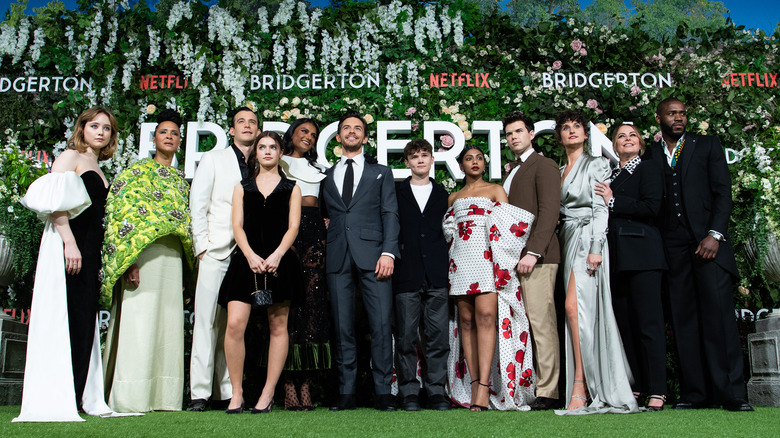 Jeff Spicer/Getty Images
The internet has been buzzing about Netflix's "Bridgerton" since its first season, with fans obsessing over everything from its elaborate costumes to its stellar casting. While critics might not have enjoyed the second season, the show still has a dedicated fanbase thanks to its wild, sex-filled approach to historical romances.
The series, based on books written by author Julia Quinn, follows one family in Regency-era London. Each book — and subsequent season of the show — centers around a different Bridgerton sibling. However, there's one member of the family even the most diehard fans of the show might not be able to tell you much about: The second-oldest daughter, Francesca. That's because she only had a few brief appearances across the first two seasons of the show before vanishing from the story, according to Deadline.
Fans are still trying to figure out which Bridgerton sibling will take center stage in the third season, but even if it isn't Francesca, Netflix has decided to make some changes for her role. According to a recent announcement, Netflix is recasting the character of Francesca Bridgerton ahead of Season 3. Current actress Ruby Stokes will step down from the role — she will be replaced by actress Hannah Dodd (via Deadline).
What sparked the change?
Jeff Spicer/Getty Images
Francesca Bridgerton is hardly a main character in the popular Netflix series. Even in the original stories, she doesn't get her chance in the spotlight until the sixth book (via Deadline). However, Netflix did make an effort to show her more in Season 2 of "Bridgerton,"  at least until the third episode. As Deadline reports, Francesca vanished completely after that point. The recasting issue apparently had nothing to do with the talents of current actress Ruby Stokes, or with the character of Francesca herself. In fact, the change appears to be related to a schedule and timing issue. Stokes was signed on as a lead for the Netflix show "Lockwood & Co.," which took her away from "Bridgerton," per Deadline.
The decision to recast might mean we'll see more of Francesca in Season 3, even if you don't recognize her at first. According to Variety, British actress Hannah Dodd is stepping into the role following her successful appearances in projects like "Anatomy of a Scandal" and "Find Me in Paris." Netflix describes Francesca as "reserved," with a lot of "dry wit and pragmatism," (per Variety). So, she'll likely provide some contrast with her more outgoing and dramatic siblings!