Behind-The-Scenes Photos Of Jessica Biel And Justin Timberlake Have Fans Going Wild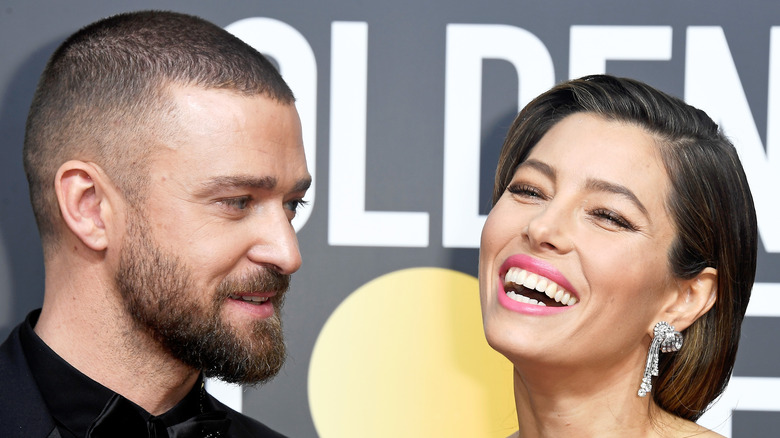 Frazer Harrison/Getty Images
Working on a true crime series has to be taxing, but if you've got the right people on set with you, it can be surprisingly rewarding too. In an exclusive interview with The List, Melanie Lynskey revealed what it was like working with Jessica Biel in "Candy," the new Hulu show about real-life murderer Candy Montgomery. Describing her co-star as "very surprising," Lynskey raved, "I just was always taken aback at the choices she was making. It was always something that felt really fresh and interesting." 
The "Yellowjackets" star continued, "It's all you can ask for as an actor, a scene partner who is going to go wherever you are going, and surprise you in the moment, and be present. And she's all of that, she's just so talented. I really loved working with her." The story clearly resonated massively with both performers, with Biel telling Entertainment Weekly, "Some of the themes definitely were rage. Undervalued is a great word ... Loneliness, rage, and I think this societal pressure and need for perfection." 
Lynskey agreed, pointing out how important it is to put a story like this onscreen, featuring two flawed women who respond to their situations in life in drastically different ways (it all culminates, of course, in bloody violence). Behind the scenes, though, the cast had a blast, particularly when Biel's husband stopped by for a meet-cute that had fans swooning.
Justin Timberlake plays the investigating officer in Candy
Justin Timberlake and Jessica Biel live an insanely glamorous life so it's clear they've already earned a decent amount between the two of them. But, that hasn't stopped fans gushing over the novelty of seeing the super hot celebrity couple teaming up on a project. Timberlake took to Instagram to share some behind-the-scenes shots from the set of "Candy," the Hulu series in which his wife portrays a real-life murderess. The pop star plays one of the cops investigating her, complete with era-appropriate mustache.
"Belly's fake, hair's fake, mustache is real. Meet Diffy," Timberlake captioned the sweet shots. Chrissy Teigen was sold, writing, "Whoa watching right now!" while "Scandal" star Kerry Washington trilled, "YES TO THIS" and fellow actor Mary Steenburgen gushed, "You guys look amazing!" Fans were just as enthused, with one noting the show had instantly jumped to the top of their watchlist. Likewise, another shared, "This just made me even more excited to watch! Can't wait to see you working with your incredibly talented wifey!" 
Funnily enough, as EW notes, the actor playing Timberlake's partner in "Candy" is Jason Ritter, Biel's co-star, Melanie Lynskey's, real-life husband. Biel clarified Timberlake's appearance wasn't planned, sharing how he read the script and really responded to the character. "We told him, 'We can't pay you,' and he goes, 'I don't care about getting paid. I just want you to pay for my wig and I want my prosthetic belly,'" she recalled.