Matt Damon Is Getting Royally Roasted For Appearing In This Ad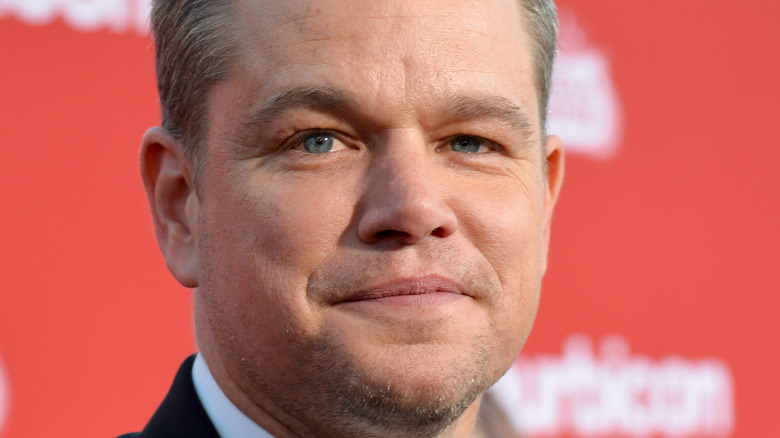 Featureflash Photo Agency/Shutterstock
The Super Bowl has become a must-see event not just for the football game itself, but also for the ads that fill the time between plays. Over the years, Super Bowl commercials have evolved from simple beer and car sales to full-out productions featuring A-list stars. From Matthew McConaughey shilling for Doritos to Dolly Parton and Miley Cyrus touting T-Mobile (via Fox Sports), it seems that no product or celeb is off limits. But it looks like one actor may live to regret the day he agreed to promote a once-promising company.
Matt Damon — yes, the Matt of "Good Will Hunting," "Saving Private Ryan," the "Bourne" and "Ocean's Eleven" series, and the upcoming "Thor" movie — starred in a 2022 Super Bowl ad for Crypto.com. The spot (seen here on YouTube) featured him walking through a gallery showing explorers, mountain climbers, one of the Wright Brothers, and astronauts about to board a shuttle. "History is filled with 'almosts,'" he intoned. "With those who almost adventured, who almost achieved, but ultimately, it proved to be too much." Damon praised the "mere mortals, just like you and me," who face the thrilling unknown "with the four simple words that have been whispered by the intrepid since the time of the Romans: Fortune favors the brave."
The message: Crypto is uncharted financial territory, but you can be a brave pioneer and risk investing in it. Well ... it seemed like a good idea at the time.
Selling cryptocurrency may not have been a good move for Matt Damon
At the time Matt Damon filmed his Crypto.com Super Bowl ad, the cryptocurrency boom was in full swing. The idea sounded promising to folks who either didn't trust the banking system, or who just liked the idea of being able to invest in virtual money. The idea behind crypto, according to Kaspersky, is to find a platform like Crypto.com, buy the crypto with traditional money, and then either use it for regular purchases or hold onto it as an investment.
By spring 2022, the cryptocurrency bubble was going bust. Per Time and other sources, Bitcoin's price plunged below $30,000 — a 40% drop since 2020. An essay for Substack quoted experts saying that crypto wasn't much better than an MLM like Beachbody: Only people who got in at the bottom of the craze were likely to see any profit from it.
Social media has been mercilessly bashing Damon for promoting such an unreliable product. A punster quipped, "Matt Damon's crypto shill ad should have been called Bourne Yesterday." Another noted, "Matt Damon isn't sweating that Super Bowl ad urging you to invest in crypto — after all, Matt got paid in good old fashioned U.S. dollars."
One tweet blasted the ad's message about courage. "In retrospect, the funniest thing about the Matt Damon crypto commercial was that it was linking crypto investors to early explorers wandering through the unknown," they said. "Well guess what ... a whole lot of explorers died exploring!"