Kendall Jenner's Failed Attempt To Cut A Cucumber Is Giving Twitter Something To Live For This Week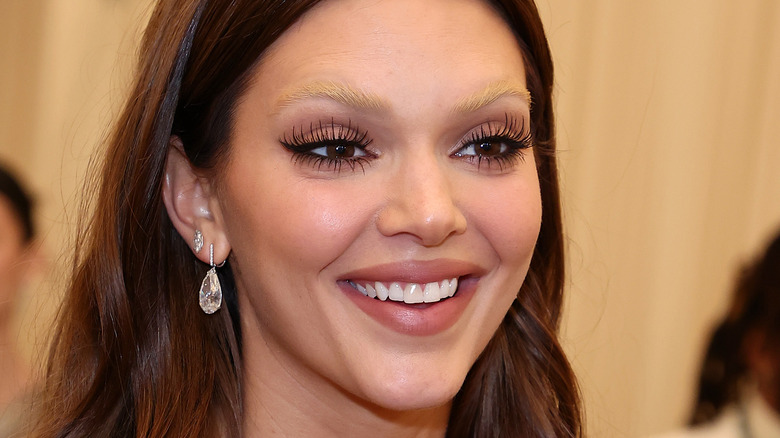 Arturo Holmes/mg22/Getty Images
If you watched episode 5 of "The Kardashians" on Hulu, you saw a lot of drama, from Kourtney Kardashian lamenting over her broken engagement ring, to Kris Jenner and Scott Disick trading heated words over his not being invited to her birthday dinner. But what Twitter is still talking about is Kendall Jenner's miserable attempt to prepare herself a snack.
The curious moment took place while the model was visiting her mom. The 26-year-old brushed off the family matriarch's attempts to get a chef to help her and instead, commenced trying to chop up a cucumber on her own. Now, the Kardashian/Jenner family has everything, from mansions, to expensive cars and designer wardrobes. But what fans learned in this telling moment is that they may lack basic life skills given their privileged upbringing.
And after watching Jenner fail at cutting up a vegetable, floundering with the knife like she'd never held one before, well, Twitter is having a field day.
Twitter wants to be so rich they can't cut a cucumber like Kendall Jenner
Since Twitter loves to dissect everything the Kardashians and Jenners do, of course users were living for Kendall's sloppy attempt to cut up a cucumber, with one person calling the moment the most tragic thing ever. The good news is that the reality star didn't disagree with this assessment, retweeting that indeed her snack prep skills are "tragic."
Although the Hulu star seems to have a sense of humor about her knife skills, that doesn't mean fans let her off the hook and instead kept talking about the now-viral moment. "Obsessed with Kendall Jenner trying to prove she's not an out of touch spoiled rich girl by insisting on making her own snack and almost dislocating her shoulder trying to slice a cucumber," one fan tweeted.
Other viewers agreed that the kitchen fail just showed how out of touch Jenner is, while some were calling out Kris Jenner for asking a chef to chop up a cucumber for a grown woman.
Still, other fans had fun with the telling incident, with one person tweeting, "kendall jenner not knowing how to cut a cucumber is the level of rich i aspire to be." 
Hey, we're just glad she didn't hurt herself!