Christina Hall And Heather Rae El Moussa Prove They Really Have Moved On From Their Fight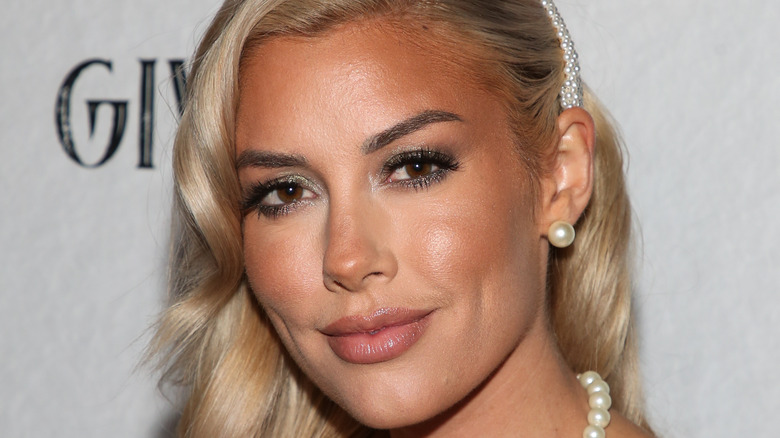 Paul Archuleta/Getty Images
Following a weekend face off between Christina Hall and Heather Rae El Moussa, it seems all is well. In case you missed it, the HGTV star, who shares two children, Taylor, 11, and Brayden, 6, with ex-husband Tarek El Moussa, and the "Flip or Flop" star's new wife seemingly got into a heated argument while attending Brayden's soccer game. The Daily Mail photographed what looked like a tense standoff between the two women, with the dad of two having to step in and remove the "Selling Sunset" star from the situation.
Later, Hall's new husband Joshua also got involved, seeming to exchange words with her ex. At one point, the Daily Mail claimed the child's soccer coach had to break up the feud, although, things never got physical at any point according to the outlet.
This was the same day that Brayden fell ill and was eventually hospitalized, having to undergo emergency surgery. Per his famous mom's Instagram Story, the incident was a good wake up call and forced the co-parents to focus on what's important. The couples even issued a statement to assure fans they had resolved the issue and were moving forward.
Now, to drive that message home, both Hall and the El Moussas are sharing messages of unity on their social media.
Christina Hall and Heather Rae El Moussa post similar photos and captions
Just days after their public feud was splashed all over the news, it seems Christina Hall and Heather Rae El Moussa want their fans to know they are moving forward as a blended family. The two reality stars shared similar photos taken at an event at Taylor's school that featured the middle-school-bound little girl, and her two sets of co-parents: the Halls and the El Moussas.
Hall's caption was also similar to that of her ex's new wife, with the star writing, "Co-parenting 101. Kids come first. Taylor's open house. Next, on to middle school she goes. Brayden is recovering well and we are all grateful. It has been a very rough few weeks, ready for some peace."
Meanwhile, over on the "Selling Sunset" realtor's Instagram, she noted that in an effort to drown out the "noise," the "truth" had to be shared. "Co- parenting and doing what's right," the reality star added in her caption, also acknowledging the family had endured a "rough week." 
It's worth noting that Tarek also posted a photo of the blended family from the event. The only parent who had not yet joined in the effort to prove things are A-okay was Joshua Hall.