Does The TikTok Plastic-Wrap Makeup Hack Actually Work?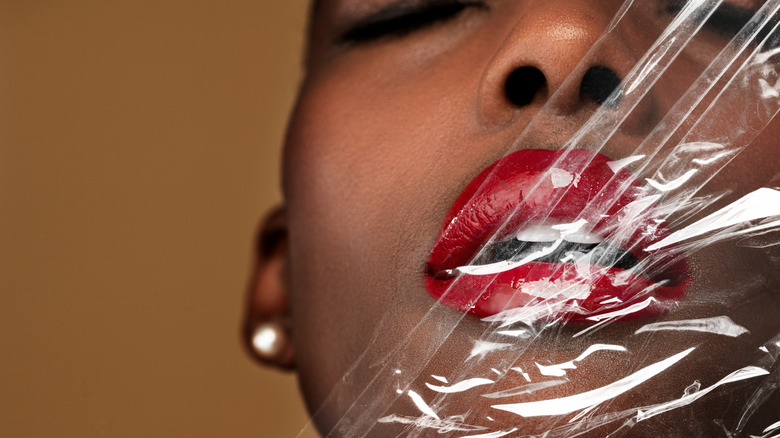 Rawpixel.com/Shutterstock
For every hour you scroll on TikTok, you'll potentially find a new way to clean your microwave, learn how to make a homemade bath bomb to add to your self-care routine or a book recommendation that promises to change your life. The video-sharing app is known to offer advice and hacks, no matter what side of the app you're on. If you're on #BeautyTok, you'll find wildlife hacks amongst the glitter ASMR edits and cinematic transitions from makeup artists.
You may have heard of people using lube as a makeup primer, spoiler alert — dermatologists don't recommend this (via The Cut), or you've seen influencers rubbing potatoes on their faces. Although most are outlandish, some products and hacks, like applying Vaseline to make your perfume last longer, really seem to work. This is why we continue to try TikTok hacks — you never know which one will work. A current trend on the app has something to do with covering plastic wrap all over your face. Read on to know if you should try the trend and whether it works.
Wear cling wrap before makeup
The TikTok plastic-wrap trend involves an extra step before you begin doing your makeup, and we're not talking about primer. To participate in this trend, you're going to need some cling wrap to place on your bare face. You may continue with your makeup routine but instead of putting the product on your skin, you're going to put it on the cling wrap. These products are ideally of a liquid consistency, and you don't want to blend them. After you've marked your cling wrap with makeup, place it on your face then blend it out.
This trend appears to have started with beauty TikToker Yazi Cole, whose video demonstrating the hack got over 9.6 million views. Some commenters were skeptical but others were excited to try it. Beauty influencer Mireya Rios tried her hand at it, with less than ideal results. Apart from the results, Rios warned her viewers, saying, "This is dangerous guys, I can't even breathe." PopSugar writer Renee Rodriquez also agreed in her review, "The hardest part about the entire experience was, well, breathing." Rodriguez also stated that the results "didn't look bad, but it didn't look great." In conclusion, this trend is for the curious.