Skincare Experts Explain What A Skin Hangover Is And How You Can Recover From One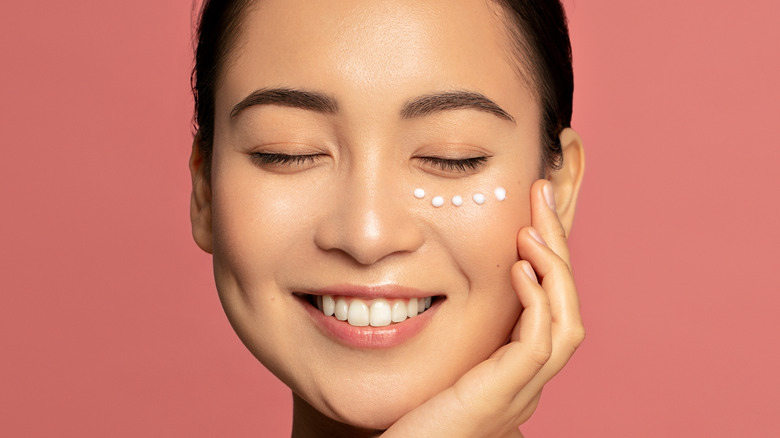 Beauty Agent Studio/Shutterstock
There's no mistaking a hangover from drinking. The feeling hits you the moment you wake up and is decidedly the worst feeling. Have you heard of a skin hangover, though? Drinking is one of the most well-known causes of depleted skin, but many other lifestyle factors can contribute to a lackluster appearance. Maybe you're having too many late nights and burning the candle at both ends. Perhaps your stress levels are at an all-time high. Or, you may be indulging a bit too much in greasy foods and sugary treats. Just like your usual day-after-drinking methods, all you need is a shower, coffee, and a few carefully selected morning skincare products to hide your hangover, right? Think again. 
When life gets off track, all you need to do is take one look in the mirror, and your skin hangover will be staring you right in the face. How can you tell if you're experiencing a skin hangover? Rebecca Nicholls, Global Learning and Development Specialist at Jurlique, explains that dullness, dehydration, fine lines, uneven skin tone, and a loss of radiance are telltale signs of this issue. These also serve as signs that your skin needs some serious help. Don't worry, though, skin recovery is in sight. The experts at the Australian-based natural skincare line Jurlique shared their tips and tricks for total skin rejuvenation.
Feed your skin from within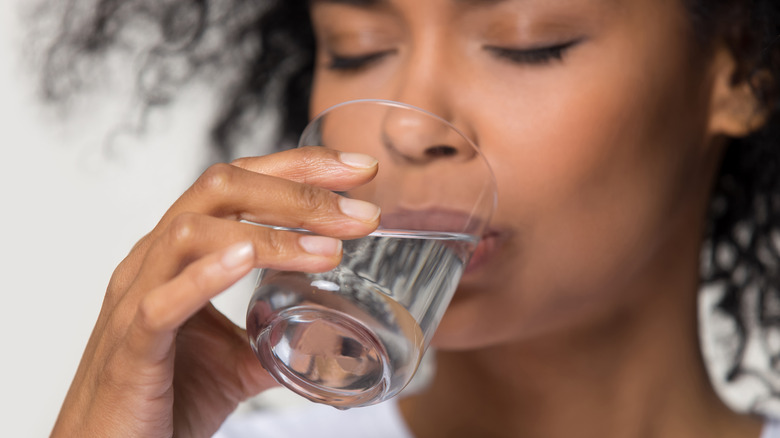 fizkes/Shutterstock
Using a holistic approach to help you recover from a skin hangover works much better than just using skincare products alone. The concept of holistic beauty encompasses therapies that balance the body, mind, and soul. All three elements are interrelated, so in order to maintain harmony — and radiant skin — we need to treat our body's imbalances from the inside out (via The Lifestyle Files).
A holistic beauty regimen incorporates natural ingredients into an existing skincare routine while also keeping tabs on overall habits and lifestyle. For starters, make sure to stay hydrated and don't go overboard on caffeine, alcohol, sugar, or salt, all of which can impact the health of our skin. Doctor Taz recommends limiting sugar to under 40 grams and eating at least five servings of fruit and veggies per day. Following these guidelines will boost antioxidants and fiber, encouraging optimum skin function.
Stress can also take a major toll on skin health. Rebecca Nicholls, Global Learning and Development Specialist at Jurlique, explains, "Cortisol is released when you are stressed, and high amounts of cortisol can break down the skin's collagen and elastin and form wrinkles. Stress also causes inflammation and impairs the body's ability to repair itself." Nicholls added, "The more stressed we feel, the more our cortisol levels rise. Aged and UV-exposed skin is also more likely to produce cortisol, and so the downward spiral begins."
The skincare products to help you recover
Since hungover skin is so parched and irritated, it craves beauty products that gently cleanse, comfort, nourish, and rehydrate. The skincare experts at Jurlique recommend taking a break from abrasive exfoliators and instead opting for gentle, botanical extracts found in nature to rebuild moisture levels. Hyaluronic acid is a great start, but lesser-known rose and marshmallow root extracts work to condition and revitalize your skin back to a healthy glow.
When we aren't treating our bodies optimally, our skin becomes damaged and weak. So, to protect and repair skin in this fragile state, Jurlique's in-house product specialist Rebecca Nicholls says to "look for natural extracts like Spilanthes, which is proven to protect and increase collagen in the skin, help restore firmness and elasticity, and aid in the overall improvement of skin smoothness and texture." The Aussie brand's Nutri-Define Supreme Restorative Rich Cream contains this powerhouse natural ingredient, and 85% of reviewers raved that it left their skin feeling strengthened and smooth.
We also recommend the Moisture Plus Rare Rose Collection to soothe and pamper the most sensitive of skin. There's a moisturizer available in every consistency, plus our favorite, the refreshing Rosewater Balancing Mist, will make you forget you ever heard the word "hangover" in the first place.