Vera Wang's Latest Red Carpet Appearance Has Everyone Saying The Same Thing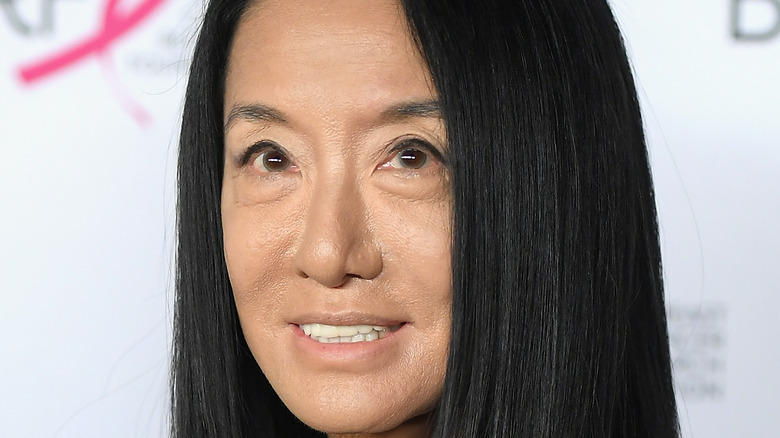 Dimitrios Kambouris/Getty Images
Unless we're speaking of the MET Gala, fashion designers tend to be the unsung heroes of the iconic looks our favorite stars emerge in. Sure, you hear common designer names flung about, but really it is the celebrity donning the look that everyone can't stop praising. Some fashion designers wouldn't even be recognized in a lineup by fans of their creations. Well, the same certainly can't be said for Vera Wang. 
Essentially a household name at this point, Wang has often had cameos in people's favorite shows, like when she designed Khloé Kardashian's wedding dress or even the iconic Blair Waldorf in "Gossip Girl," per E! News. Despite the fashion designer starting her brand at 40, she's amassed such success that her pieces are now highly sought after, CNBC notes. From Michelle Obama to Oprah Winfrey, Wang has designed her way into the fashion wishlists of millions. 
While she may typically be the mastermind behind the look, Wang has had the spotlight shine on her sometimes as well. The designer wears her pieces as well as her clientele, and each time she emerges, fans are left flabbergasted at how stunning she looks, Elle notes. Her latest red carpet appearance has everyone wondering the exact same thing: there's no way that's her real age, right?  
Vera Wang stuns in pink gown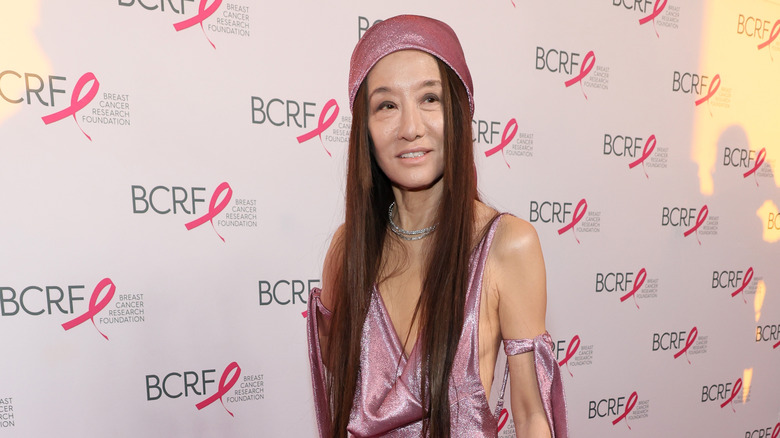 Dia Dipasupil/Getty Images
On May 10, the Breast Cancer Research Foundation hosted their annual Hot Pink Party, as noted by Vogue. The star-studded event was filled with surprises such as performances by Patti Labelle and a virtual message and performance from Sir Elton John. A huge success, the event broke records by raising $8.5 million for the BCRF. With stars like Elizabeth Hurley and Rita Wilson in attendance, no one would have expected fashion designer Vera Wang to steal the red carpet spotlight. 
Wang stepped onto the red carpet and proved yet again that there is no way she is actually 72 years old. Yes, you read that right, 72! Wang looked absolutely ageless, adorned in pink in support of the foundation. In a look designed by none other than herself, of course, Wang stunned in a metallic pink slinky dress with a plunging neckline. The ensemble was complemented by a matching headpiece, per Yahoo! News.
The fashion designer shared her own Instagram shot of the look captioned, "Think Pink...... So happy to be able to celebrate the BCRF again! In memory of the late great Evelyn Lauder. You helped to change the world." 
Fans immediately flocked to the comments to hype her up and share their awe at how incredibly ageless she looked. One user commented, "There is just no possible way that this woman is 72 years old," while another doubted the photo's authenticity and pointed out, "This pic is so airbrushed. Can't anyone be authentic?" Well, Wang has countless other photos to back it up.
Vera Wang owes her youthfulness to 'sporadic 'workouts and vodka
The Breast Cancer Research Foundation event is hardly the first time Vera Wang has left fans in awe of how incredible she looks at her age. The fashion designer loves to share snippets of her life on Instagram and is often bombarded with comments from fans demanding to know Wang's secrets behind looking so youthful. 
Wang especially shocked her 3 million Instagram followers, as of publication, when she shared photos of herself in a sports bra showing off her abs. The designer looked no older than in her 30s, and fans couldn't believe the star had recently turned 71 at the time. One fan commented, "This is so unbelievable. I'm truly amazed at the youth look of a 70-year-old. How I wish I could be like this when I reach this age..."
As for her secret? Wang hasn't given much away, although she once made a playful comment that she owes her eternal youth to "work, sleep, a vodka cocktail, not much sun," per Elle. When it comes to keeping her body in such great shape, Wang yet again hasn't given us much to go off of, as she explained to People that it's all a result of "sporadic" workouts. While fans continue to hype her up, Wang is still uncomfortable being in the spotlight as anything other than the designer, sharing with People, "I always thought of myself as somebody who, in all fairness, was the creator and not the subject matter. So it [is] sort of shocking. I can't lie to you."