What Are DragCon's WOWIE Awards?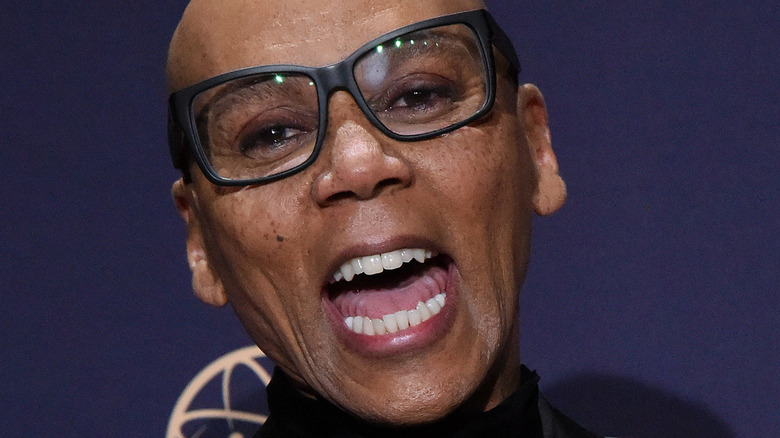 Kathy Hutchins/Shutterstock
Celebrating all things glitter, glam, and fabulous, RuPaul's DragCon wraps up another successful year on May 15 at the Los Angeles Convention Center. The event began in 2015 as a natural extension of "RuPaul's Drag Race," and was described by IndieWire at the time as "like Burning Man, if Burning Man was held in a convention center, and everyone was in heels, charging money for a picture." 
Paused for two years (because, you know, pandemic), DragCon offers a huge roster of meet-and-greet opportunities, exhibitors, and special events. Among them are panels on fashion, singing, makeup, and celebrations of the Black and Latinx/Hispanic drag communities. Casts from American and international "Drag Race" seasons — including Down Under Season 1, UK Seasons 1 and 2, and Binge Queens — have turned out to answer fans' questions and dish about their favorite moments.
Most importantly, however, the DragCon — like RuPaul himself — is all about acceptance, self-expression, and beauty. Fans rejoice in the opportunity not only to meet their favorite queens, but also to show off their own style in a safe space. (The event has a strict harassment policy that warns, "Drag is not consent.") One of the panels, headed by Carson Kressley, addresses ways to spread love and kindness. 
As with any con, RuPaul saves the best for last. At 4 p.m. local time Sunday, the crowd will gather for a final event that honors the people who have inspired and entertained the drag community and their allies. 
The WOWIE Awards celebrate artistry and amazingness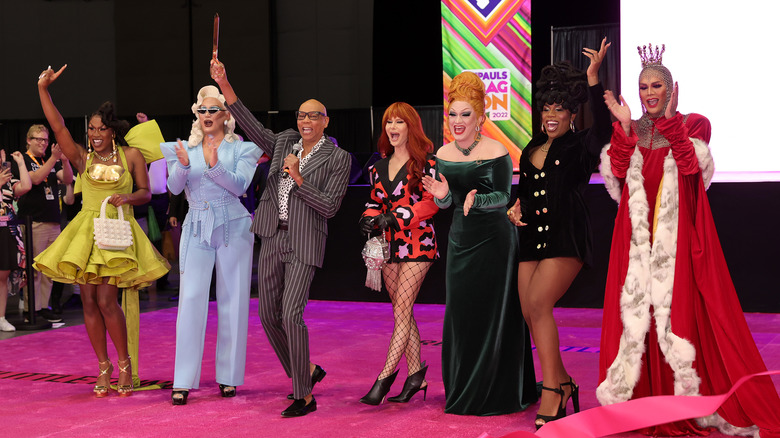 Emma Mcintyre/Getty Images
Closing out the 2022 RuPaul's DragCon on Sunday afternoon will be the WOWIE Awards. The annual event, presented by World of Wonder (producers of "RuPaul's Drag Race"), is billed as "celebrating the best in in artistry, activism, entertain(t)ment, and more." Hosted by TS Madison, the WOWIEs will feature performances by Adore Delano and Kennedy Davenport, both noted for being part of the most dramatic eliminations on "Drag Race."
Fans cast their votes for the WOWIE Awards, which include categories like The Like, Comment and Subscribe Award (for best YouTube channel), The America's Next Top Meme Award (for the best viral moment), The Stream Queen Award (best album), the Duet Diva Award (best TikTok), and The Who Are You Wearing Award (for best red carpet look). Comedians, authors, beauty gurus, party people, resistors, and hottest hotties (The Thirst Follow Award) get their due, along with "Drag Race" superfans, documentarians, podcasters, and up-and-coming stars. Nominees for the House of Love Award for best LGBTQ+ ally are Paris Hilton, Ariana Grande, Jessica Chastain, Andrew Garfield, and the pairing of Dwyane Wade and Gabrielle Union. 
Some of the categories aren't as positive for the WOWIE Awards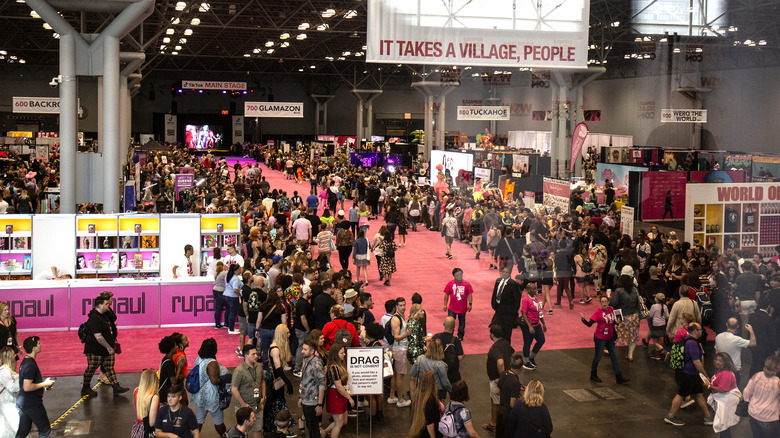 Santiago Felipe/Getty Images
Finally — because it wouldn't be a drag event without at least one spicy zinger — there's The Delete It Award for the "worst online presence" at the 2022 WOWIE Awards at DragCon this year. The nominees for that category are Tucker Carlson, Tomi Lahren, Ben Shapiro, Christian Walker and LibsofTikTok. Marjorie Taylor Greene is actually listed twice on the ballot. We're guessing the winner won't be around to accept their WOWIE.
Anyone who is in attendance can accept their award at the ceremony being held at the Los Angeles Convention Center on Sunday. While only those with tickets can watch the award show live, fans can wait to hear winners being announced online later. Fans can also check out some of the highlights of DragCon on World of Wonder and RuPaul's DragCon official Instagram accounts, which includes a "Golden Girls" pop-up booth.