How The May 16 Full Moon Will Affect You If You're A Capricorn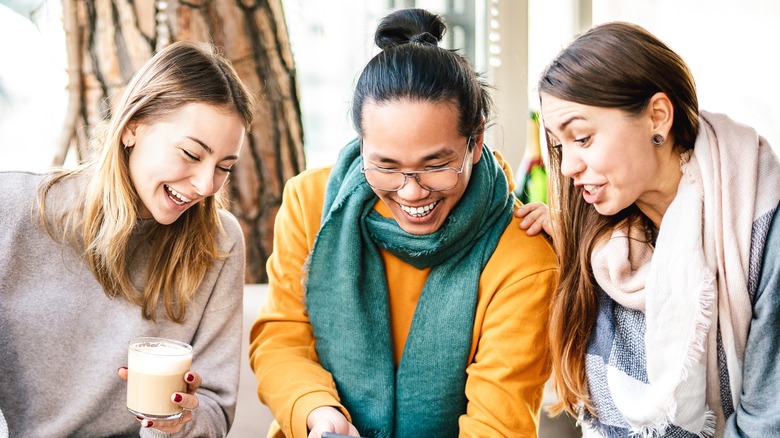 View Apart/Shutterstock
The May 16 full moon and lunar eclipse happening at the start of a new week is going to signal changes, especially if you're a Capricorn.
Full moons already are a time of reflecting, and with an accompanying lunar eclipse on May 16, there's going to be an extra layer of emotion surrounding Sunday night and Monday morning. Scorpio, Insider explains, rules the "eighth house of emotional bonds," and this upcoming full moon will be taking place in Scorpio. That passion you may feel during this time may end up being needed as you work through the lasting effects of the solar eclipse that happened on April 30, which Nylon points out we've been seeing on a global scale that has affected things like "money, gender, and bodily rights." (See: the leaked Supreme Court decision regarding Roe v. Wade.)
"This moon asks us to be vulnerable so we can become more intimate with ourselves and others," Astrologer Sofia Adler told PopSugar, adding that the name of the full moon and lunar eclipse on May 16, the "flower moon," "is fitting, because every flower starts out as a seed, buried in the dark, damp soil. Nature knows that darkness has its purpose and will lead you to the light."
Capricorns, you might be having an easier time than most signs during the May 16 full moon and eclipse, but you may still find yourself transformed.
Mercury in Retrograde will help Capricorns during the May 16 full moon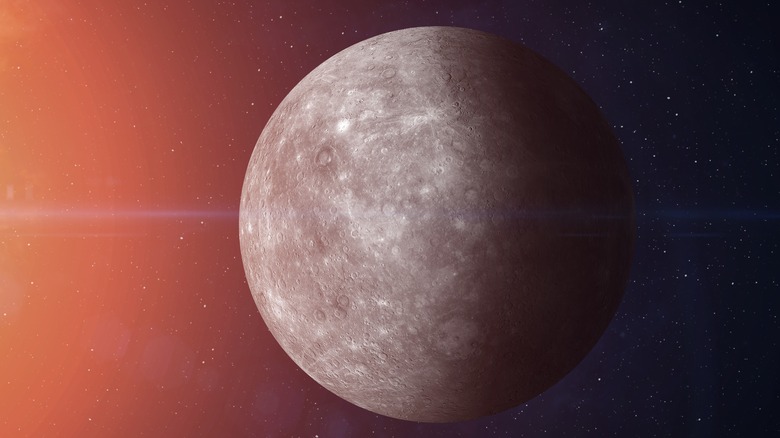 buradaki/Shutterstock
Mercury might be in retrograde right now, but that isn't having the negative effect it has a reputation for. As Nylon explains, this is a perfect time for "review and reflection," which Capricorns will have the urge to do during the May 16 full moon, especially where their support group is concerned.
However, there are also other planetary positions you'll need to be aware of. The full moon will be forming a trine with Jupiter, Mars, and Neptune, according to Cosmopolitan, so you'll want to steel yourself now for bombshell information. You're going to want to take the time to respond rather than react to what you learn. Mars' trine and its empowering energy will also help you through the self doubt and insecurity that the moon's square with Saturn might unleash (via InStyle).
The full moon, positioned in Scorpio, will also be forming a sextile with Pluto (via InStyle). This energy is going to reinforce that feeling to start over with a clean slate, but what's going to be most beneficial to Capricorns especially is to channel this feeling into evaluating comfortable routines and relationships and finding out what's going to best support you.
That support may come in the form of an artists' retreat or a new class in a topic you're passionate about. With both Neptune and Mars moving through Pisces, Capricorns may be gravitating more towards like-minded people or collaborative projects as well, per Shape.
Capricorns need to make time for friends during the May 16 full moon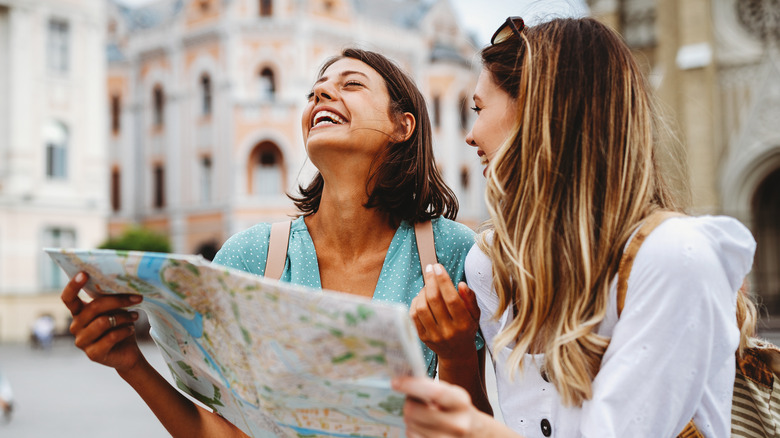 NDAB Creativity/Shutterstock
For Capricorns, and Capricorn rising, this full moon is happening in "your eleventh house of friendship," InStyle explains, which is a good reminder to appreciate those around you.
With the other planetary involvement impacting the way you're feeling during the full moon and eclipse, this is going to be a time where you want to figure out who is going to best support you over the next year. Lauren Ash, an astrologer, told Bustle this is part of the reason why Capricorns are one of the signs that will be least affected by the full moon and lunar eclipse. "This is a cleansing eclipse that is actively encouraging you to find people who are more like you," according to Ash. "You are drawn to invest in friends who share values with you, who lift you up rather than slow you down."
Lifting you up can also include supporting you professionally or creatively. Make use of Mercury being in retrograde and summon your critique group or book club together. The conversations and feedback have the potential to be illuminating, both intellectually and emotionally. You may come out the other side of this full moon and eclipse with a friend group that has lost and gained numbers, astrologer Chani Nicholas cautions, but it will be better for you in the long run.