Everything We Know About Kourtney Kardashian And Travis Barker's Legal Wedding Ceremony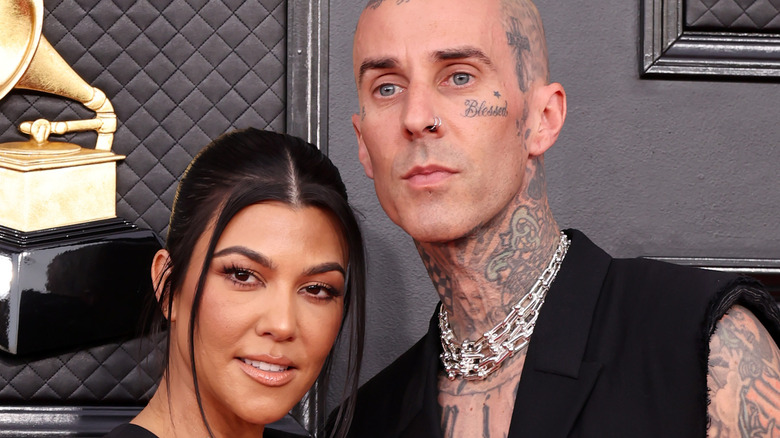 Amy Sussman/Getty Images
The relationship between Kourtney Kardashian and Travis Barker could hardly be called a whirlwind romance. The couple met as neighbors back in 2006; Kardashian has said she was "always attracted" to the Blink-182 drummer, but he was dating Paris Hilton at the time (via PopSugar). Not until 2020 did the couple actually start dating, but things moved quickly from there. In October 2021, Barker proposed in a super-romantic, roses-on-the-beach scene (captured on Kardashian's Instagram page) that could have come straight out of a Hallmark movie. 
Fans and celeb experts watched closely for wedding details, but came up empty. Kardashian's social media feed was oddly devoid of yes-to-the-dress posts and bridal shower pics. Then on April 4, the day after the 2022 Grammy Awards, the news broke that the couple had slipped away to the One Love Wedding Chapel in Vegas and exchanged vows in front of an Elvis-impersonator officiant. It proved to be something of a red herring; as the sort-of bride explained later, their marriage wasn't actually legal because they hadn't gotten a license beforehand. Kardashian admitted that "a little tequila" had contributed to their impetuous wedding, adding, "Practice makes perfect." 
So the wedding waiting game began again, but happily, it wasn't a long wait. On Sunday, May 15, Kardashian and Barker once again surprised fans by having a do-over wedding. Unlike their Vegas nuptials, however, this one was the real deal.
Kourtney and Travis had a courthouse ceremony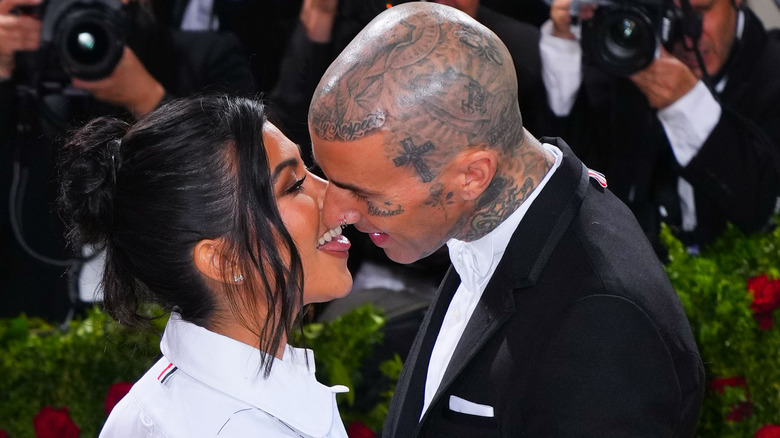 Gotham/Getty Images
TMZ broke the news on the evening of May 15 that Kourtney Kardashian and Travis Barker are finally husband and wife. The couple were wed in a simple civil ceremony on the steps of the courthouse in Santa Barbara, California. The bride wore a white minidress with a large jeweled brooch detail, while the groom went traditional with a black tuxedo. Following the wedding, the newlyweds left in a vintage convertible decorated with a "just married" sign.
Only a handful of guests are said to have attended, among them Barker's father and Kardashian's grandmother. No one has reported seeing mom Kris Jenner or any of Kardashian's sisters there, but their absence doesn't mean there's trouble within the family. Quite the opposite, in fact: Kim Kardashian has supported Kourtney and Travis's relationship, saying, "They've grown so much together" (via Entertainment Tonight). And Jenner has been in on the planning all along, but just the week before the wedding, she told People, "I have been sworn to secrecy. If I say one thing about a wedding, I am gonna be in so much trouble!"
Inside sources tell TMZ that the couple did get their marriage license this time, making them officially spouses. The insiders add that the Barkers (Barkdashians? KarBarks?) will be having a traditional wedding in Italy soon. We're predicting that the Italy nuptials will be closer to the all-out glitzy bashes we're used to seeing from the reality TV family.