Everything We Know About Todd And Julie Chrisley's Federal Trial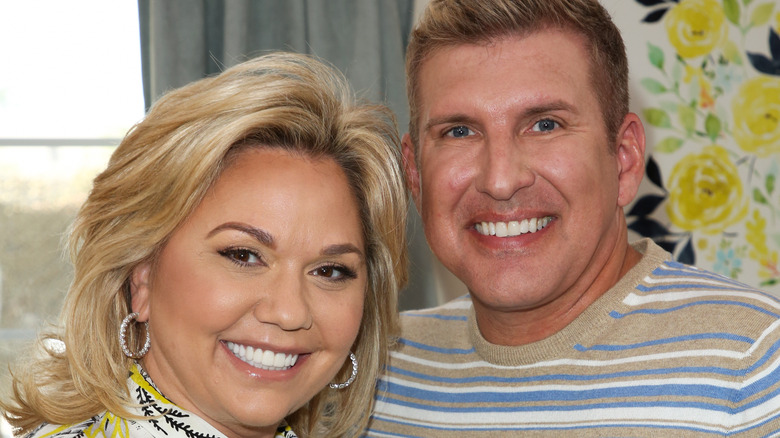 Paul Archuleta/Getty Images
Todd and Julie Chrisley may be reality stars, but their real-life drama clearly isn't scripted. The married couple are best known for their reality shows "Chrisley Knows Best" and "Growing Up Chrisley," both of which follow their family's loud and lavish lifestyle (via IMDb). The Chrisleys, with their Southern twang, come off as both all-American and yet unrelatably extravagant, living in huge mansions and wearing designer clothes.
However, Todd and Julie have been at the center of some highly publicized scandals. Just as they kicked off their first reality show in 2014, People reported that the couple had previously filed for bankruptcy, shattering their perfectly glamorous image. Then, after Julie claimed to have once won Miss South Carolina on an episode of "Chrisley Knows Best," some reported that there was no record of her pageant win (per Reality Titbit). Todd has also suffered a soured reputation, once when his ex-wife claimed that Todd was physically abusive (via Daily Mail), and later when he had a falling out with his eldest daughter, Lindsie Chrisley.
Then, the Chrisleys were charged with tax evasion in the state of Georgia, which the Atlanta Journal-Constitution reports was later settled in 2019. Still, federal charges remain against the couple, who are gearing up to begin their trial this week.
Todd and Julie Chrisley face charges of fraud, conspiracy, and tax evasion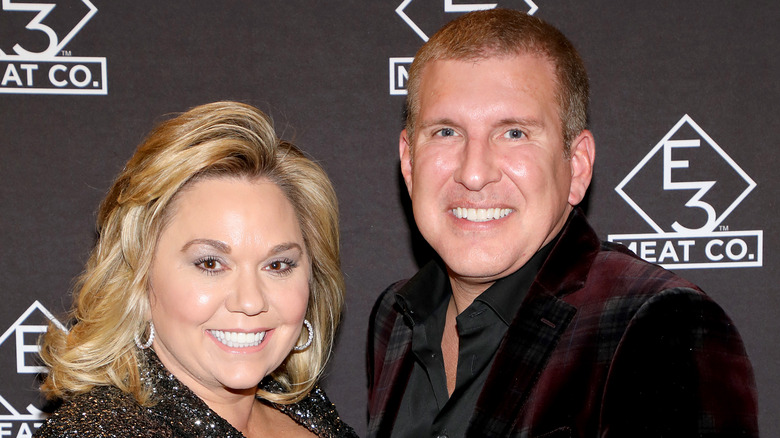 Danielle Del Valle/Getty Images
Todd and Julie Chrisley will face federal prosecutors when their trial begins on Monday, May 16 in Atlanta (per Fox News). The "Chrisley Knows Best" stars have been slammed with several charges, including one count of conspiracy to commit bank fraud, five counts of bank fraud, one count of tax fraud, one count of conspiracy to defraud the United States, one count of wire fraud, and one count of obstruction of justice. Todd and Julie's accountant, Peter Tarantino, has also been charged with fraud and falsifying tax returns and will stand trial along with the Chrisleys.
The reality TV couple have maintained their innocence, telling E! that they have nothing to hide and that they've "always believed that the truth would prevail." In 2019, Todd posted a statement on Instagram claiming that any charges are false and only the result of a vengeful employee. The Chrisley patriarch wrote that the employee "took a bunch of his phony documents to the U.S. Attorney's office" to make it seem that the reality family was involved in a variety of financial crimes.
Prosecutors have said that Todd and Julie, who have pleaded not guilty, instructed the former employee to falsify documents. As Todd said in his 2019 Instagram post, "...when this goes to court, the truth will prevail."