The Bold And The Beautiful's Sean Kanan Imparted Some Wisdom About Life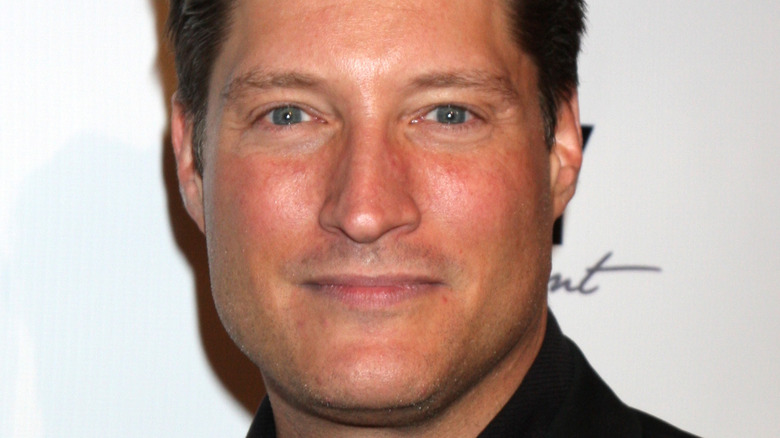 Kathy Hutchins/Shutterstock
Sean Kanan first got his big break in acting in 1989 when he appeared in "The Karate Kid Part III." In the decade since, Kanan has starred in a number of other movies and TV shows and has become a staple in the daytime soap world.
Kanan first appeared on "The Bold and the Beautiful" in 1990 as the villainous Deacon Sharpe, a man with a long history of alcohol abuse and making bad decisions, and who just can't seem to get out of his own way. The character crossed over to CBS sister-soap "The Young and the Restless" in 2009 and Kanan has bounced between the two shows several times over the years. Additionally, Kanan appeared intermittently on "General Hospital" as A.J. Quartermaine, who also struggled with alcoholism (via IMDb).
Most recently, Kanan created the Emmy-winning digital soap series "Studio City," which he wrote and produced with his wife Michele Kanan and starred in alongside his stepdaughter Juliet Vega. Kanan also starred in the recent Lifetime movie "Killer Ambition," which debuted in January.
Outside of acting, Kanan devotes his time to writing and has released three self-help books, to date. According to Kanan, his most recent bestseller "Way of the Cobra" is an effort to motivate anyone who might be feeling stuck to take control of their own lives and hold themselves
Sean Kanan says advice doesn't matter if it's not implemented
In an interview with Soaps, Kanan revealed that a period of stagnation in his own life inspired him to write "Way of the Cobra." After pushing himself out of a career lull with "Studio City," losing 35 pounds, and improving his mental health, Kanan felt he needed to share his ideas about discipline with the world. He said, "Rather than wait for my ship to come in, I decided I was going to build the ship." And that's exactly the wisdom he's trying to convey in his book.
The main message of "Cobra" is that you can have all the knowledge you need to improve your life or your circumstances but none of it matters if you never implement the tools. He believes it is important to hold yourself accountable and push yourself toward productive action even when it's uncomfortable. He said, "I'm able to teach all sorts of strategies and philosophies that I know have the ability to be transformational in people's lives, but without action, they're useless."
Kanan's theories about discipline versus self-discipline are not only helpful ideas for us out in the real world, but could be extremely useful for his longtime soap character, Deacon — if only he could read it.
Deacon Sharpe could use a lesson in self-discipline
Deacon has had many ups and downs within the "BOTB" and "Y&R" universe over the years. In 2021 he was released from prison after serving a four-year sentence for the attempted murder of Quinn Fuller (Rena Sofer) in retaliation for pushing him off a cliff. Oh, and did we mention they were in love?
After years of manipulating the people around him for his own ends, it seems Deacon is trying to get his life back on track since he was released from lock-up. After attempts to reconcile with his daughter Hope (Annika Noelle) were thwarted, Deacon took a job as a custodian at Il Giardino's, where he is also currently calling a supply closet home (via Soap Central).
Kanan thinks Deacon would have a chance sticking to the straight and narrow if he had the opportunity to read "Cobra." He said, "[The' guy needs to get himself out of that broom closet. I think it would be interesting to see what would happen if Deacon Sharpe actually had a legitimate financial base." Kanan does have hope that his longtime character can turn things around, though. "Now it's time to see some forward momentum," he said, "It's not about having fancy clothes and that sort of thing, but that he's working his way out of this massive hole since he got out of prison and he's incrementally putting his life back together. Eventually, he could become a real power player" (via Soaps).
Only time will tell if Deacon can stick to his commitment to bettering his life without the wisdom of his own alter-ego.