What's Going On With Sheila And Steffy On The Bold And The Beautiful?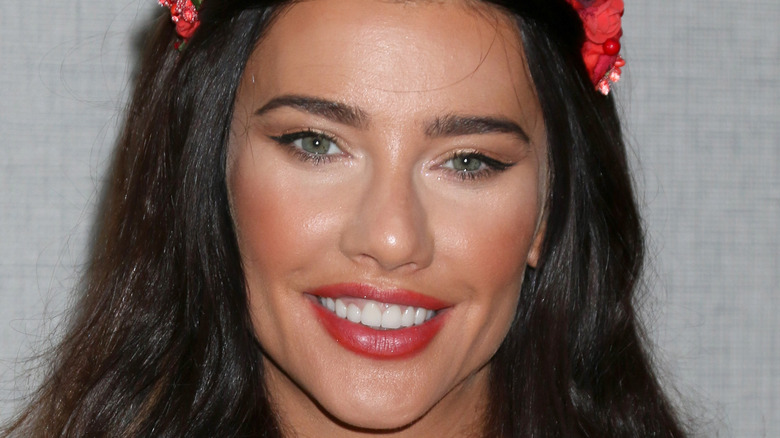 Kathy Hutchins/Shutterstock
The moment "The Bold and the Beautiful" fans had been waiting for finally arrived when Sheila Carter (Kimberlin Brown) paid a visit to Steffy Forrester's (Jacqueline MacInnes Wood) house soon after she returned home from the hospital after suffering a gunshot wound. 
Sheila wanted to see Hayes, Steffy's infant son and Sheila's biological grandson. But seeing Sheila in her living room mentioning Hayes and Sheila's son, Steffy's late husband John "Finn" Finnegan (Tanner Novlan), who was also shot and succumbed to his wounds, was too much for Steffy to bear (via Soaps.com).
She suddenly started remembering what happened the night of the shooting, and she could finally see the unbelievable and horrific truth in her mind. It was Sheila who shot her own son when he jumped in front of a bullet meant for Steffy, and Sheila then let him bleed to death when she wouldn't allow Steffy to dial 911. And it was Sheila who then shot her, too (via Soap Hub). 
As of this writing, Steffy is determined to make Sheila pay and is plotting ways to bring the woman down. But how did they get to this point?
Steffy always knew Sheila was dangerous
When Steffy Forrester was a little girl, she spent years without her mother, Taylor Hayes (then played by Hunter Tylo). Steffy and her siblings, the late Phoebe and Thomas, believed Taylor was dead after Sheila Carter shot her during another one of her crazed tirades. 
It turned out that Taylor was secretly nursed back to health, but Steffy always knew that Sheila had taken her mother from her during some of the most important years of her life, according to Soaps In Depth.
When Sheila reappeared in her life in 2021 by showing up at her wedding reception and announcing that she was the birth mother of her new husband, Finn, Steffy couldn't believe her ears and warned Finn to stay away from this woman (via Soaps.com). 
Eventually, Taylor (now played by Krista Allen) convinced Steffy to give Sheila a chance and invite her to Christmas dinner, but neither one of them knew what Sheila was really up to during the holiday season (via Soaps.com).
Steffy learned Sheila's secret, and Sheila pulled out a gun
While Sheila Carter might have been happy to spend Christmas with Steffy Forrester and her little family, she still wanted to pay Taylor back for being nice to her, so she decided to gift her Ridge Forrester (Thorsten Kaye). The only problem was that Ridge was married to Brooke Logan (Katherine Kelly Lang). 
This prompted Sheila to switch the labels on a non-alcoholic bottle of champagne and an alcoholic bottle and made sure that alcoholic Brooke drank on New Year's Eve. Getting drunk led to Brooke kissing Deacon Sharpe (Sean Kanan), which led to her marriage blowing up and Ridge suddenly becoming available (via Soaps In Depth).
Steffy was thrilled that her parents might reunite, but, when she learned what Sheila did and that the reunion would take place because of her underhanded ways, she confronted the woman and threatened to tell Finn that his mother would never change (via Soaps.com). That's when Sheila snapped and pulled out her gun.
And the rest is "The Bold and the Beautiful" history — which changed Steffy's life forever.