Nate Berkus And Jeremiah Brent Share Their Love Of The Outdoors - Exclusive Interview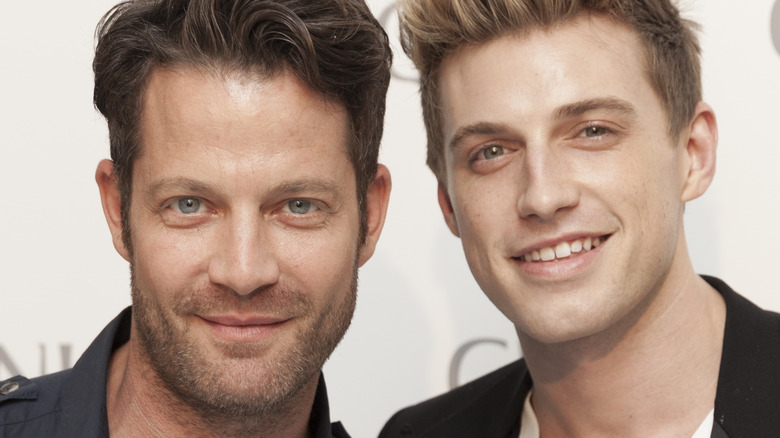 lev radin/Shutterstock
Nate Berkus and Jeremiah Brent are known for their love of the great indoors. The married interior designers and dads have earned a large and loyal fan base for their smart design solutions for ordinary people, showcased on their HGTV show "The Nate & Jeremiah Home Project" and their TLC show "Nate & Jeremiah By Design." While helping homeowners create spaces that truly reflect who they are and how they live, Berkus and Brent also share scenes from their own family life, which now includes two children, Poppy and Oskar.
But like parents of small children everywhere, Berkus and Brent realized their kids needed more than screen time — or even help-Dad-design-stuff time — for their physical and mental well-being. When the COVID pandemic hit, sending everyone indoors, they realized even more acutely the importance of getting their kids outside and exploring safely. Since then, they've partnered with Claritin to encourage families to spend more time outdoors with their kids. In this exclusive interview, they share some of their favorite outdoor family discoveries and what they're up to next.
Being outdoors sparked their children's sense of discovery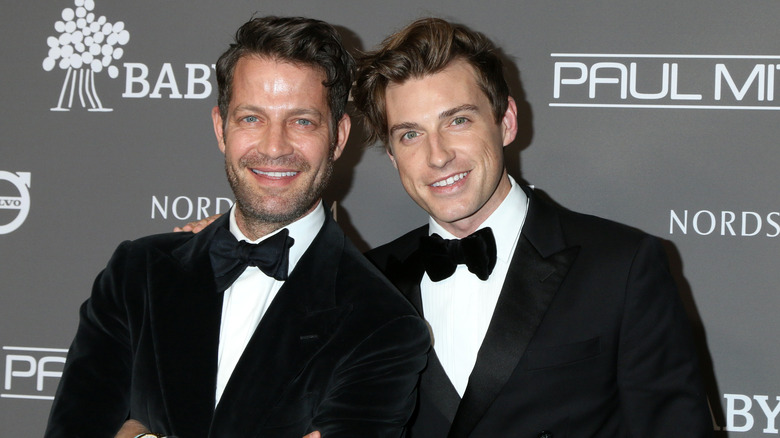 Kathy Hutchins/Shutterstock
I understand that both of you have become big advocates of getting kids outdoors. Could you tell me a bit about how you got into that?
Nate Berkus: Jer and I are both designers, and we've spent most of our careers crafting spaces indoors for families to make memories and have what we call those little moments in between. We realized during the pandemic that some of our very best memories and the best activities we did with our kids were outdoors. So we partnered with the makers of Claritin for the Outsideologist Project, which people can follow on Instagram and Facebook. It's to encourage families to get their kids outside [and] spend more time outside. We believe in it — we believe in the benefits, the mental benefits, the physical benefits, the fresh air, the sense of discovery, all of it. We're really happy to be part of this message.
Jeremiah, were Poppy and Oskar initially interested in spending more time outside? How did you get them into that?
Jeremiah Brent: Yeah, we've been very lucky. The kids love to explore, and they're very precocious. One of the things that we found so devastating is there was this study commissioned by the makers of Claritin that 74% of parents said that their kids don't spend as much time outside as they did. We know better than anybody that the outside is the epicenter of connection — connection to the community, connection as a family, connection with imagination. Lucky for us, we have New York City as our backyard, and whether it's hopscotch or a simple walk one day to take the dog for a walk or we explore different neighborhoods, we know how important it is to get outside of the four walls of your home. There's an entire world out there and an opportunity to find beauty in everyday things. That's really what this is about.
Here are some of their kids' favorite outdoor discoveries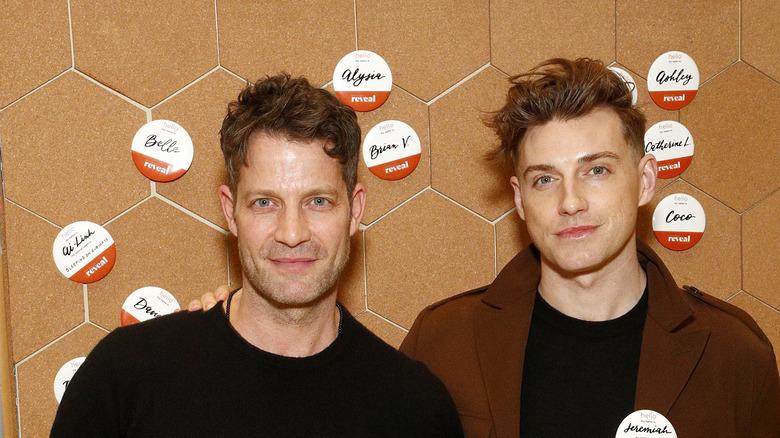 Astrid Stawiarz/Getty Images
What are some of your favorite outdoor activities that you do with your kids?
Berkus: Our kids really love hunting for animals and seeing what they're going to discover. We have a beach near our house in Long Island that's covered with rocks, and one day, Poppy wanted a certain size and color rock only. And Oskar wanted to collect a certain size and color rock, and we brought them home and they glued them all together and made these little towers. We're outside exploring, using things for arts and crafts and spending time at the beach, spending time on walks when we're here in New York City. Poppy has this book that has all these buildings and all these different neighborhoods. When we took them to see St. Patrick's Cathedral on a long walk outdoors, [her] mind was blown — like, "That was in my book, and now I'm standing in front of it!" It's that sense of wonder and exploration that we're after.
What do you think are some of the biggest things your kids learn from being outdoors?
Berkus: Well, you can't plan what's going to happen outside. You can't plan who you're going to run into [or] what other kids the kids will meet in the park.
Brent: Well, the languages they'll hear ...
Berkus: When you're outside, you're forced to be a part of the world. You're forced to connect. You're forced to explore. You have the opportunity to see things. When I was growing up, my mother used to always say [about] wherever we went, "Tell me one thing that's beautiful that you found." And it's something we do with our kids. The idea is that obviously, we all love our homes. We understand better than anybody the beauty of television and screens and all of that. But the truth is, there's so much beauty out there, and there's so much opportunity. That's what it's all about — getting people out there again [and] being a part of something bigger than what's going on inside you.
Spending time outdoors has made their family more adventurous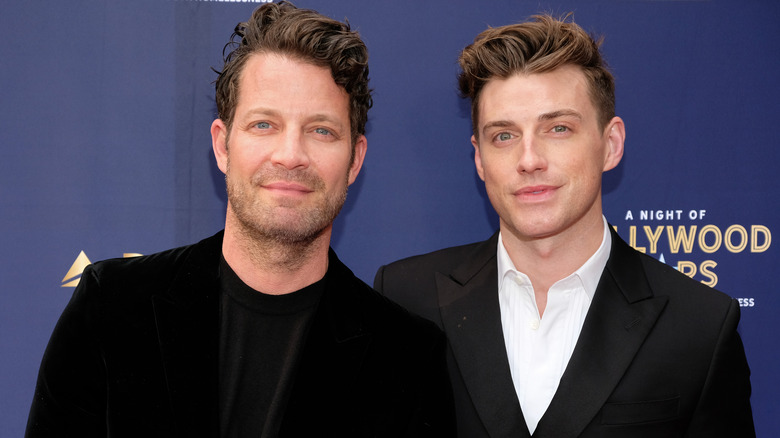 Sarah Morris/Getty Images
Has your interest in the outdoors changed your design sensibilities any, or the way you think about indoor or outdoor spaces?
Brent: Nate's finally coming outside, which is great because when I met him, he was like, "What's the point? Nature should be viewed through glass." The great thing about our children and through what we've experienced as parents is they crack the world open in such a different way. You get to experience joy in the little things, like Nate was saying, collecting rocks and making up silly games — anything and everything. Everything is an adventure if you let it be one. That's been so fun for us. I love the outside. It's always been where I find inspiration with design, and now to see my children find inspiration out there, it's been really exciting.
Berkus: Poppy went last winter ... We were out in the backyard, [in the] middle of the pandemic, and she climbed this huge hill that we have in our backyard. She was so proud of herself when she got to the top. Then, I could see the eyes go like this, because there was a moment of panic — "Wait, how do I get back down?" I stood there and watched her navigate it. But I remember that. Don't you remember that as a kid? That feeling of, "Wow, I just did something. Oh, wait. Now, how do I undo it?" 
You can't plan what nature has in store for you. You can't plan the challenges that kids will design for themselves. It's not about the big grand vacation. It's not about the amusement park or whatever. We can have these moments. We can all have these moments spending time outdoors.
To get families outside, they're holding a sweepstakes for a big backyard makeover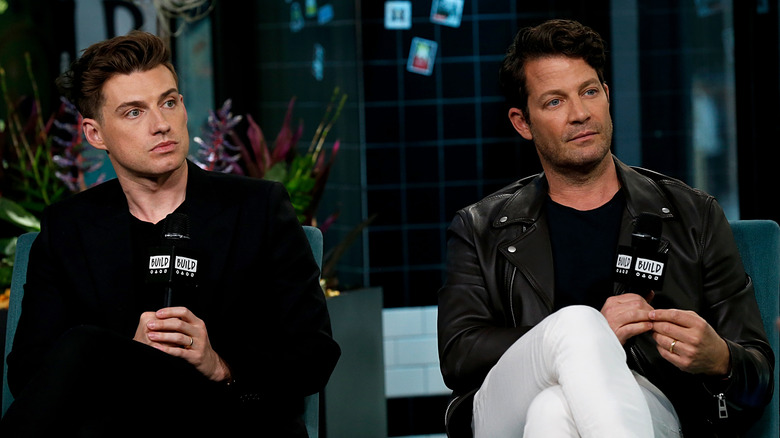 Dominik Bindl/Getty Images
What tips would you offer to make outdoor spaces more appealing?
Berkus: If you go on Outsideologist Project on Instagram or Facebook, there's actually expert-driven tips to give families inspiration for what they can be doing outdoors. We've done some of them; they're really varied and broad, meaning there's a lot of different ideas there. You can enter the sweepstakes as well to win $10,000 in the makeover or the consultation from Jer and I. Share a photo with us [using] the hashtag #backyardchallenge. If you're applying those tips that are there, great. If you're doing your own thing, we'd love to see that too.
I was going to ask you about your sweepstakes. What was your inspiration for that? Why are you doing this?
Berkus: Well, it's $10,000, which goes a long way in the backyard. And we're just about to head into summer. It's the perfect time to upgrade the space. That could be a jungle gym plus all the outdoor furniture. That could even be a hot tub. $10,000 can go a really long way. The fun part is that whoever wins the sweepstakes will get to meet [us] virtually, and we'll help them spend the money.
Do you plan to incorporate your new interest in outdoor stuff into any of your future TV projects?
Brent: The exterior is such a huge part of it. We're about to start shooting Season 2 of "The Nate & Jeremiah Home Project." The whole point of our show is it's an opportunity for us to meet people [and] tell their stories to their space. But yes, so much of our life is outside, and we've got a lot to share this season — not only the families that we've met but [also] our own family. We're going through our own renovation, as usual, because we seem to always be renovating. But it's been a big year, and we're excited to open up our home again with everybody.
Follow Nate and Jeremiah's adventures on Instagram and the Outsideologist Project on Facebook and Instagram.
This interview was edited for clarity.