Why Khloé Kardashian's Latest Post Had Fans Convinced She'd Started An OnlyFans Account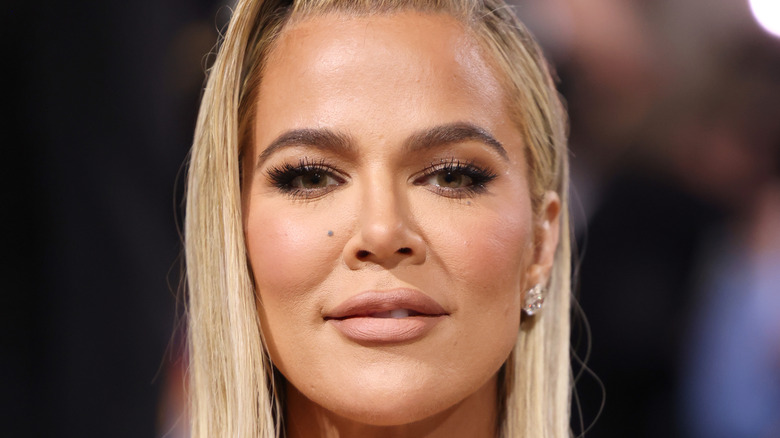 John Shearer/Getty Images
Khloé Kardashian has acknowledged that fans will have a comment about just about everything she does. In fact, the reality star admits she struggles with anxiety given the critiques she is bound to face as a public figure. A recent example saw Kardashian sadly tweeting about the difficult feelings she faced while attending the Met Gala.
We get that the mom of one might deal with anxiety over how people react to each and every post on her Instagram. Take her weekend share featuring a very sexy photo in which the star was clearly showing off her hard work in the gym. In the selfie, Kardashian wears only a two-piece bathing suit and a coverup. The Good American mogul actually shared three shots of herself wearing the outfit, but this one received the most attention, perhaps due in part to the puzzling caption Kardashian included, which read, "Link in bio baby."
The very sensual nature of the post and the accompanying caption ended up leading many fans to wonder if the Hulu star had joined OnlyFans, a subscription-based adult site that features NSFW content (via Complex).
Khloé Kardashian's sexy post draws a range of reactions
When fans saw Khloé Kardashian's sexy series of images posted to her Instagram over the weekend, commenters immediately began questioning what was up. Remarking about the caption saying, "Link in bio baby," one fan said, "Everybody thinking it's an onlyfans link."
A quick scroll over to the star's main Instagram account shows that instead, the link is to Kardashian's Good American swim line. But this reality didn't stop commenters from speculating about the nature of the super-sexy post. "When's the only fans ?" wondered another follower of "The Kardashians" star. "What link? OnlyFans?" asked someone else.
To be fair, many commenters praised the mom for how great of shape she is in. One fan hysterically commented, "Tristan's screaming crying and throwing up rn." But other observers chided Kardashian for seemingly appearing too thin in the photo — proof that just as she has intimated, no matter what the star posts, the wide range of reactions including much criticism will be hard to manage.