Micro Miniskirts Are About To Take Over In Summer 2022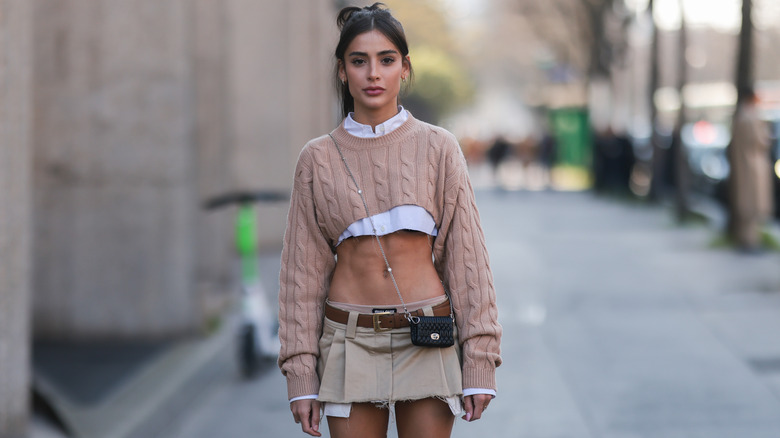 Jeremy Moeller/Getty Images
We may receive a commission on purchases made from links.
Style savvy shoppers can't get enough of all the fashion trends that will completely take over summer 2022. 
Marie Claire rounded up some of the most prominent style trends for the summer of 2022, such as yellow pieces, professional clothing (including light blazers and trousers), athleisure, showing some skin, and playful polka dots. All of these trends are so different that there's something for everyone, whether your style is sporty, sexy, or more retro.
We've seen lots of skirts as a significant trend during the spring season, and, although some people can't wait to ditch mini skirts, they're still trending — even to the point where a sexier variation of them is going to be everywhere: the micro miniskirt. According to Vogue Britain, Miu Miu inspired this trend with their tiny, low-rise, super-short mini skirts that would be every strict parent's nightmare.
If you feel confident and comfortable in your skin, why not try out this sexy look and flaunt your legs in a micro miniskirt?
How to rock this sexy style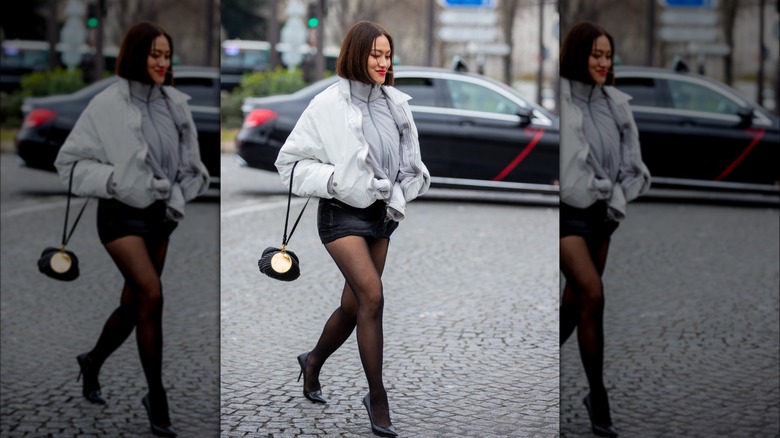 Christian Vierig/Getty Images
Anyone considering experimenting with the micro miniskirt trend and looking for some style inspiration can find a plethora of looks on Instagram. Although a few examples are on the borderline of being NSFW, there are many provocative yet appropriate looks (depending on where you're going). 
For instance, a fitted white micro miniskirt with a chunky belt and a fun T-shirt makes an excellent going-out outfit. Or, if you want to wear a girly, preppier spin on this trend, try a pink pleated option. Furthermore, a tiny black or denim skirt will match countless summery tops in your wardrobe.
Not sure how to style such a low-rise skirt? PopSugar explained which pieces look fashionable with these seemingly promiscuous skirts. For instance, wearing a shirt in the same color or pattern as the skirt will come across as cohesive and sleek. 
And, since this trend is only appropriate for warm or hot weather, why not tap into the spring or summery spirit by pairing it with a flowery piece for some floral fun? Although you may first associate miniskirts with date nights, partying, or brunches, PopSugar noted that you can rock this look with a more professional spin, too, styling it with a blazer or a button-up top and more serious shoes.
Where to buy a micro mini skirt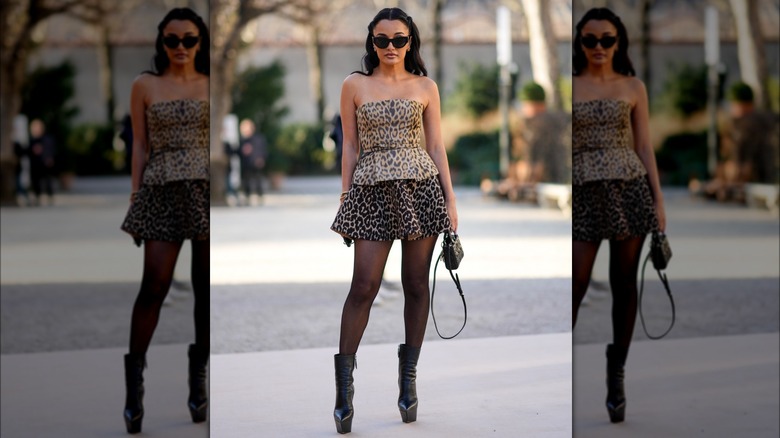 Edward Berthelot/Getty
Now that you have some ideas regarding how to style a micro miniskirt, it's time to start shopping! Since it's such a hot trend, plenty of stores sell endless variations of these sexy skirts.
For instance, if you're looking for a skin-tight micro mini that looks like it jumped off the hottest runway — but you don't feel like paying Miu Miu prices – Revolve is selling its Sailor Micro Skirt for $108.
On the other hand, those looking for a preppy twist on this trend should check out Zemeta's Tan Micro Mini Skirt. Available at Dolls Kill for $95, this skirt gives off a playful, sexy schoolgirl vibe. 
Want something a little edgier? Fashion Nova's Showing Off Micro Mini Skirt in black can make you look like you're killing it in your villain era for $32.99. Or, if you're going for more of a flirty, girl-next-door look, the UO Oopsies Denim Micro Mini Skirt is available at Urban Outfitters for $39.
Which skirt are you going to buy first?