Kim Kardashian Fans Have Mixed Reactions To Her Sports Illustrated Cover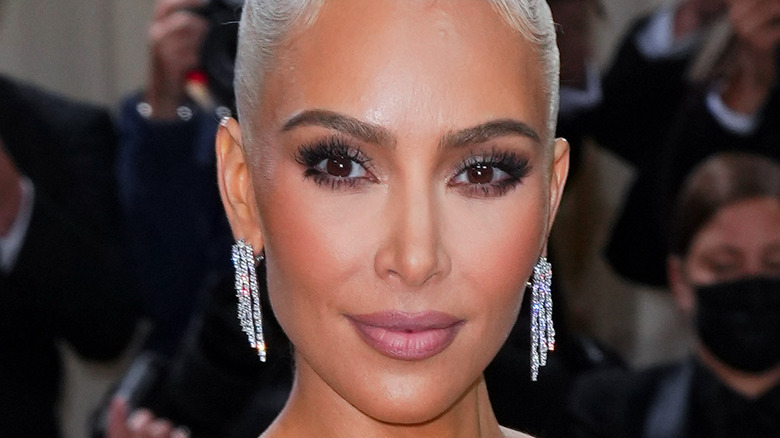 Gotham/Getty Images
You may have heard the rumblings. Now, we know it's true. Kim Kardashian is the Sports Illustrated Swimsuit edition's cover model and the magazine has released the first sneak peek of her picture. The reality star is actually one of four cover models, with each one receiving their own edition. Kardashian's cover co-stars? Ciara, Maye Musk (who is 74 years old!) and Yumi Nu (via TMZ).
Explaining why they chose to go with the mom of four as one of the cover models for the 2022 edition, SI Swimsuit editor in chief MJ Day said, "Kim, no stranger to the world's judgment, continues to live proudly, authentically and unapologetically through the noise."
Day added the goal of featuring each of these stars was to prove whether you're a mom or an athlete, a businesswoman or a role model, the cover models are to be celebrated for "who they are." And although Kardashian's photos, taken in the Dominican Republic, are certainly insanely flattering, it seems Twitter has a lot to say about her inclusion in the issue.
Fans are not feeling Kim Kardashian's inclusion in the SI Swimsuit edition
Upon announcing on Twitter, "Yup, the tea is true... @KimKardashian is our 2022 COVER MODEL!" Sports Illustrated Swimsuit's edition received some mixed feedback.
"Out of all the natural beauties that play sports and have amazing physiques you choose someone who has tons of plastic surgery and nothing to do with sports...disappointing," one fan replied, a sentiment that was echoed time and time again in the comments of the announcement. Indeed, plenty of Twitter users noted that someone who relies on less photoshop and airbrushing would have been a better choice.
Someone else joked that the COVID-19 pandemic must have caused a supply chain issue with models in addition to seemingly every other household necessity. And more than one person speculated that the star somehow bought her way onto the cover, a claim that is not substantiated.
Twitter users overall seemed unenthused or even angry with the decision to feature Kim Kardashian on the 2022 SI Swimsuit cover, with some declaring they would not be buying the magazine as a result, and one person even opining that this was a low point for the outlet.