Schitt's Creek's Sarah Levy Announces Exciting Family News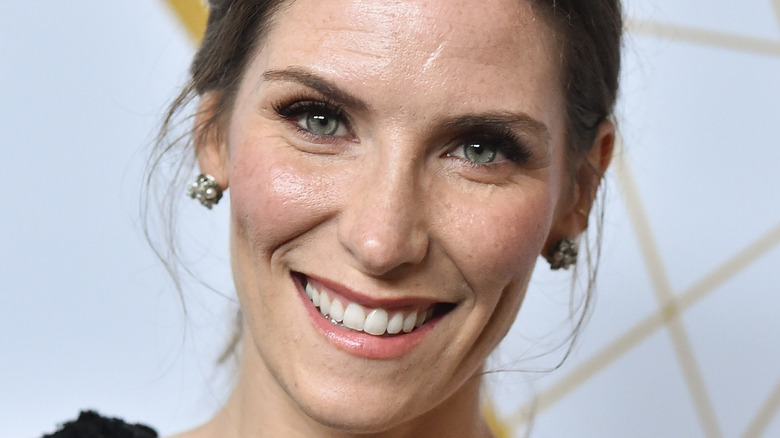 DFree/Shutterstock
As Twyla on "Schitt's Creek," Sarah Levy waited tables at Café Tropical, the small town's one restaurant with an eclectic multi-page menu (via Food & Wine). She won hearts with her sweet and quirky nature, but as viewers learned on the last season, there was more to Twyla than met the eye. She was actually a multimillionaire lottery winner who could have stopped working at any time; instead, she chose to keep her waitressing job out of a strong work ethic, and eventually helped Alexis Rose move to New York, per Screen Rant. 
Following the finale of "Schitt's Creek" — and its multiple Emmy awards — Levy went on to a very different role in the SYFY series "SurrealEstate." Offscreen, she took on an equally exciting personal endeavor, and in October 2021, she married actor and producer Graham Outerbridge in the Sunset Tower Hotel in West Hollywood (via People). 
Since then, her social media feed has been relatively quiet — but now we know why. On May 16, 2022, Levy shocked and delighted fans by posting a picture of herself on Instagram in a sheer white shirt and pink-and-white striped shorts, cradling a very obvious baby bump. Her caption indicated that she's having some serious pregnancy cravings: "We'll take all the salt & vinegar chips and the hottest hot sauce you have, thx!"
Sarah Levy got congratulations from a special follower
The news of Sarah Levy's pregnancy was quickly met with joyful congratulations from both fans and famous friends on Instagram. Singer-actress Alisan Porter sent heart emojis and the message "Yayyyyyyyyyy." Katie Couric wrote, "Congratulations!!!!!" Annie Murphy, who played Alexis Rose on "Schitt's Creek," wrote, "REMEMBER HOW YOU'RE PREGNANT?!" while Tim Rozon sent a simple heart. 
But the best response came from Dan Levy, David Rose himself — who also happens to be Sarah's brother. In true David fashion, Dan wrote, "I'll finally like a baby! (Minus a few select others)." This got fans laughing and joking. One asked, "ok, but what if the baby's first words are 'ew, David'?" Another chimed in, "Will you be organizing the baby shower, and more importantly, what game will we be playing?" As "Schitt's Creek" fans will recall, the character of David was strong-armed into throwing a "baby sprinkle" for Jocelyn, including a party game in which guests tried to throw mints into Moira's open mouth, per TV Tropes.
Another was all about Dan's word choice regarding his future niece or nephew. "It's the 'like' for me...... not completely confident you'll love it, so we settle for like for now," another fan wrote.