Julie And Todd Chrisley Show Their Support For Grayson Amid Federal Trial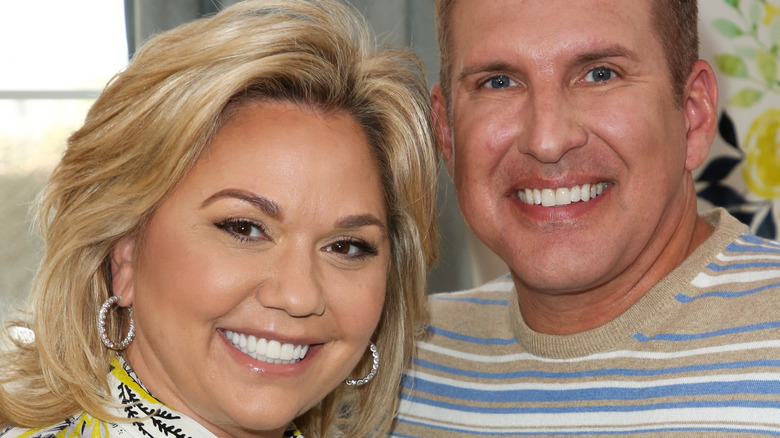 Paul Archuleta/Getty Images
No matter what else is happening in life, birthdays are important — and that feels especially true when one is turning 16. Amid the family's current legal woes, real estate tycoon Todd Chrisley took a moment to wish his son Grayson a happy "sweet 16." Sharing on Instagram the proud father wrote, "@graysonchrisley this day 16 years ago was one of the greatest days of our lives, I thank God each day all day long for blessing us with you and I love you more than words could ever express, with all my heart Thank you for just being you." 
The post includes three candid snaps including a current picture of father and teen amid a nature backdrop of trees, a throwback pic of the two in a more posed photo shoot where the youth barely reaches his famous dad's shoulders, and a picture of the two walking down a hall with Grayson's arm atop his dad's shoulders.
The post came on Monday, May 16, which also marks another milestone for the Chrisley family. Famous (or perhaps infamous) parents Todd and Julie began a long-awaited federal fraud trial in Atlanta, Georgia the same day according to Yahoo! Sports, relating to a 2019 indictment that also includes their accountant Peter Tarantino. All three adults face charges including "one count of conspiracy to commit bank fraud, five counts of bank fraud, one count of conspiracy to defraud the United States and one count of tax fraud" while Julie and Tarantino face additional charges related to the case.
Happy Sweet 16 Grayson
Yet amidst the serious nature of the parents' financial and legal situation, mom Julie also took time out of her day to publicly acknowledge her son's special day. Shared the proud mother on Instagram, "Happy Birthday @graysonchrisley I can't believe my baby is 16 today! I am so proud of the young man that you are. I love you with all my heart and thank Hod [sic] everyday that he chose me to be your mom! #happybirthday #sweet16." 
Julie shared an additional seven photos of young Grayson including three more recent pics of the teen looking styled and well-dressed as well as a sweet mom and son pic in a car from elementary years, a poolside photo of the duo showing just how much Grayson has grown, and two final candids of the youth as a smiling boy.
Not to be outdone, sister Savannah shared her own birthday tribute video, showing off some "cool moves" from her younger brother. Captioning her own media post the sibling shared, "Please never stop dancing, singing, or laughing. You are the calm in the storm. Thank you for lighting up my world for the past 16 years! I love you GrayBug!! TODAY IS ALLL ABOUT YOU!! #happybirthday."