Queen Elizabeth Wears Yellow Head To Toe During Surprise Train Station Appearance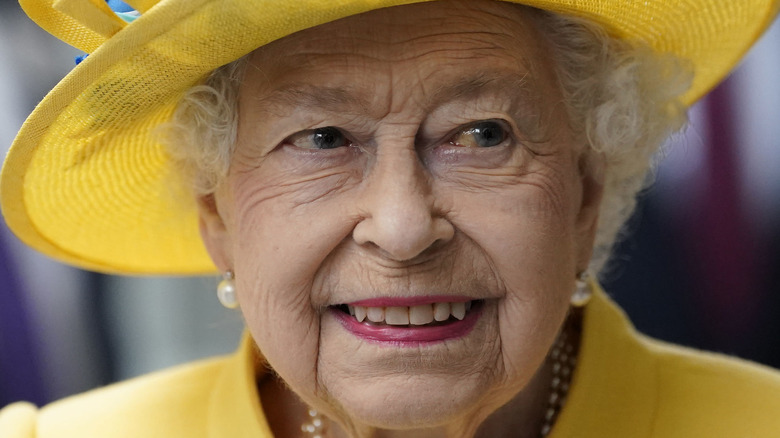 Wpa Pool/Getty Images
Like a ray of sunshine, a brightly adorned Queen Elizabeth entered London's Paddington Station on May 17 in a surprise public appearance. Adorned in a golden outfit whose color might be best described as "happiness," a smiling queen arrived to help open the newly named Elizabeth Line, according to the royal family's Twitter account. A spokesperson shared, "Celebrating the opening of the Elizabeth Line! Named in honour of The Queen, today Her Majesty and The Earl of Wessex visited Paddington Station ahead of the new railway opening to passengers next week." The caption accompanied a video of Queen Elizabeth II performing her ceremonial duties.
Fans were loving the unexpected public appearance as one royal watcher describes on Twitter, "Mellow yellow... #TheQueen all smiles as she officially opens Crossrail's #ElizabethLine in London." A delightful surprise for the crowd, it was only last week that there were "growing concerns" about the health of this record-setting monarch. Yahoo! was among news outlets to report these fears as the queen's absence from the queen's speech to open Parliament was noted and widely discussed.
While Queen Elizabeth clearly isn't done with public appearances just yet, it might be expected that the surprising nature of this attendance will become more standard.
The queen shone in her public appearance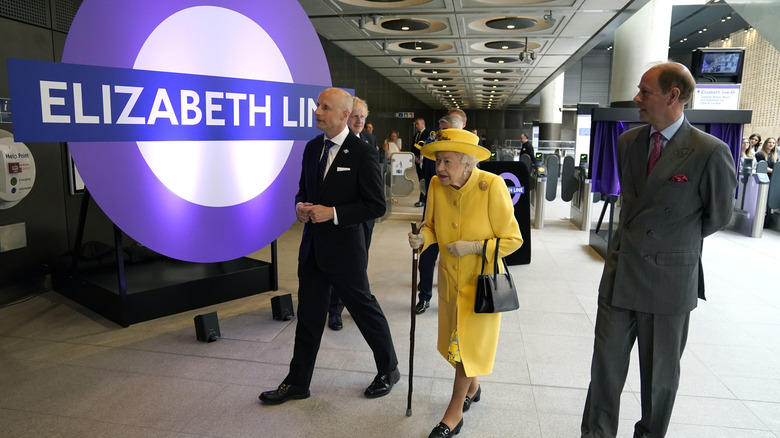 Wpa Pool/Getty Images
Noting the absence of advance notice from royal officials, royal expert Omid Scobie remarks on Twitter, "As is now the new normal for the Queen's diary, the monarch's attendance was only confirmed on the day of the engagement (due to episodic mobility problems). There was no mention of it being a possibility when Buckingham Palace sent out details to media last week." While a surprise, the queen's presence certainly drew attention.
She wore a dress, overcoat, and hat in vibrant yellow-gold. Her dress appeared to have a floral pattern including some spring greens while the brimmed hat was adorned with blue flowers. The outfit was accompanied by sensible black dress shoes and a black purse. 
Sophie, Countess of Wessex explained in a documentary "The Queen at 90," via Marie Claire, that the queen dresses to "stand out" in large crowds [such as the Paddington Station]. States Sophie, "Don't forget that when she turns up somewhere, the crowds are two, three, four, 10, 15 deep, and someone wants to be able to say they saw a bit of the queen's hat as she went past." As for the choice of yellow, specifically, this marks an even more unique occasion as the queen historically only chooses yellow 4 percent of the time according to Daily Mail analysis of Vogue.
A surprise and a delight to crowds, we hope to see more of the queen as her Platinum Jubilee celebrations begin.