Inside Minka Kelly And Trevor Noah's Surprising Split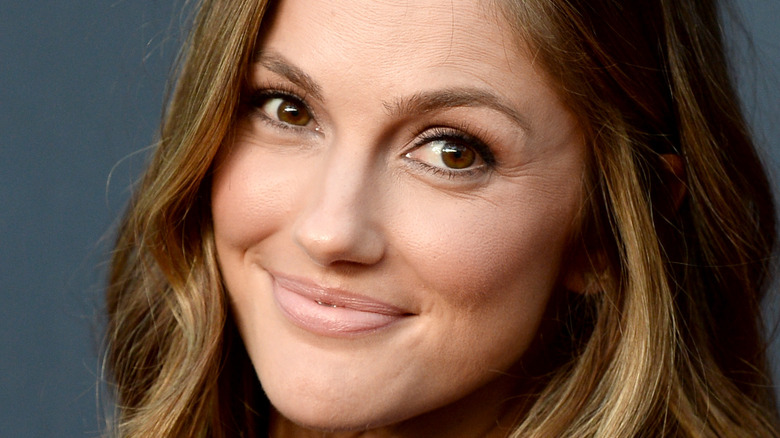 Handout/Getty Images
We're so used to celebrity couples putting it all out there that, when a duo comes along who keeps things relatively under wraps, it can be disconcerting. In September 2020, a source casually confirmed to Us Weekly that unlikely pair Trevor Noah and Minka Kelly were officially together, unbeknownst to us all. "They've been dating for a while, well before quarantine started," the insider shared. There was little social media activity, though the two followed each other and liked posts here and there.
That very same month, an insider told E! News things were "getting serious" between the fledgling couple, who were quarantining together in New York at the time. The COVID-19 pandemic relegated Noah to filming "The Daily Show" from home, but it also allowed him and Kelly to keep their relationship private, since they obviously weren't heading out together during lockdown. In the months since, though, details leaked out, with an insider telling Us in June 2021, "Minka and Trevor have been on-and-off."
At the time, the celebrity couple was reportedly spending plenty of time together in an effort to make things work, but now it seems everything has sadly fallen apart.
It's really over this time for Minka Kelly and Trevor Noah
It's all over for Minka Kelly and Trevor Noah, with a source confirming to People simply, "Minka is single now." In fact, another insider close to the former couple clarified they actually split up a while ago. Kelly is taking it all in stride, with the initial source clarifying, "She is very happy. She'd rather be single than waste her time with the wrong guy." The breakup reportedly arose because Noah was too busy with work to dedicate enough time to Kelly. Both parties are officially dating again, too.
The celebrity couple started seeing each other sometime in 2020, and kept their relationship pretty private, rarely even appearing in each other's social media posts. In January 2021, reports circulated that the "Daily Show" host had purchased a lavish love nest for them. As the New York Post reported at the time, although Noah once claimed he'd never live with a girlfriend, the comedian shelled out $27.5 million for a Bel Air compound for himself and Kelly to live in. The massive, 11,000 square foot home boasted stunning views, six bedrooms, eight bathrooms, and three en suites.
Dirt confirmed that Noah ultimately ended up selling the home for $26.4 million in March after several months on the market. Funnily enough, rumors circulated that Kelly and Noah had broken up almost a year prior, in May 2021, per People. It seems this time it's really over for good though.