The Truth About Jamie Dornan And Keira Knightley's Former Relationship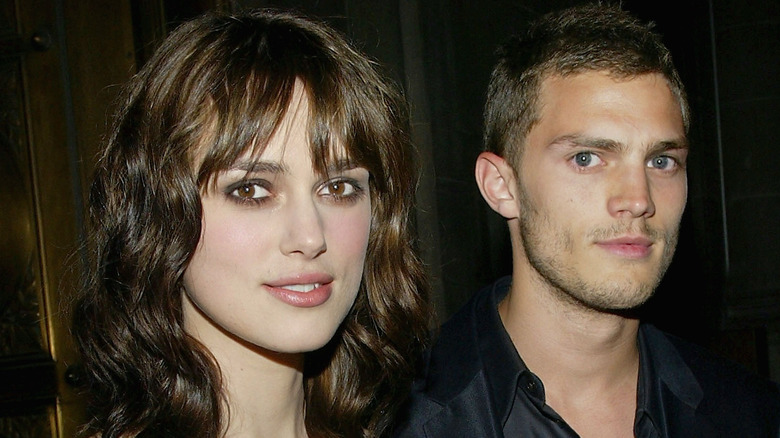 Evan Agostini/Getty Images
Following his performance as the sultry Christian Grey in the "Fifty Shades of Grey" franchise, Jamie Dornan has continued to distance himself from the character with a variety of differing roles. His most recent is Kenneth Brannagh's Oscar-winning film, "Belfast" (via BBC News), in which Dornan plays Pa, the father of nine-year-old Bobby (played by Jude Hill).
"Belfast" was just one of the films that came off the success of his role in "Fifty Shades of Grey," among the likes of "Barb and Star Go To Vista Del Mar,"  "Wild Mountain Thyme", and "Trolls 2: World Tour" (via IMDb). But acting wasn't always Dornan's intention — he actually started out as a model.
After dropping out of university in 2002, Dornan moved to London where he would eventually become a model (via Belfast Live), working for the likes of Abercrombie & Fitch. And it was during this time that he started dating one of Hollywood's biggest stars — Keira Knightley.
Keira Knightley was mad about Jamie Dornan when they were dating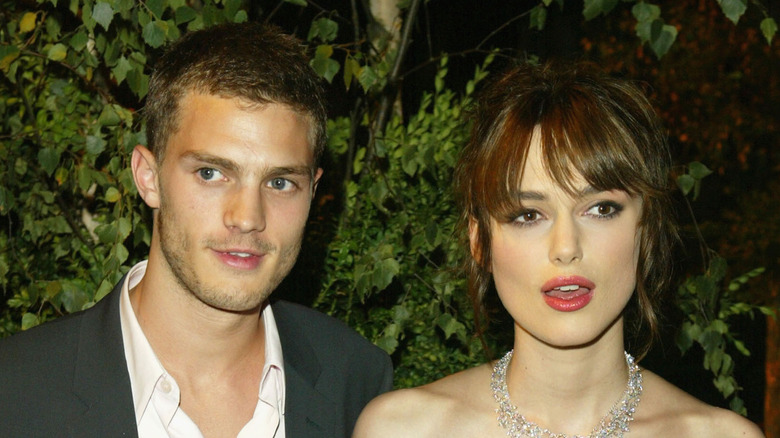 Dave Hogan/Getty Images
As Dornan's star began to rise in the modeling realm, in 2003 he took part in a photo shoot for the English jeweler Asprey, which just so happened to feature Knightley (via Cosmopolitan). A few years into their relationship, Knightley opened up to The Mirror about their dynamic. "I'm mad about him. He keeps me sane when things get stressful," she said. "We always have fun together." Not much else is known as to how quickly the two became an item, but they were together for a good couple of years before they decided to call it quits in 2006.
Their relationship may have been low-key, but Dornan was surprisingly open about why they broke up. "There is a big pressure when you go out with someone such as Keira," the actor told the Daily Mirror that same year (via Cosmopolitan). "The man is meant to be the alpha in the relationship on the money and power front, and clearly I was not. You feel like you have to be dominant in other areas and that causes problems ..." At the time, the first "Pirates of the Caribbean" and "Love Actually" had been released, both of which she was one of the main stars of.
Jamie Dornan and Keira Knightley reportedly couldn't their relationship to work in the end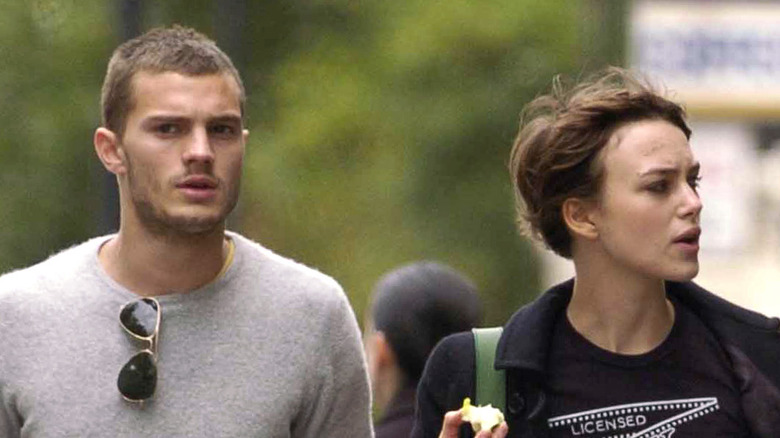 Antony Jones/Getty Images
As for Knightley, she didn't provide a statement to the press at the time. However, a source told The Mirror that she "shed a river of tears" following their breakup. "Keira's gutted. She really thought what she and Jamie had was love but it just wasn't meant to be," the source told the newspaper. "They both wanted it to work but in the end it was untenable."
The Mirror went on to report that their split may have been down to Dornan wanting to become an actor. Around the time of their breakup, Dornan was cast in his first film, "Marie Antoniette," which starred Kirsten Dunst.
While it may never be known exactly why Dornan and Knightley broke things off, Dornan wasn't too happy about the constant attention they received. "It's a strange environment, being hounded," he told ES Magazine. "The paparazzi are cretins. There are so many ways to make a living that don't involve hiding in bushes outside the houses of 18-year-old girls with a camera in your hand."