Alexandria Ocasio-Cortez Shares Happy Relationship News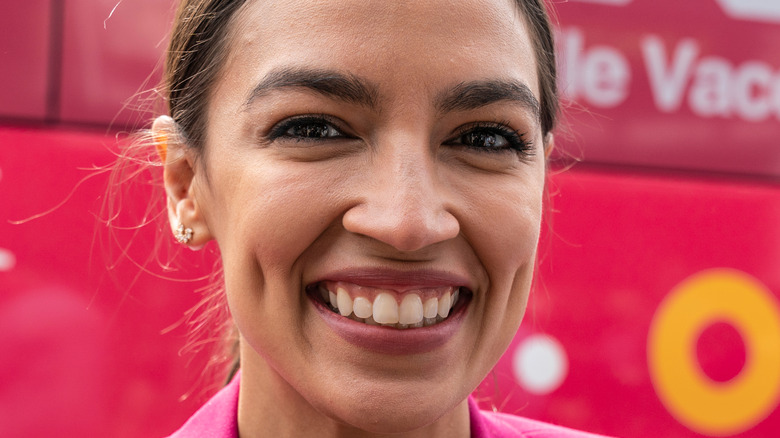 lev radin/Shutterstock
Alexandria Ocasio-Cortez rose to political stardom when she defeated Democratic incumbent Joe Crowley in the 2018 primary in a massive upset; the 28-year-old beat him by 15 percentage points, per The New York Times. With that upset, the chair of the Democratic National Committee called her the "future of our party," via The Hill. And she's been in the headlines ever since; people seem to love to hate her. One example — Ocasio-Cortez attended the 2022 Met Gala in a white dress with "Tax the Rich" in red on it, for which both the right and some on the far left came after her, per The New York Times. And former President Donald Trump wasn't a fan either; Ocasio-Cortez was often a target of Trump's rage tweets, via CNN. Seen by some as the de facto leader of "The Squad," four progressive, young first term women in the US House of Representatives, one explanation for the hate that comes Ocasio-Cortez's way could be that "we are not used to seeing young women of color in positions of power," as journalist Andrea González-Ramírez told Vanity Fair.
But with all the hate, Ocasio-Cortez has held her head high, and she's continued to push for progressive politics, including moving to renewable energy and updating the public housing system, via The New York Times. And she hasn't stopped any of it from having a personal life, revealing a joyous personal moment to the world recently.
Alexandria Ocasio-Cortez got engaged to Riley Roberts in Puerto Rico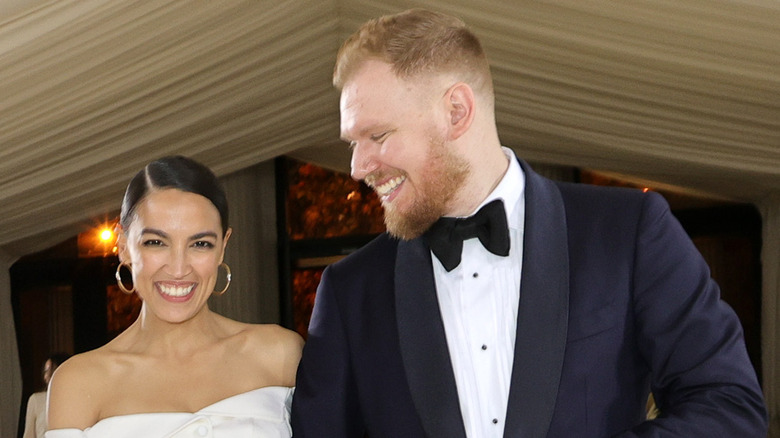 Jamie Mccarthy/mg21/Getty Images
There were rumors that Alexandria Ocasio-Cortez's longtime boyfriend Riley Roberts had gone from boyfriend to fiancé, and Ocasio-Cortez has now confirmed that he did! Tweeting with Business Insider, she said that they "got engaged last month in my family's hometown in Puerto Rico." While wedding bells may be ready to ring, it won't be right away. Instead of rushing into choosing a venue, a dress, a cake, and more, Ocasio-Cortez said "we're taking some space to savor this time."
Congratulations have flooded in on Twitter, including from her Democratic House colleague Jamie Raskin. And in anticipation of the right's potential uproar over the ring choice, one person tweeted "Your ring gotta be made of tinfoil otherwise the right's gonna flip." Then we got a little hint about the ring the world has yet to see when Ocasio-Cortez replied "Close! It's zero emission and recycled gold".
Ocasio-Cortez and Roberts met in college at a weekly Boston University student town-hall and started dating, though they split up when they finished college and Roberts went back home to Arizona, per Insider. They ended up getting back together and Roberts moved to New York City to be with her. Congrats to the happy couple!