Why Alexandria Ocasio-Cortez's Met Gala Dress Had Twitter In A Tizzy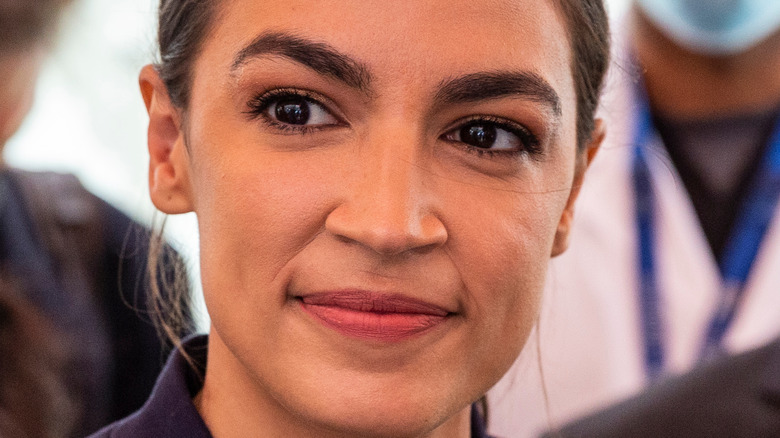 lev radin/Shutterstock
For many fashion lovers, the first Monday in May is one of the highlights of the year. This special day is reserved for the biggest entertainers in the world to come together to celebrate the opening of a new Costume Institute exhibit. Traditionally the celebrity guests wear extravagant outfits that match the theme of the exhibit to walk the red carpet and infamous MET steps. While the Met Gala is an annual event, it was canceled in 2020 due to the coronavirus pandemic (via Elle). Thankfully the ball was able to return this September with the theme "In America: A Lexicon of Fashion." Attendees included musician Lil Nas X, actor Timothée Chalamet, and model Hailey Bieber (via Vogue).
While most of the guests focused their energy on fitting the theme, a few stars used this event to make a political statement (via CNN). Congresswoman Alexandria Ocasio-Cortez donned a white strapless dress that read "Tax The Rich" in bold red writing on the back. This statement piece did not sit right with most Twitter users. Here's what a few of them had to say.
Alexandira Ocasio-Cortez made an unexpected statement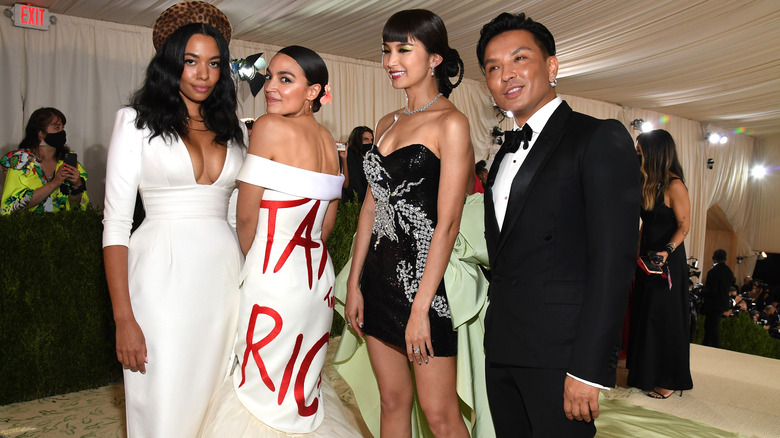 Kevin Mazur/mg21/Getty Images
For her Met Gala debut, Alexandria Ocasio-Cortez wore a gown designed by the Brooklyn-based brand Brother Vellies (via CNN). She told reporters at the event that she chose to wear a dress with the message "Tax The Rich" because she believes it will help the cause. Ocasio-Cortez said, "When we talk about supporting working families and when we talk about having a fair tax code, oftentimes this conversation is happening among working and middle-class people (on) the senate floor. I think it's time we bring all classes into the conversation."
Though she had the best of intentions with her decision, many Twitter users felt the dress was in poor taste. New York Times fashion critic Vanessa Friedman said, "Alexandria Ocasio-Cortez attending the $35,000-a-ticket #MetGala in a Brother Vellies gown blaring 'Tax the Rich' is a complicated proposition," (via Twitter). Many Twitter uses felt the congresswoman's statement fell flat. One user wrote, "A table at the met gala is around 300,000 [dollars] and tickets are around 30,000 and she's going to be dining around millionaires and billionaires lol so performative." However, other onlookers explained that Ocasio-Cortez's decision to wear this dress around such wealthy people made it more impactful. One defender explained, "it apparently has to be said, Rich people, even congresswomen ... can advocate for taxes. That's the point, that's what she's doing."