Fans Can't Stop Talking About Tom Cruise's Height In Photos With Kate Middleton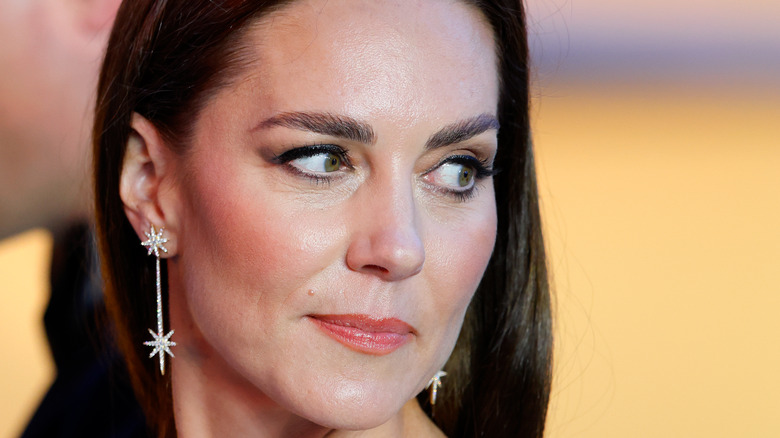 Max Mumby/indigo/Getty Images
Tom Cruise is a lot of things — an amazing actor, a magnetic personality, a longtime Hollywood heartthrob. What he isn't is tall. The star is widely known to be on the shorter side, standing at 5'7".
Meanwhile, Kate Middleton, the Duchess of Cambridge, is widely reported to be taller than that, with Parade noting the mom of three is 5'9". It's worth pointing out that the royal also regularly wears heels, with her footwear being copied by fans the world over. Town & Country reports Middleton favors Jimmy Choo and Stuart Weitzman pumps, among other upscale brands that boost her height several inches.
It's with these facts in mind that fans would likely expect there would be a marked height difference were Cruise and the Brit to stand side-by-side. And yet, having been given a chance to see the two mega-stars together, we are left dumbfounded by how they appear to basically see eye-to-eye, literally.
Tom Cruise and Kate Middleton's height illusion explained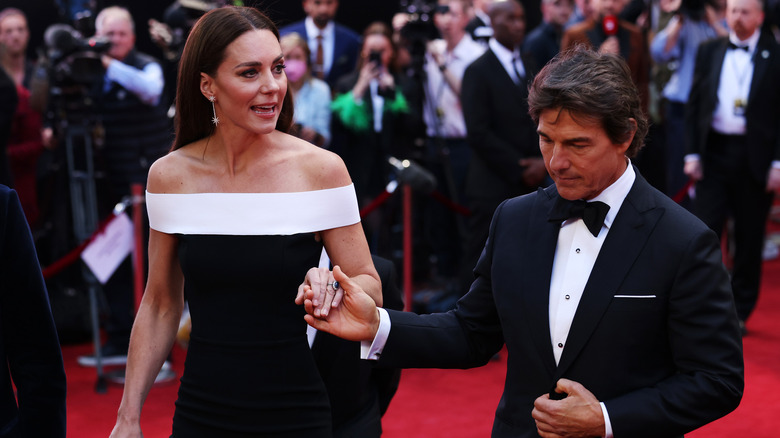 Dan Kitwood/Getty Images
As the Daily Mail reports, when 5'7" Tom Cruise escorted the 5'9" Duchess of Cambridge to the Thursday premiere of "Top Gun: Maverick," not only was the royal wearing heels, but the two world-renowned stars seemed to be the same height, a detail that shocked fans.
But here's the rub — likely knowing that he would be made to look short next to Kate Middelton, the actor donned a pair of shiny black shoes with stacked heels, boosting him up so the princess wouldn't tower over him. The Daily Mail further reports that the A-lister is known to wear lifts in his shoes.
To be fair, it also depends on the angle from which the two were photographed, with countless images from the event showing that Middleton is clearly taller than Cruise. Some people shared not-so-nice memes joking about the stars' height difference.
More than anything, it seems fans were more fixated on the chemistry between Cruise and Middleton, with the actor taking her hand at one point, drawing mixed reactions online.