The Hilarious Reason Tom Holland's Mom Once Called Spider-Man Producers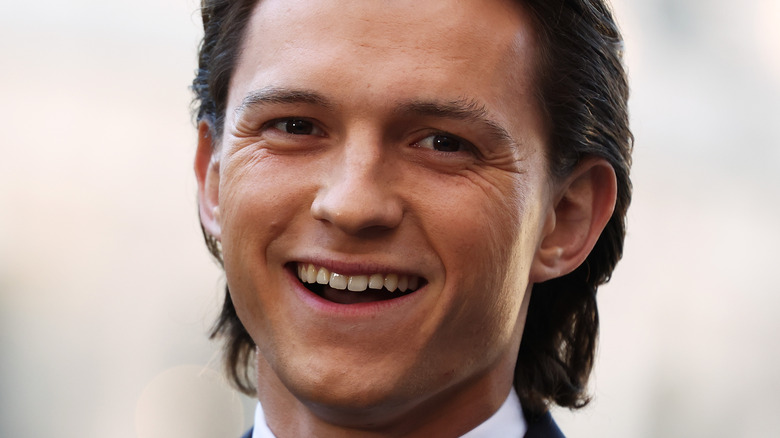 Ernesto Ruscio/Getty Images
Playing Spider-Man changed Tom Holland's life irrevocably, catapulting the British actor to the top of the A-list and making him a household name all over the world. Famously, Holland doesn't like being in the public eye, finding the intense press intrusion into his personal life — in particular, the actor's romance with co-star Zendaya — discomfiting. "Since I got cast as Spider-Man, I haven't really taken a break," Holland admitted in a pandemic-era interview with GQ. And yet, although he played Peter Parker for the final time (for now) in "Spider-Man: No Way Home," the British star admitted to being worried about what's next.
Of heading up "Uncharted," the videogame adaptation in which he appears alongside Mark Wahlberg, Holland acknowledged, "This is that moment of, like, 'Can Tom Holland stand up on his own and be a leading man?' I know that makes me sound like a d**k for saying that. But for me it is, 'Can I do it without the Lycra?'" In fact, the actor told The Hollywood Reporter everything about his typical acting style had to be changed for "Uncharted," including the way he walked. It's understandable, after spending five movies portraying the same character. Thankfully, Holland will always hold Spider-Man close to his heart.
He was so concerned about making a good first impression early on, though, the beloved Brit's mom had to step in to make sure he didn't injure himself as a result.
Tom Holland's mom advocated for her son to get more bathroom breaks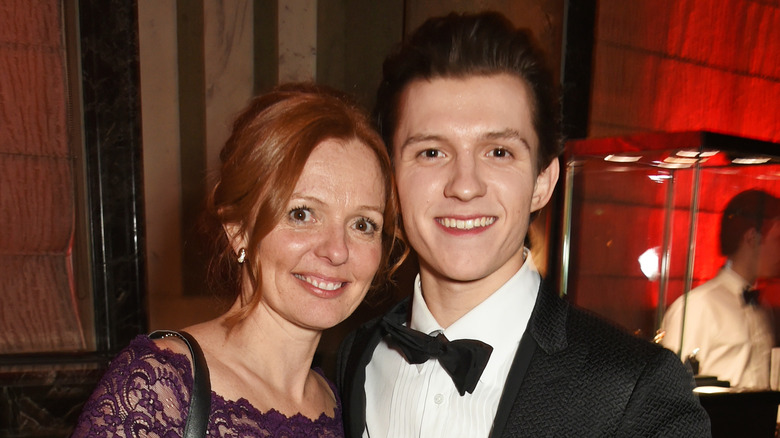 David M. Benett/Getty Images
Tom Holland was so eager to prove himself, while playing Spider-Man for the first time, that when nature called, he refused to answer. The British actor shared, during an appearance on "Live with Kelly and Ryan," how he'd stay in the restrictive superhero suit while filming "Spider-Man: Homecoming" rather than cause a fuss. "I was in the suit for days at a time, sort of 11 hours [a day] and I was young, and wanted to impress the studio, and didn't want them to think I needed [bathroom] breaks," Holland explained.
The actor admitted to his mom that he was struggling and, to Holland's horror, "two days later the producer came up to me and was like, 'How are your kidneys?'" He revealed Holland's mother had called to complain about the lack of toilet breaks, demanding more on his behalf. For what it's worth, it seems like it worked out well since the Marvel star didn't end up being rushed to the hospital or anything.
Holland remains incredibly close with his mom, and indeed she's heavily involved in his career, too. The actor told Esquire she wasn't impressed with footage from the Iraq War movie "Cherry," in which he plays a struggling drug addict. "I guess I wasn't thinking right, and I was like, 'Do you know who would really like to see this? My mum'," he shared. "In hindsight, it was a really stupid thing to have done."
Playing Spider-Man gave Tom Holland the kind of life he never expected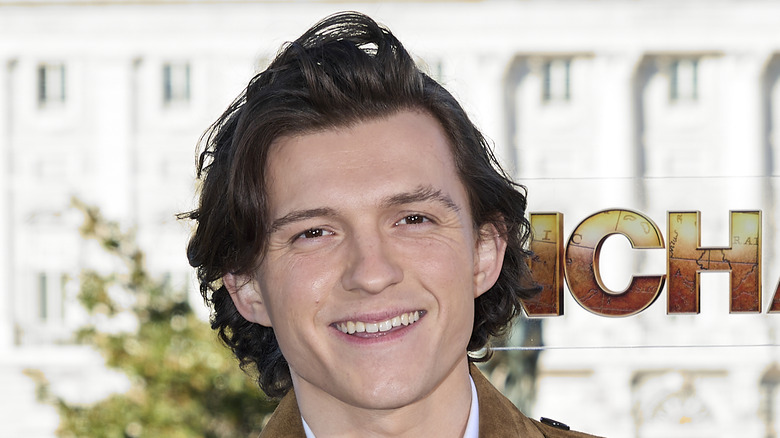 Carlos Alvarez/Getty Images
Trilogy closer "Spider-Man: No Way Home" sees Tom Holland and co-stars Zendaya and Jacob Batalon's characters getting ready to attend college and, although acting is obviously the British star's passion, he admitted to USA Today that school could be his next move. "I don't know what I would study (but) actually getting an education, it would be quite fun," Holland noted. The actor would love to take a break from being constantly hounded by paparazzi, particularly when he's out on dates with Zendaya, admitting, "That's never going to feel normal and it's always going to make me feel funny but we're doing it together."
The "Uncharted" star has been working since he was a kid, and doesn't know anything different, but credited Zendaya with helping him navigate the tricky world of mega-fame. As Holland acknowledged, she's been "really instrumental in the sanity that I have right now and the fact that I have not lost my mind. It's an interesting life." It's worth noting that, despite being uncomfortable with the level of fame associated with playing Spider-Man, Holland hasn't said goodbye to the character forever. He teased, in an interview with Entertainment Weekly, that there have been discussions about the potential future of the web-slinger. 
Hopefully, if and when the time comes, Holland will be able to advocate for his own toilet breaks accordingly.