The Hilarious Sacrifice Young And The Restless Star Melissa Ordway Made For Her Daughters
Tibrina Hobson/Getty Images
On "The Young and the Restless," Abby Newman has finally reached her dream of becoming a mom in 2021. After a heartbreaking miscarriage when married to Stitch Rayburn (Sean Carrigan) caused by her vengeful stepson, Max, Abby learned she couldn't carry a child to term. That didn't mean she was about to give up, so she got creative with her quest to become a mother and enlisted her friend Mariah Copeland (Camryn Grimes) to carry a child made from her egg and her friend Devon Hamilton's sperm, as her new husband, Chance Chancellor (then played by Donny Boaz) also had fertility issues (via Soaps In Depth). In August, Mariah finally gave birth to baby Dominic (via Soap Dirt).
Actress Melissa Ordway, who has been bringing Abby to life since 2013, realized her own dreams of becoming a mom in 2016 when she adopted Olivia Christine at birth on May 3, 2016. A little over a year later on December 9, 2017, Ordway gave birth to another bundle of pink that she and her husband, Justin Gaston, named Sophie Jolie. Over the last five years, Ordway's fans have gotten to know both blonde princesses on social media as the actress chronicles the good times with her children.
Melissa Ordway betrays her home team for her daughters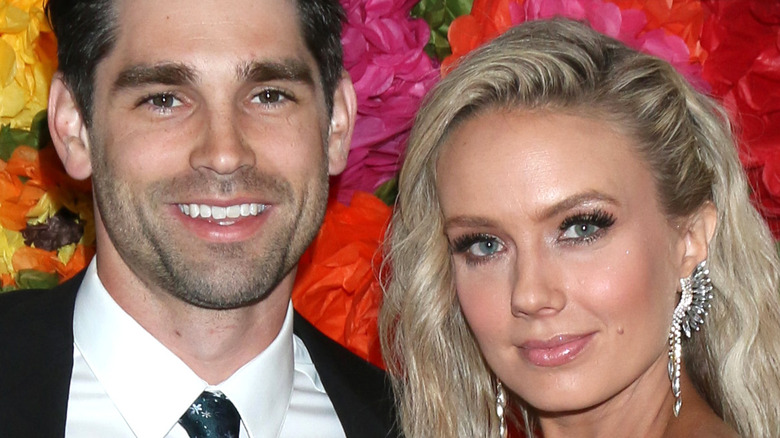 Kathy Hutchins/Shutterstock
Before Melissa Ordway moved out to Hollywood to make it as an actress, she grew up in Atlanta, Georgia, and earned her college degree at Georgia State University (via Soap Hub). That made her a diehard Atlanta Braves fan, but alas, the Dodgers are now her home team in Los Angeles and when she wants to take her little girls out to the ballgame, they head to Dodgers Stadium.
In April 2022, Ordway dressed her daughters warm on what looked like a cool California night and took in a Dodgers game while they played the Braves. It may have seemed like a dream come true for the actress, but she still had to play the part of a Dodgers fan for the photos and videos she shared to Instagram of the fun night. However, in her message next to a series of photos with herself, her husband Justin Gaston, and Olivia and Sophie, Ordway expressed her true feelings about that night enjoying America's favorite pastime.
Melissa Ordway was still rooting for her home team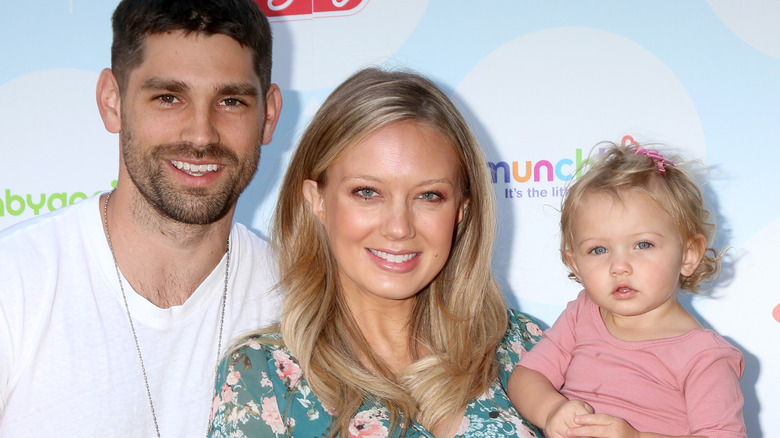 Kathy Hutchins/Shutterstock
When Melissa Ordway and her husband Justin Gaston bundled up their little girls and took them to a baseball game in April, Ordway remembered the days her dad would do the same with her — except he'd take her to Atlanta Braves games rather than LA Dodgers games.
"Growing up in Atlanta, I was always a big Braves fan," Ordway wrote on Instagram. "I remember my dad taking me to lots of games and those memories are so special to me. @jmichaelgaston and I love taking the girls to games and eating Dodger Dogs, Dippin' Dots (even when Sophie steals my flavor) and nachos out of a helmet. I never thought I'd be cheering for the Dodgers, but I do it for my LA babies. Even though I did quietly get excited when the Braves won."
Ordway may have been rooting for the Braves in her heart, but it was obvious she was not going to let her daughters know that as she even started her Instagram post with "Let's go Dodgers." She also made a point of noting that the helmet little Sophie is sporting in one of her snaps is the helmet that housed their nacho treat. At least Ordway's life with her kids seems much less dramatic than her "Young and the Restless" alter ego as Abby had to contend with a kidnapped surrogate mother and a missing in action husband as her baby was brought into the world (via Soaps In Depth).