Laura Carmichael Reflects On Her Downton Abbey Character's Growth - Exclusive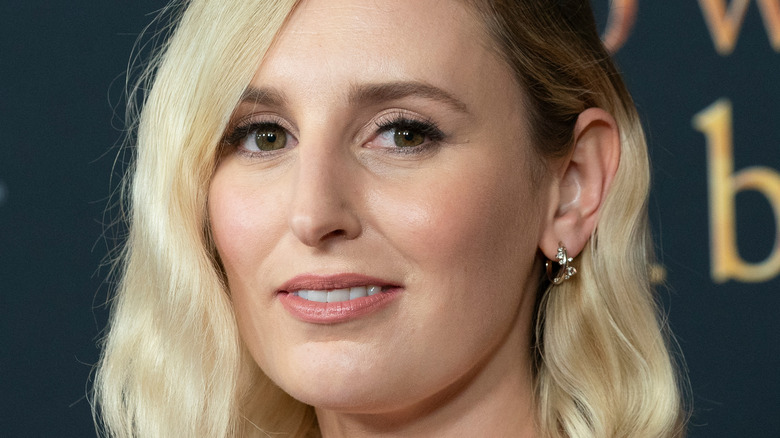 lev radin/Shutterstock
If there is one British drama that has not only stood the test of time but also paved the way for the likes of "The Gilded Age" and "The Crown," it's "Downton Abbey." The original series ran from 2010 until 2015, bringing a phenomenal ensemble cast, bonafide stars, and charmingly relatable plot points to the screen. Garnering a host of fans and viewers both in the U.K. and across the pond, the series was celebrated both commercially and critically, and it's safe to say that a wide number of religious followers were sad to see the series come to an end.
Luckily for them (and us), "Downton Abbey" returned in 2019, but with a twist — the year marked the first time the series had shifted from a television format to a full length feature film, bringing the beloved characters to the big screen. And if one film wasn't good enough for fans, how about two? "Downton Abbey: A New Era" was released in cinemas everywhere on May 20, and ahead of the premiere, we sat down with Lady Edith herself — Laura Carmichael — to pick her brain about the film, its dueling storylines, and production experience.
Carmichael is just as lovely off-screen as she is on, and while we spoke about the film at large and the reception from fans, the actress dished about her character's development and the ushering in of professional ambitions that Edith embraces.
Laura Carmichael was delighted to see Edith's career return to the screen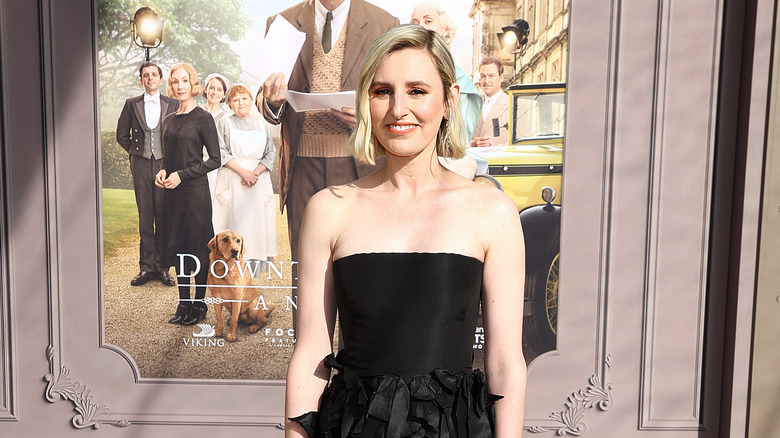 Arturo Holmes/Getty Images
While Lady Edith — the middle Crawley sister — was seen as the odd sister out in the early days, Laura Carmichael made sure that the character came into her own. During the "Downton Abbey" series, Edith stepped into the professional spotlight, not only redefining gendered expectations of work, but also establishing herself as a bonafide journalistic force. That spirit and sense of determination is back in "Downton Abbey: A New Era," and ahead of the film's premiere, we asked Carmichael what she thought about Edith's professional ambitions making it onto the big screen.
"I was really pleased to see [Lady] Edith find her role again as a writer, and to see that she's still got that drive even when she's become a mother again," Carmichael told us, joining the interview with co-star Allen Leech. "She's super happy in her marriage, but she still wants to work. I was really pleased to see that back in the story."
Reflecting even further, Carmichael revealed how "delighted" she was that writer Julian Fellowes focused on Edith's "voice," not losing the character's personal goals amid the story.
Laura Carmichael reflects on Edith's future off-screen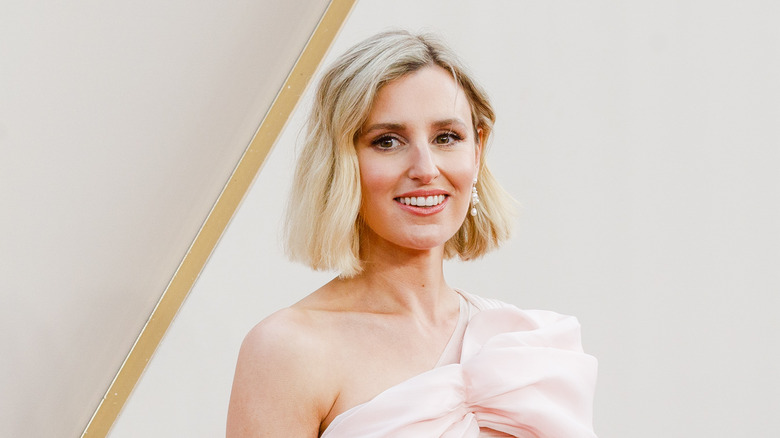 Tristan Fewings/Getty Images
While we're keeping our fingers crossed that there will be another "Downton Abbey" film (or series revival) released in the future, we had to ask Laura Carmichael what she'd hope for Lady Edith's future. Reflecting on her character's personal growth, as well as her professional ambitions, Carmichael commented on the gender-defying nature of Edith's path and how she hopes the character will continue to grow.
"I would love for her to keep writing and keep being the boss," Carmichael told us. "It was such a fun experience the last few seasons when she got to that space, and that was why [Herbert "Bertie" Pelham] fell in love with her. He fell in love with her as this career woman."
The storied actress continued to share with us that in addition to her hope that Bertie continues to support Edith in her professional endeavors, she expects the blossoming journalist to keep "rocking it."
"There are examples of these women, particularly these aristocratic women, that were pioneers in their way," Carmichael said of the historic, gender-paving developments of the 20th century. Hopefully, we'll get to see Edith return to the screen again and again.
Focus Features released "Downton Abbey: A New Era" in theaters on May 20, 2022.