Meghan Markle And Prince Harry Face More Bad News About Their Staff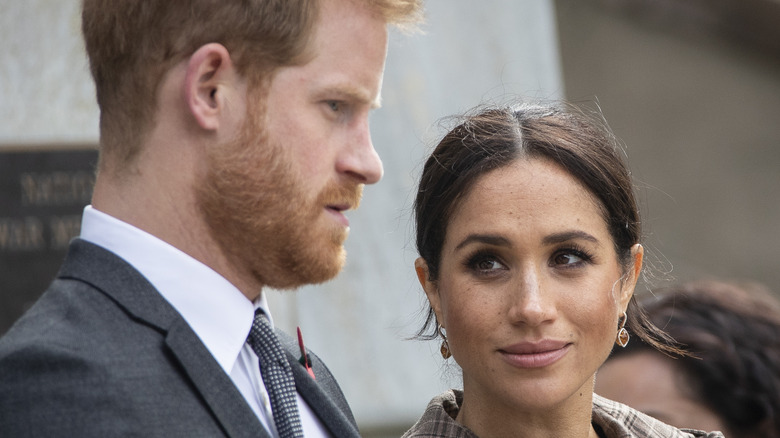 Pool/Getty Images
It's been a busy four years for Prince Harry and Meghan Markle. Since their wedding on May 19, 2018, the couple has shifted from serving as senior working royals in the U.K. to residing in California and heading up their own nonprofit organization, Archewell. They've also become parents to two children, Archie, 3, and Lilibet, 11 months, per USA Today.
As far as working relationships go, the Duke and Duchess of Sussex have experienced a lot of turnover during the last few years. For a variety of reasons, 12 top roles within Harry and Meghan's staff have been vacated since September 2018. One of the staffers, personal assistant Melissa Toubati, quit over claims Meghan "left her in tears with her demands" (via the Daily Mail). However, the duchess denied that she made any royal staffers cry. Others, including Amy Pickerill, the duchess' deputy private secretary, as well as an unnamed security guard, left due to changes in their personal lives. Reportedly, these changes were unrelated to their employment experience with Harry and Meghan (per the Daily Mail).
Archewell — which was founded in April 2020, according to Harper's Bazaar — experienced its most significant staffing upheaval in March 2021 when Catherine St-Laurent, the organization's director and chief of staff, left after serving in the role for just over a year (via Daily Mail). Recently, it came to light that Archewell's team is experiencing another change in staffing.
Toya Holness is the latest staffer to leave Archewell
As reported in The Times on May 22, 2022, Archewell lost another staff member. Toya Holness reportedly left the organization after working there since October 2020. According to her LinkedIn profile, Holness had worked in three different positions at Archewell. She began as press secretary and was promoted to the global press secretary position shortly thereafter. For the last 11 months, she served as Archewell's head of communications.
Holness has a master's degree in strategic public relations from the University of Southern California and a bachelor's in business administration and marketing from the University of California Riverside. According to the Daily Mail, she worked closely with Meghan Markle and Prince Harry on the day-to-day operations of their nonprofit. The PR pro was also called "Meghan's shadow," since she and the duchess shared a similar aesthetic when it comes to fashion and accessories.
Holness has not offered a reason for leaving the Duke and Duchess of Sussex's employment, nor has she updated her LinkedIn profile to reflect her departure. She has worked for several companies during her professional career, including communications roles with entertainment agency William Morris Endeavor and the New York City Department of Education.
Prior to the announcement of Holness' departure, Archewell announced a new hire. Ashley Momtaheni will become executive vice-president of global communications on May 30, per Deadline. Momtaheni has a wealth of PR experience in the entertainment industry, working for United Talent Agency, Warner Bros., and currently, Universal Filmed Entertainment Group.
Catherine St-Laurent offered praise for Prince Harry and Meghan as employers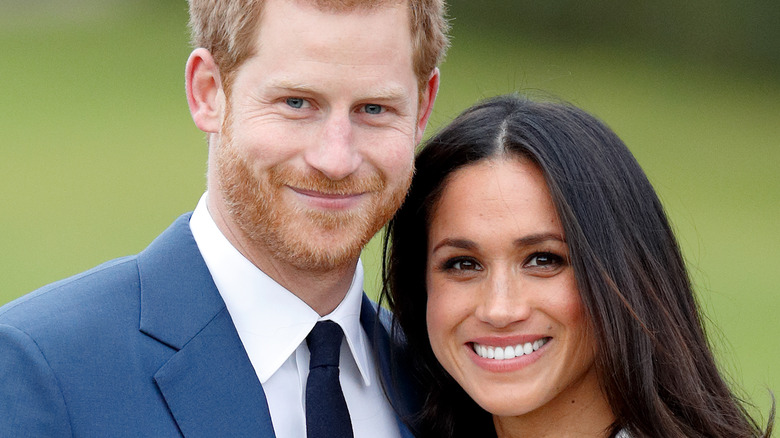 Max Mumby/indigo/Getty Images
While Toya Holness has yet to comment on her experiences involving working for and leaving Archewell, former director and chief of staff Catherine St-Laurent has spoken with the media about what it's like to work with Prince Harry and Meghan Markle.
"They are incredibly talented and creative leaders," St-Laurent told The Cut. "I'm grateful to have had the opportunity to do that, to be able to be with them on their journey. The time that I spent with them was incredibly fulfilling." As evidence of her good relationship with the Duke and Duchess of Sussex, St-Laurent became an advisor for Archewell after leaving her position (per People).
Ann Gripper, host of the podcast "Pod Save the Queen," told Express in 2021 that she believed Archewell's high turnover was related to the organization's newness. "You think it's going to be one thing and it ends up being something else or it ends up needing something else compared to what you thought it would."
Speaking with Marie Claire, St-Laurent mentioned that after she set up Archewell's basic framework and mission, she believed it was up to Meghan and Harry to chart the future course of their organization. In addition, St-Laurent said, "I've always had a latent interest in creating something myself." This desire led her to start her own business, Acora Partners, along with her co-founder, Rebecca Goldman. Similar to Archewell, Acora is dedicated to creating social change.