Young And The Restless Star Courtney Hope Reveals How She Stays Inspired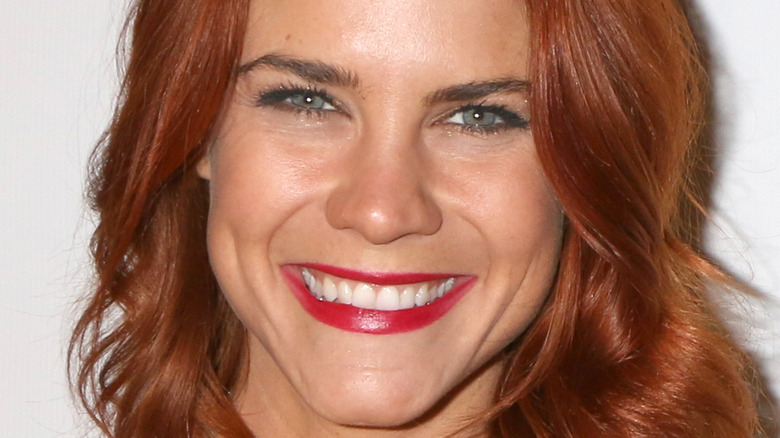 Kathy Hutchins/Shutterstock
Courtney Hope has been in the daytime soap game since 2017. She made shows like "The Young and the Restless" and "The Bold and the Beautiful" her home after over a decade of guest appearances on the likes of "NCIS" and "Quantum Break." The actress first popped up on the latter sudser as Sally Spectra — the great-niece of the fan-favorite legacy character of the same name. Her namesake was played by the late Darlene Conley, and the young firecracker shares both her flaming red locks and larger-than-life personality with the original Sally.
The younger Sally arrived in Los Angeles with a plan to make the family business Spectra Fashions a success over its rival company Forrester Creations (via Soap Central). Her plans failed, and after a tumultuous relationship with Wyatt Fuller (Darin Brooks), kidnapping his ex-girlfriend, and faking a terminal illness, she decided to leave town. In 2020, Hope took her character over to the sister soap of "The Bold and the Beautiful," "The Young and the Restless," so Sally could start fresh in Genoa City where she's been ingratiating herself ever since.
The actress keeps busy, and over the years we've learned that her passions extend beyond the shows she's starred on.
Courtney Hope expresses herself through movement
Outside of acting, Courtney Hope is a certified personal trainer and takes her exercise and nutrition very seriously, according to SoapHub. She is often posting on Instagram to share her workouts, give fitness tips, and inspire her fans. Hope is also a dancer and likes to release her emotions through movement. This is a way for her to not only keep her body moving, but it's also an excellent tool for her as an actress as she is able to express whatever it is she's feeling, much like she's tasked with on set.
In an interview with Soap Opera Digest, Hope shared that she didn't always have a good relationship with diet and exercise and that she once suffered from an eating disorder. Since that time she has been able to overcome her disorder and focus on better eating habits and keeping her body healthy. Hope also teaches classes on cardio barre and pilates in hopes of using her expertise to help others who might be struggling with the same issues.
If you are struggling with an eating disorder, or know someone who is, help is available. Visit the National Eating Disorders Association website or contact NEDA's Live Helpline at 1-800-931-2237. You can also receive 24/7 Crisis Support via text (send NEDA to 741-741).
Courtney Hope relies on dedication to keep her going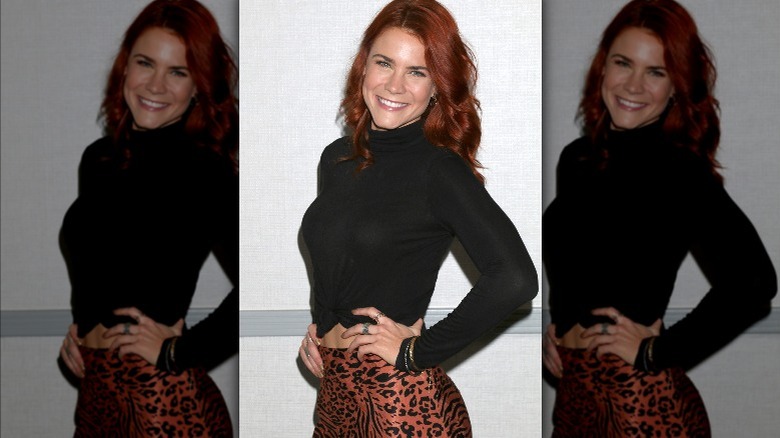 Kathy Hutchins/Shutterstock
In a recent Instagram post, Hope shared a mantra that has helped keep her motivated lately: "Dedication OVER inspiration." She explained to her followers, "That resonated with me harder than I expected and it's so true. Some days I'm just not motivated or inspired, but I know my goals are important to me so I choose to get up anyway! This can apply to anything in life."
One of the things Hope may be applying this idea to is the recent split with her long-time partner, "General Hospital" star Chad Duell. After years of dating and a lavish wedding ceremony in October that apparently wasn't binding, the couple decided to call it quits (via Soap Central). The two seem to have maintained an amicable relationship with each other, and, if Hope's social media presence is any indication, she is continuing to honor her dedication to both fitness and acting even as she's going through a major transition in her personal life. 
Her next goal? "More stretching!"