How Mean Girls Still Influences Lacey Chabert's Beauty Routine
"Mean Girls" was a major moment. The iconic teen movie was released in 2004, but its impact is still keenly felt. Lacey Chabert, who played Gretchen Weiners, recently revealed the sweet reaction her young daughter had to discovering who she is. During an appearance on "The Kelly Clarkson Show" (via Us Weekly), Chabert shared, "She's only 5, but I did come home from work one day and my husband's like, 'We watched a few scenes from it." As a result, little Julia told her, "Mommy, I didn't know you were Gretchen Wieners. Did you know that was your name?"
Chabert acknowledged how surreal it was to even hear her daughter using the character name. These days, Chabert is a Hallmark Channel stalwart, telling Entertainment Tonight in 2018 that she gravitates to the material because "you're guaranteed a happy ending," which is especially important with everything horrible going on in the world right now. The actor shared, "That's really the No. 1 thing people say, 'Thanks for making something my whole family can watch that's uplifting.'" Thankfully, the Hallmark star honors the movie, and indeed Gretchen, through her beauty routine.
Gretchen Weiners remains a beauty icon for Lacey Chabert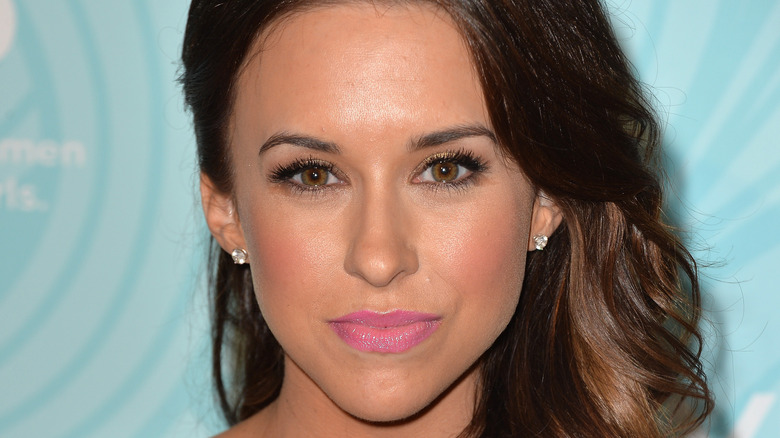 Frazer Harrison/Getty Images
"Mean Girls" has inevitably aged since its 2004 debut, but there are plenty of elements to the hit movie that are just as impactful nowadays, not least the central foursome's killer sense of style. As actor Lacey Chabert explained in an interview with Pop Sugar, Gretchen's signature look was her big, curly hairdo, which Damian (Daniel Franzese) infamously notes is "full of secrets." As Chabert acknowledged, "It became such a trademark and of the character," especially since the rest of the Plastics wore their tresses defiantly straight.
It took a while to master the look, with Chabert's on-set hairstylist employing plenty of backcombing, hairspray, and curlers. At the time, the Hallmark star was wearing her hair poker-straight in real life, so it was especially exciting to experiment with something different for Gretchen. Funnily enough, her curly 'do had such an impact on Chabert that she continues wearing her hair that way to this day. "Now I'm obsessed with big, curly hair and volume. I make a great effort to make my hair look like that now," the actor shared.
In fact, Gretchen's hair is not just her go-to look but the one with which Chabert feels most like herself. Being so closely associated with the character does come with certain setbacks, though, with Chabert telling Entertainment Weekly that hearing the word "fetch" everywhere gets tiresome, particularly when the busy working mother is just trying to run errands in peace.
Lacey Chabert is thrilled Mean Girls still resonates with fans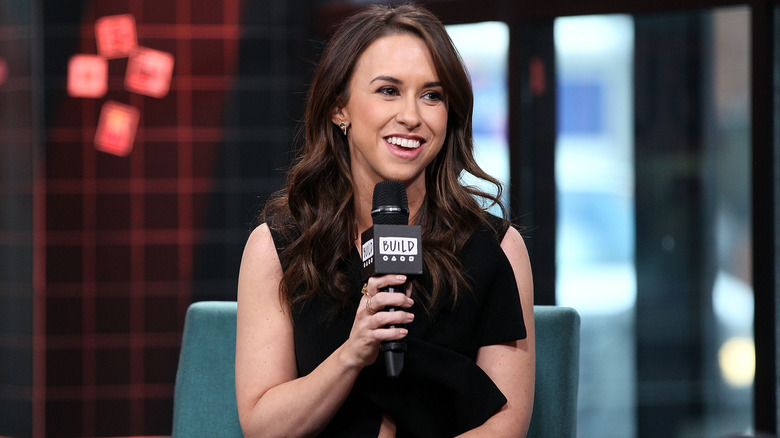 SD Mack/Shutterstock
Naturally, though, the "Wedding Veil" star wouldn't trade her experience for anything. Lacey Chabert thinks "Mean Girls" has become a classic because everybody gets something different out of it, whether it's the harshness of high school or the pain of growing up. "Out of everything I've done in my entire career, 'Mean Girls' is the thing people talk about the most. It just really resonates, I think because there are elements everyone can relate to — whether they're in high school or college or well beyond that or looking forward to it," Chabert opined, in an interview with Allure.
She continued, "When I filmed it, I was turning 21, and I was full of insecurities and relating to that desire to fit in, so it was a fun thing to be involved in. And there's no bigger compliment than when people are quoting your lines ten years later." Rumors of a potential sequel have circulated for years, and according to OK! Magazine, Chabert would be totally up for it. An insider revealed that the actor has told friends she's down provided everybody else comes back too.
As for where Gretchen would be nowadays, Chabert memorably told Entertainment Tonight, "I feel like Gretchen is running the toaster strudel empire and she probably ended [up] marrying Jason and they probably have like six babies." With the same fabulously curly hair intact, no doubt.