The Reason Coco Austin Is Getting Mom Shamed Yet Again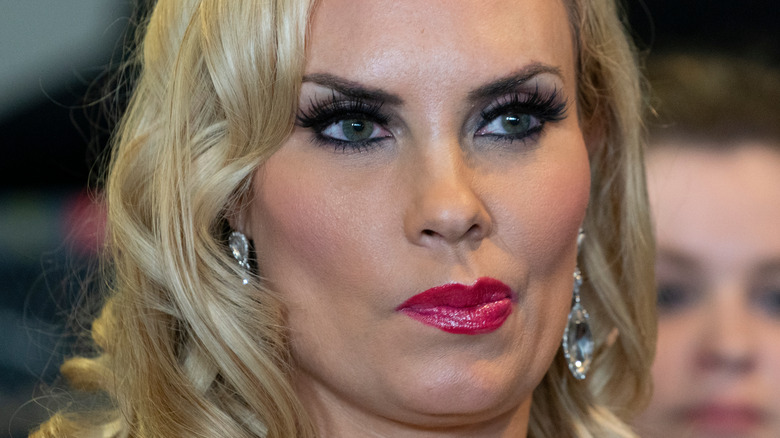 lev radin/Shutterstock
Coco Austin has made headlines over the years for her parenting choices and yet again, it seems the internet is finding something to pick on the model about when it comes to how she is raising her daughter, Chanel.
First, in case you missed it, Austin and her husband Ice-T welcomed Chanel six years ago. In 2021, the star was criticized for practicing extended breastfeeding with the little girl. It's worth noting that despite Twitter's judgment, breastfeeding beyond age 1 offers many benefits to the mother and child (via Mayo Clinic). The famous mom defended herself against naysayers at the time — but it seems she may have to go back on the defensive after trolls blasted Austin for pushing 6-year-old Chanel in a stroller (via Cafemom).
The hubbub started when the star posted a photo of the family of three to her Instagram. In the snap, Austin and Ice-T are seen shopping while Chanel sits in the carriage, looking on. It seems the share was meant to show off a Bahamian shopping spree, but instead, fans soon took the star to task over her treatment of her daughter (via Page Six).
Coco Austin's mom shamers are challenged by supporters
Upon posting a photo of herself with husband Ice-T and daughter Chanel out shopping during a trip to the Bahamas, Coco Austin quickly found herself at the receiving end of questions over why the school-age kiddo was still being pushed around. "Isn't she like 6 yrs old! Should she be out of a stroller by now?!" asked one follower.
"Let that girl grow up," challenged another fan, while many others joked that Chanel's bored expression seemed to indicate how much she was "over" being in a stroller.
To be fair, plenty of fans defended the mom, noting that people should mind their own business and admitting they too stroll their older kids during trips to the mall or an amusement park where a ton of walking is required. 
And, Austin herself acknowledged that her daughter looked nonplussed in her caption, noting that as the family strolled through shops at the Atlantis resort, "Chanel is so over it unless there's something cool to see.. Her face transitions instantly."