Thomas Markle's Photographer Pal Takes His Snooping To The Next Level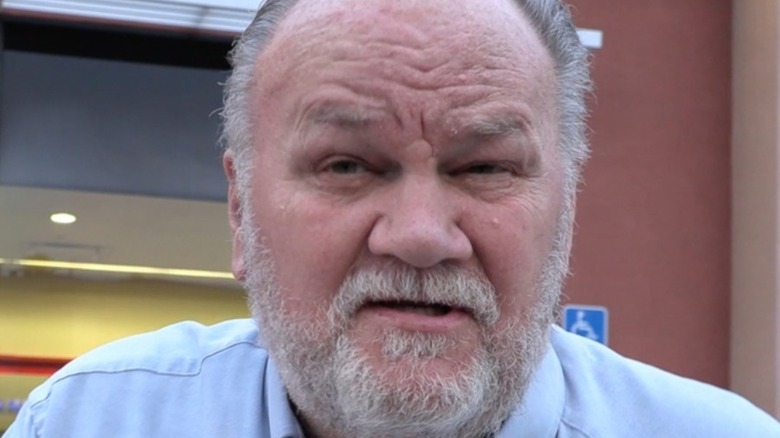 BACKGRID
Thomas Markle, father of the famed Meghan Markle has teamed up with photographer and sometime paparazzi Karl Larsen to create the YouTube channel "Remarkable Friendship." Fueled by requests for Bitcoin and PayPal, the channel is reportedly dedicated to sharing their opinions on current affairs, and is said to be inspired by Lady Colin Campbell and Joe Rogan according to the Mirror. With Episode 1 launching in mid-March of 2022 to discuss the defamation case between Markle's daughters Samantha and Meghan, it seems likely the topic of "Harry and Meghan" will make a frequent appearance. 
Social media seems to be split on this new venture, as a more measured commentator on Twitter speaks of this new YouTube broadcast, saying, "I tried but can't watch it. No matter how bad father and daughter relationship is, for me it's not right to do this for the world to see. It's not right for a father to do this to his own daughter and vice-versa. I don't agree with Meghan's self centredness but this isn't right."
Perhaps this media isn't sitting well with some, not because of the opinions and content, but because of the potential privacy issues  – especially when it comes to Prince Harry and Meghan Markle's children.
These are just opinions, not privacy
At the heart of recent objections to Karl Larsen and Thomas Markle are the issues of invasion of privacy. These concerns may be valid, as Larsen has some significant paparazzi fame, being noted as the viral photographer of a crying Paris Hilton during her 2007 DUI arrest according to the Los Angeles Times. In Episode 5 of the YouTube show, Larsen discusses driving past the house of Doria Ragland, Meghan Markle's mother, and noticing a real estate open house next door. Said Larsen on the show, as shared by Newsweek, "They [the neighbors] have a jacuzzi in the backyard and I could hear kids playing. I could hear kids playing, there were no kids in the yard I was at but I could hear kids playing."
Larsen continued to speculate that the children he heard could be Archie and Lilibet Mountbatten-Windsor, and discussed purchasing the house and renting it out as an Airbnb with Thomas, noting the potential proximity to the famous youngsters.
Larsen has since told Newsweek that the speculation was "making fun" to make the YouTube "show interesting" but has not denied visiting the house next door to Thomas's ex. Said Larsen, "I was actually making fun. I didn't hear them I said I heard kids' noises. To be honest with you I don't want to start the rumor any further than it is. It was to make the show interesting actually."
Fun or not, this seems to be some next-level snooping.