Meghan Markle's Father Is Reportedly Facing A Serious Health Scare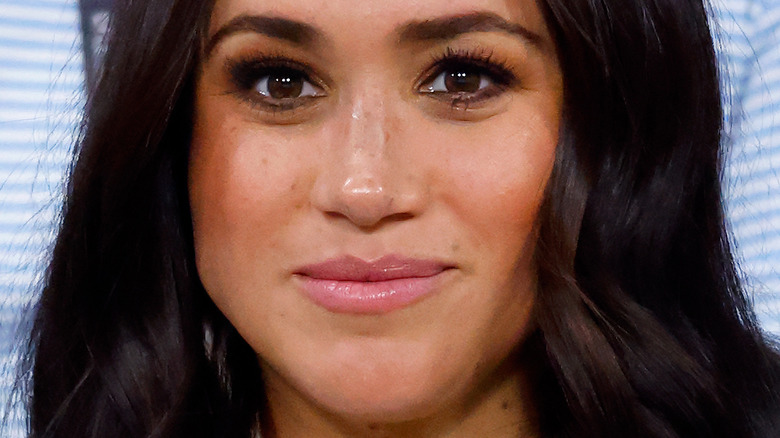 Max Mumby/indigo/Getty Images
It's no secret that Meghan Markle has a strained relationship with her family, and specifically with her father, Thomas Markle (via Insider). While the pair have had a tough relationship for many years, things became especially strained following her wedding to Prince Harry. It seems papa Markle isn't a fan of the spotlight, though he seems to attract it by making strange comments, like stating that Harry would run from him if they met in public, as he has challenged the prince to a fight (per The Sun UK).
Meghan's father has made several controversial comments that have deserved backlash, but it seems as though he is having a hard time with the British tabloids. His son, Thomas Jr., told the Daily Mail that his father has chosen to hide out following his daughter's union to a royal. "Dad never liked the limelight but since the news came out about Meghan and Harry he's become a total recluse," he said, adding, "I haven't seen him in years. He hates the attention Meghan's romance has brought on to him. He loves her but hates the idea of being in the spotlight."
Despite his reported wishes, Thomas can't escape the spotlight. Now, his recent health news is being spread across the tabloids.
Meghan's father was recently transported by ambulance
Meghan Markle's father, Thomas Markle, recently suffered a health scare, as reported by TMZ. He was reportedly transported by ambulance from Tijuana, Mexico to Chula Vista, California to seek urgent medical care, as he had possibly suffered a stroke. TMZ noted that Meghan's father couldn't verbally communicate with the EMTs caring for him and had to write down how he was feeling as a result.
This isn't the first time Thomas has experienced health concerns — or was it? Allegedly, he faked a heart attack to get out of attending his daughter's wedding to Prince Harry (via Cosmopolitan). That wasn't the only thing he staged, as he also posed for — and sold — his own photos "getting ready" for the wedding that he didn't actually attend. He got a nice, big check from selling those photos, especially for someone who dislikes the spotlight.
There hasn't been an update on his latest health scare as of publication, but it appeared to be serious from the photos in the ambulance, in which Thomas had an oxygen mask strapped to his face.