Some Brits Aren't Celebrating Meghan And Harry's Involvement In The Queen's Jubilee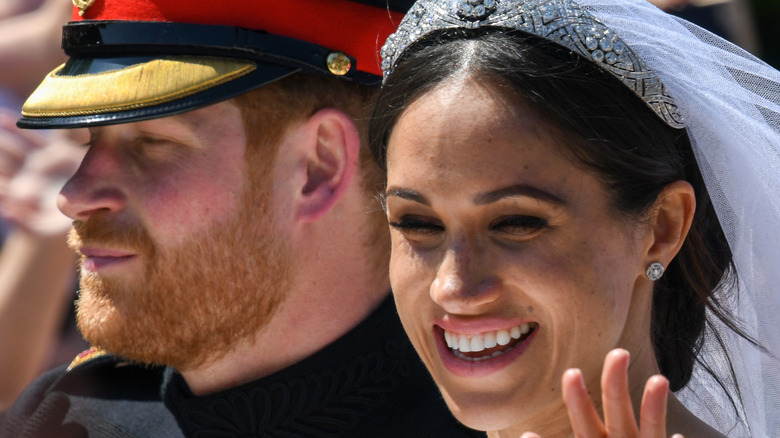 LINGTREN.COM/Shutterstock
Queen Elizabeth's Platinum Jubilee is gearing up to be the party of the century. As the royal family prepares to celebrate the queen's 70-year reign, there's an air of anticipation as it will be her first jubilee without her late husband, Prince Phillip.
The multi-day affair will include an official holiday weekend, followed by special public events, as reported by the BBC. In previous years, fans in the U.K. and overseas have been equally excited to participate in honoring Her Majesty, the celebrations prompting a great turnout. Per CBC News, the 2012 Diamond Jubilee concert was a massive success and featured some of the biggest icons including Paul McCartney, Cliff Richard, and Elton John.
In an interview with MyLondon, Mayor Sadiq Khan teased what to expect at the queen's Platinum Jubilee. "I don't want to breach confidence but the plans we have are wicked," he shared excitedly. "If you thought the Diamond Jubilee 10 years ago was good, and the 1977 Silver Jubilee, this year is going to knock that out of the park. From parties to Trooping of the Colours, to prizes."
In spite of this, there still seems to be less excitement surrounding this year's jubilee. Just days before the event, a recent YouGov poll revealed that only 14% of respondents replied "I do" when asked if they have plans for the celebration and a mere 20% more replied, "I do not currently, but will probably make plans."
Some Brits are speaking out about why they're reluctant to celebrate.
Some Brits aren't interested in celebrating because of Prince Harry and Meghan Markle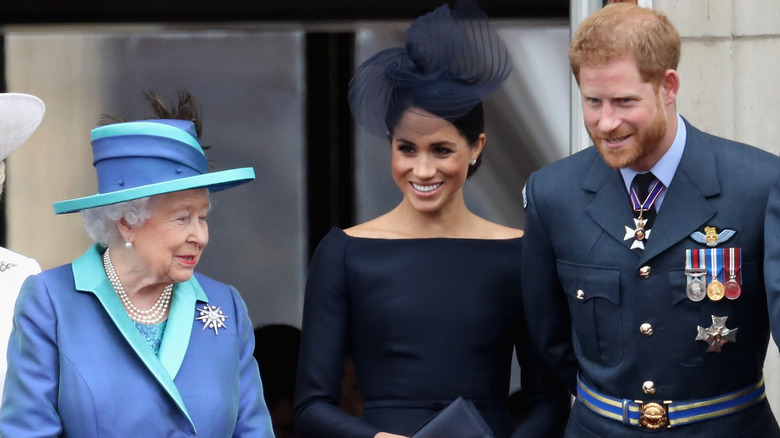 Chris Jackson/Getty Images
After spending two years in isolation, many people are itching for that sense of normalcy to return. Though this is expected to be the social event of the year, some U.K. residents have no interest in attending the royal celebration because of Prince Harry and Meghan Markle. According to an announcement from the royal family, Prince Harry and Meghan won't actually be present at the jubilee as they aren't "working" royals, per Newsweek. That also means that Prince Andrew will also be sitting out on the events.
Still, this hasn't stopped people from voicing their dislike of the Sussexes. In one tweet, a user condemned a possible appearance from them, writing, "If they [Prince Harry and Meghan] are allowed on the balcony I expect a surge in the sale of catapults, slingshots and tomatoes."
But the royal family itself is also facing criticism, as not everyone is a fan of how Harry and Meghan were treated. Public relations professional Anita Champaneri, who is a self-professed royal fan, told Reuters that this is partly why she isn't in a celebratory mood.
"This year it feels like I really don't want to because we're celebrating a family who can't do right within themselves," she said. 
The Sussexes may well be contributing factors in a lack of enthusiasm in the upcoming celebrations — apparently whether they attend or not. But the American-dwelling royals are clearly not the only scandal to "rock" the British monarchy over the past 10 years. Whether one incident, or many, will have a significant effect on the days-long celebration is yet to be seen.