The RuPaul's Drag Race Alums Who Appeared In Taylor Swift's You Need To Calm Down Video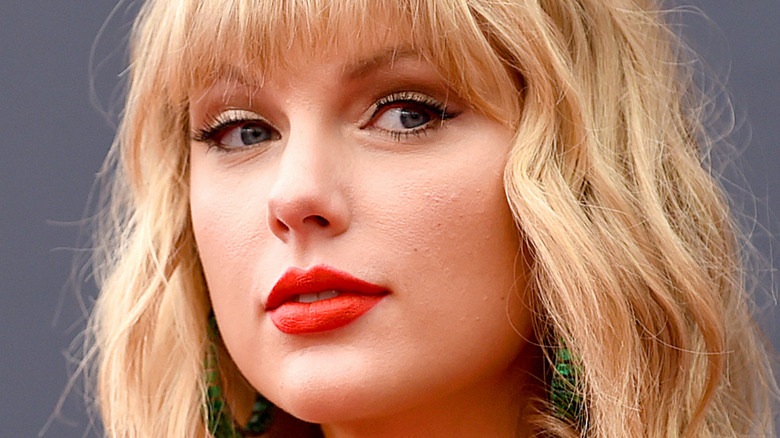 Jamie Mccarthy/Getty Images
Although "You Need to Calm Down" isn't considered one of Taylor Swift's worst songs, its release was highly controversial regardless. As Vox argues, although undeniably a catchy jam that's attempting to solidify Swift's position as an ally of the LGBTQ+ community, the accompanying music video, in particular, is also "a complicated example of Pride Month's commodification." The clip even culminates with Swift and longtime frenemy Katy Perry making up, which has nothing to do with gay rights. However, Bustle argues the singer-songwriter's heart is still in the right place. 
Swift told Vogue she wrote the song, and created the video, to clarify her position. The "Cardigan" hit-maker acknowledged, "Rights are being stripped from basically everyone who isn't a straight white cisgender male. I didn't realize until recently that I could advocate for a community that I'm not a part of." Swift is hyper-aware of how careful she needs to be when making any kind of public statement since even her best intentions are so frequently misconstrued, but in this case, the Grammy winner knew being loud and proud was the only way to go, to get her point across. 
To that end, Swift enlisted some of the most iconic queens in "RuPaul's Drag Race" herstory to appear in the video alongside her. 
RuPaul hosted a pop queen pageant in the video
Taylor Swift made the music video for her queer anthem "You Need to Calm Down" so proudly gay, that it was like a mini Pride parade. Alongside cameos from the likes of Hayley Kiyoko, Adam Lambert, and the Fab Five from "Queer Eye," several "RuPaul's Drag Race" alums pop up. The group takes part in a pageant, judged by the eponymous host herself. Twitter user, and "Drag Race" super-fan, Evan Ross Katz listed them all out helpfully for us, so it's easier to spot each queen as she appears.
Featuring as a drag version of Swift herself is Season 5 star Jade Jolie, while Season 2's Tatianna appears as Ariana Grande, "All Stars 4" joint winner Trinity the Tuck plays Lady Gaga, Season 3 star Delta Work is Adele, Season 6's Trinity K Bonet does her best Cardi B alongside her seasonal sister Adore Delano, as Katy Perry — who shows up later in the video herself — and last but definitely not least, Season 11 fan-favorite Akeria C. Davenport portrays none other than Nicki Minaj.
Several notable "Drag Race" queens previously appeared in Lizzo's music video, so Swift didn't exactly start the trend. However, Jade's representation of the "Shake It Off" hit-maker was so convincing actor John Travolta tried to give her an award meant for the singer at the VMAs, as The Independent reported at the time (Swift included a bunch of queens in her live performance on the night, too).
Taylor Swift reportedly treated the queens like royalty
Including "Drag Race" stars in your music video is, obviously, going to make headlines but Taylor Swift notably treated these talented performers with the respect they deserve, too. On Instagram, Trinity the Tuck enthused that the set "was insanely huge and so fun!" She added, "I never met Taylor before and when she came in the dressing area where all the queens were she was the nicest, most humble and genuine person!" Her namesake, Trinity K Bonet, felt likewise, admitting in her own post, "You don't get many memories like this." 
In an interview with Page Six, Bonet confirmed the environment on set was very relaxed and supportive. Likewise, "Taylor was there with us the whole time, drinking champagne with us and taking pictures, walking around with no security or anything. Talking to her was like talking to a friend." Jade Jolie, who had the unenviable task of portraying Swift in drag, in front of the woman herself, shared that the singer-songwriter "was absolute perfection!" According to Jade, "She treated all of [us] like queens & show us so much love & kindness!" 
Meanwhile, Akeria C. Davenport, who took a cute selfie with Swift on the day, revealed, "The best part of it all was the behind the scenes just talking and having good laughs with @taylorswift on a personal level!" Evidently, it was just as much fun making the video as it is watching it.