Jill Biden's Reaction To The Uvalde Shooting Has Everyone Saying The Same Thing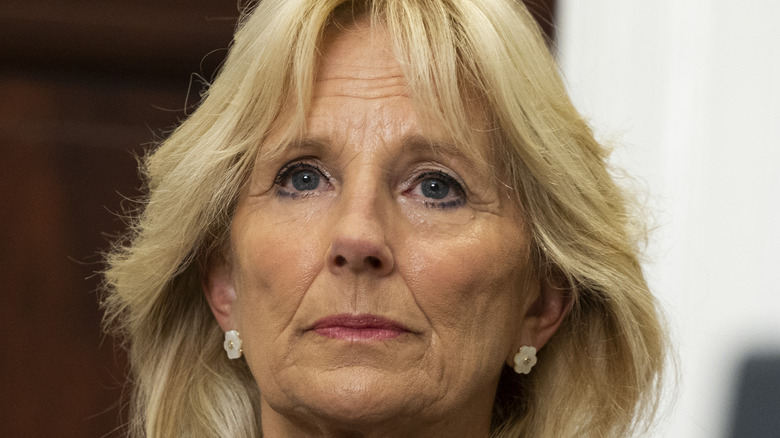 Anna Moneymaker/Getty Images
The following article includes content about gun violence.
In December 2012, President Barack Obama made an emotional statement in the aftermath of the mass shooting at Sandy Hook Elementary School. A gunman killed 26 people, including 20 children between the ages of 6 and 7, and six adult staff members (via CNN). 
"As a country, we have been through this too many times," Obama said. "Whether it's an elementary school in Newtown, or a shopping mall in Oregon, or a temple in Wisconsin, or a movie theater in Aurora, or a street corner in Chicago — these neighborhoods are our neighborhoods, and these children are our children."
He continued: "And we're going to have to come together and take meaningful action to prevent more tragedies like this, regardless of the politics."
Almost a decade later, President Joe Biden addressed the nation after a gunman opened fire in Robb Elementary School in Uvalde, Texas. Nineteen children and two adults were killed, making it the second-deadliest elementary school shooting in United States history, after Sandy Hook (via CNN).
When Biden delivered remarks from the White House in the massacre's aftermath, he spoke to the public about the importance of gun reform. "As a nation, we have to ask when in God's name we do what we all know in our gut needs to be done," he said. "I am sick and tired of it. We have to act."
Visibly emotional, Biden also remarked: "To lose a child is like having a piece of your soul ripped away ... there's a hollowness in your chest, you feel like you're being sucked into it, never able to get out." Biden surely identifies with the Uvalde families' grief: He lost his first wife, Neilia, and their baby, Naomi, in a car crash in 1972, and his son Beau died of brain cancer in 2015.
Standing by the president's side during his speech was First Lady Jill Biden, and she had some remarks of her own.
Jill Biden is 'heartbroken' over the Uvalde mass shooting, she says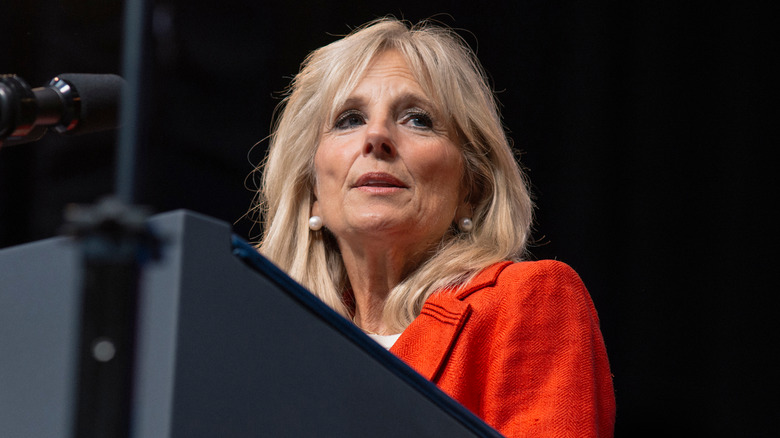 Spike Johnson/Shutterstock
In the past, Jill Biden has talked about what it means to be first lady, calling it a job that's "24 hours a day." Not only did she stand by her husband's side in the Roosevelt Room of the White House while he gave remarks in the aftermath of the Uvalde mass shooting, but the first lady also took to Twitter to express her thoughts on the horrific tragedy.
"Lord, enough," she tweeted. "Little children and their teacher. Stunned. Angry. Heartbroken." She then took to Instagram and reposted her tweet there.
Before she became first lady, Jill, who has a doctorate in education, worked as a teacher for over 30 years, according to the White House. In addition to performing her duties as first lady, she is also an English and writing professor at Northern Virginia Community College, where she has taught since 2009. This makes her the first presidential spouse to keep an independent career.
On May 25, President Joe Biden took to Twitter, writing: "We know common sense gun laws can't and won't prevent every tragedy. But we know they work and have a positive impact. When we passed the assault weapons ban — mass shootings went down. When the law expired — mass shootings tripled."
This is how people are reacting to Jill Biden's statement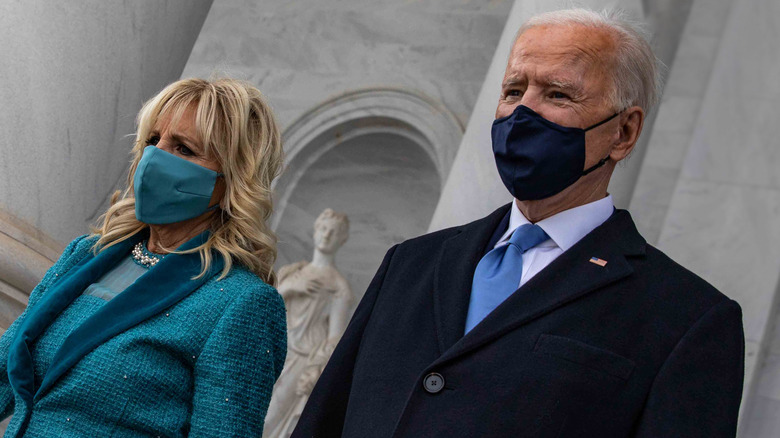 BiksuTong/Shutterstock
In response to Jill Biden's statement regarding the Uvalde shooting, which she posted on both Twitter and Instagram, she received a surprising amount of negative feedback, with many social media users demanding more than just words regarding gun control.
One user commented, "THEN LETS DO SOMETHING ABOUT IT," receiving hundreds of likes. Other comments echoed that one, reading, "Please do something," "Please. We're begging. Do something," and "I hope we see action." Clearly, many people want change, and they're vocal about making it happen.
Other comments on the platform pointed out what they viewed as hypocrisy in Biden's post. One user wrote, "More like 'Legislators, enough.' Time for action, not words," and another agreed: "Unfortunately, I don't think the Lord has anything to do with this. This is pure evil." Yet another user called for a change of words, writing, "Congress*** I think you meant congress."
Even more people found fault with the fact that Biden described herself as "stunned" in the aftermath of the shooting. One user commented: "Shouldn't be stunned. We haven't done anything to stop it." Another agreed, writing, "Are we stunned or our we numb, I'm not stunned, this happens daily in our country."