Chris And Calvin LaMont Share Details Of Their New Show Buy It Or Build It - Exclusive Interview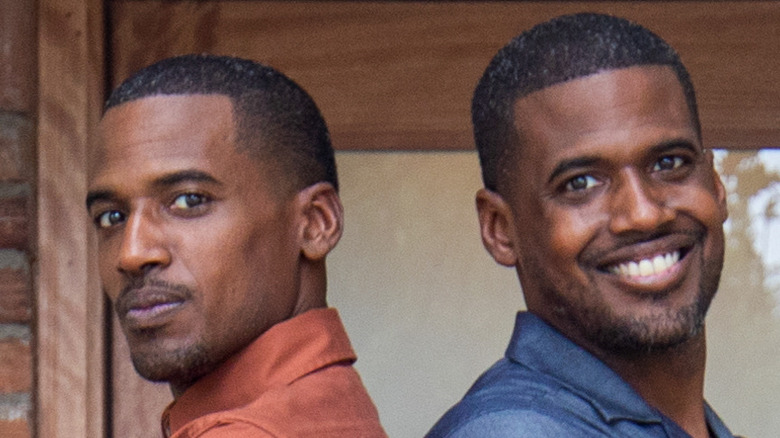 HGTV
Chris and Calvin LaMont don't just talk about teamwork  — they live it. The Dallas-based twin brothers have never known what it was like not to be working together, whether it was on their childhood sports teams or building multimillion-dollar homes for their clients. As you'd expect from twins, they have a lot in common — friendly personalities, serious entrepreneurial drive, and a shared love of building and devising creative design solutions. These traits have allowed them to build a successful real estate and construction business from the ground up, teaching themselves the tricks of the trade as they forged ahead.
But while they're twins, the LaMont brothers aren't clones. Each brings his own passions and unique skillset to the table. Their new HGTV show, "Buy It or Build It," showcases both their differences and their similarities. In each episode, the brothers help clients choose and create their dream home.
Calvin is a champion of building new homes and always has a creative design to meet the clients' needs and tastes. Chris, on the other hand, loves finding existing homes on the market and devising creative ways to refresh them and make them unique. But no matter which option the client chooses, both brothers go all in to make the client's dream house a reality. In an exclusive interview with The List, the LaMont brothers shared how they built their business and what we'll be seeing on their show.
Football was their first dream career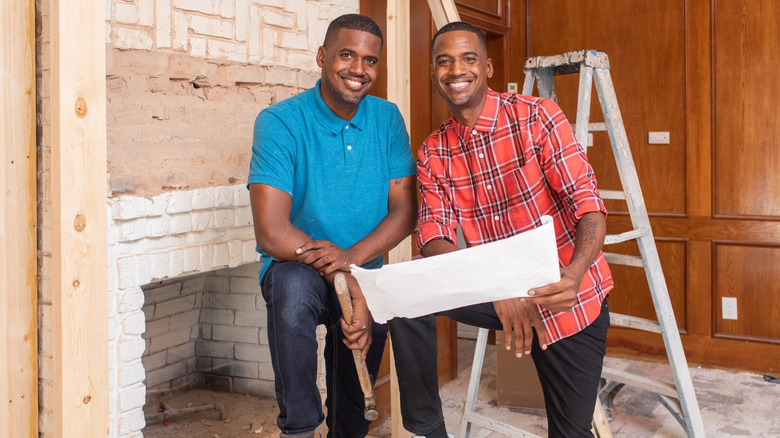 HGTV
First, how did you guys get into design and building?
Calvin LaMont: We always wanted to get into real estate. Growing up, it was athletics and real estate. Those were the two dreams that Chris and I aspired to. Then, when we came to Dallas, Texas, to start our company ... We weren't growing up building and doing construction projects. That's not how we grew up. We took that on as we started our water damage and restoration company up here. We started working with those projects and doing a lot of huge projects. We were tearing things down, putting them back together, looking at different designs. 
Then we started working with a lot of investors, and we started designing the entire projects — and that's how we learned through the experience when we were in our early twenties. By 27, we started doing our own projects, and designing and building all of those.
You've been interested for a while, so did you both get interested in this at about the same time?
Chris LaMont: Yeah. When we were in college, the football dreams were starting to go down, because we were a little smaller than we should be for the NFL. Once we realized that, we wanted to make a pivot. We were like, "Okay, we want to do real estate." That's something that we were interested in, because during that time, people were flipping homes, and we were like, "Okay, you make good money." But at that same time, in 2007, 2008 — it's when the market was going a different way, so we had to make a pivot.
We were out of college, so we had those college brains. "All right, let's see what we can do to be successful." And we thought, "Why not do janitorial and cleaning services or carpet cleaning?" That's something that has low barriers to entry, and we can start quickly and start making some money. Me and Calvin feel that if we got into a job or a career, we might get stuck in there and never get out. We wanted to be entrepreneurs from the beginning, so we stayed focused on that.
They've always been an inseparable team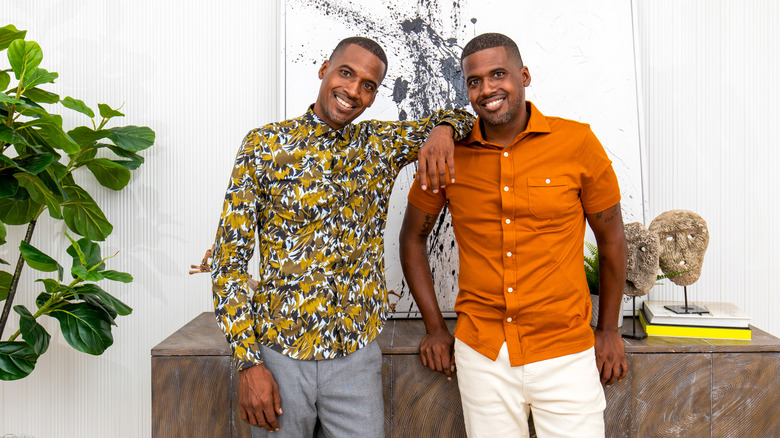 HGTV
Have you guys always worked together?
Calvin: Pretty much. We've always worked together. We worked together, playing on the same athletic teams growing up in all different sports, so we know how to work together. We can say whatever, but we understand the goal is to be successful and make sure whatever we're doing comes out in the way that we imagine it and [had] visioned it.
That's always the goal, just like on a TV show. We're going back and forth about [whether to] buy or to build it. I'm the build-it brother, Calvin. I'm the one that's saying, "Please build this house from scratch. It's going to be perfect." And Chris is the buyer brother, begging them to buy it.
Chris: I ain't begging. I'm just showing them the option.
Calvin: But like in real business, even though we might have two paths to get there, the goal is to make the family happy in this situation and then give them their dream home. That's what we do, every episode.
I've heard that twins have a special bond. How does that help you? Does that help your dynamic at all when you work together?
Chris: That can allow us to show that dynamic on TV where we're competitive, but at the same time, we can move on very fast because we're brothers. We've been together for a long time. We're not focused on one loss. We're focused on the next win.
They each enjoy certain parts of their projects—but can handle all of them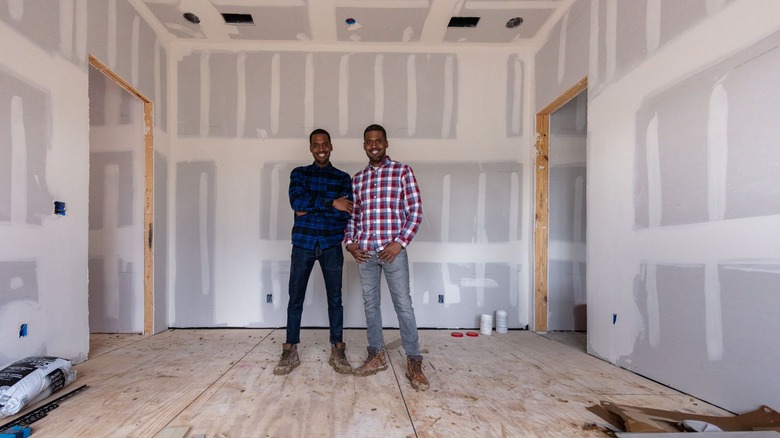 HGTV
How would you describe your differences? I know one of you has got this passion for building versus buying. But how would you describe your differences in skillsets or your design sensibilities?
Calvin: The show is like how we move in real life. I might be dealing with some of the administrative work, the designs, stuff like that, and Chris might be dealing more with plan sets and the subcontractors on the job site. But Chris and I, the one good thing about being twins and growing up together ... I know some twins are different. We grew up pretty much doing the same thing. We're both alpha males, we're both opinionated, and we both always like to compete, but compete in the same thing. 
That gave us the same skills. We learned the same thing. [In] our day-to-day business, I might lean more towards the design and stuff like that while Chris goes towards the floor plans and all the subcontractors and all that work.
Chris: Basically, you work for a long time. You got to be able to adapt, or you get bored. So [with] one project, you will do that [part], and another project, we'll do something else. [It's the same] in our real life as we've been growing up. 
In the show, we have it more consistent, where we're doing [the same thing] every time. But in real life, you might get tired of doing the same thing over and over again, so you do something else. We switch it up to make sure that everybody's doing everything [and that] we know everything, [so] we don't get bored or tired of doing the same thing over and over.
Calvin: Don't worry [about] watching our show. It's an hour long, and you will not be bored — because Chris and I, we do both. You see Chris picking out floors [and] designing special tables from scratch with carpenters. You see me doing demolition and stuff like that. On this show, you'll also see Chris and I doing a lot of the same things together.
They devise creative techniques for getting high-impact looks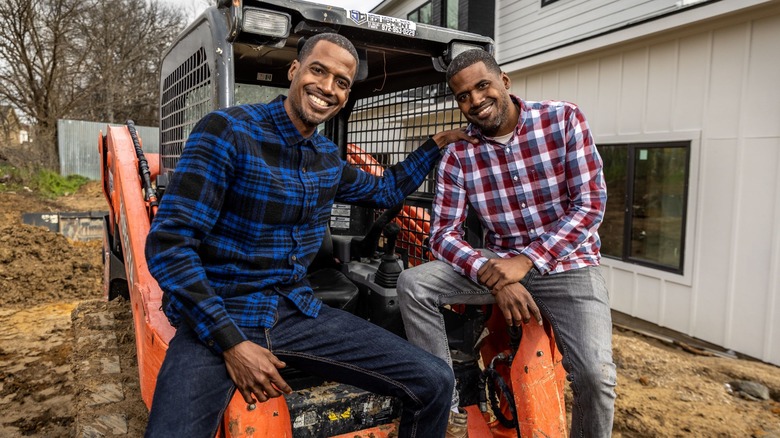 HGTV
Chris: Calvin, [that's] the DIY project, right?
Calvin: Exactly. On Episode 1, you saw me take tempered glass, and myself and the homeowner, Darien, turned that tempered glass into what we call "fire wow rock," which is a glass that you can use in your fireplaces or your fire pits. It's super cool.
Yeah, that was fun.
Chris: Oh, you saw that?
Yes.
Calvin: [If you're] going to try that at home, make sure you use tempered glass and some glasses and gloves — proper PPE.
How did the whole idea of "Buy It or Build It" come about? How did you come up with the idea?
Chris: "Buy It or Build It" was a team effort. Us, our production company, JV Productions, and Radical Point — we basically came together. What we do is for TV. It's like, "Chris and Cal, you guys been doing remodels when you guys were starting. Now you guys build homes for entry-level and workforce housing in communities throughout the country. Why don't we put that together? You guys do remodels and buy it." We didn't have the name yet, but it was like, "We do remodels, and then you guys do new builds. One guy champions one, one guy champions the other, and let's go get it."
So the concept of the show was out there. I'm not even sure if we had a name for it at first. Did we?
Calvin: I think there's a few names — "Custom Fit," "Buy or Build It." The production company and the network came up with it. We didn't come up with "Buy It or Build It." JV Productions or Warner Bros. Discovery ... I think they came up with the name "Buy It or Build It." But the concept of the show changed.
I'm not sure if you know that Chris and I have been working on TV for six years. I'm sorry, on the camera — we just got on TV now, but in the beginning, the show was called "The Lamont Brothers." It was literally about us and following us around different houses. In that time, we were building million-dollar houses.
When a new concept came in 2020, when HGTV came back to us, we were super excited about the new concept. I think that's what got us the show, because they always loved Chris and I. They just weren't 100% on board with the [previous] show concept.
Doing construction projects on TV has special challenges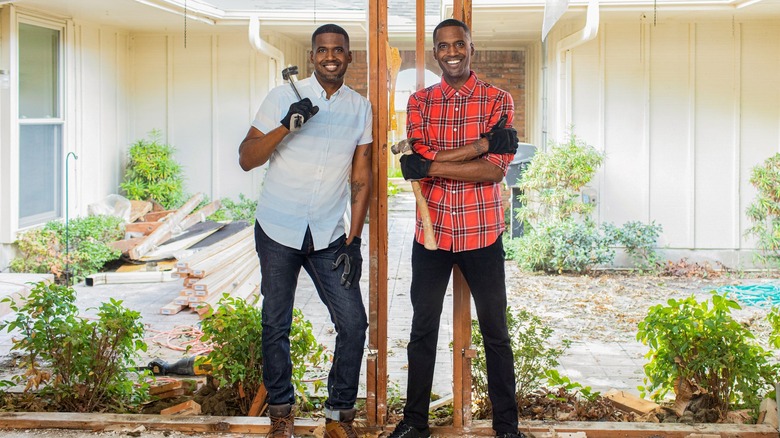 HGTV
You've been at this for a while, so could you tell me how doing projects on camera is different from doing them on your own for your other clients?
Chris: Well, we have great [general contractors] that work with us on camera to help us out, because these are big projects. We do a lot of work. Guys like Elton Johnson and Michael Pounder — they came on the team and built with us. That helps us out.
But even with that, the time actually means something when you're working on TV. As contractors, if it's raining outside or if something doesn't come in, or if the family member or client doesn't [get] what they really want, they have to wait for it. It is what it is. We'll wait, and we'll do something else or whatever. On TV, there's no waiting. We need to get the show done at a certain time. We got to go. We got camera crews. It is a whole production to get it done.
We had a great production team, though. We had great showrunners with Steven and Lauren Alvarez, who did "Fixer Upper." We were very, very fortunate to have a great team that made it easy for us to go on camera. [With] a lot of people around you, you can get a little bit nervous or something subconscious. But we've been doing this for so long that after five years of practice runs, when we first started doing it, we felt like professionals already.
Calvin: It's pretty much two builds, because the TV show, the production, is one build where you have a budget and you have all these pieces that have to come together. Then you have the actual build [that] has the budget and all these [other] pieces that have to come together. So you're working with two separate builds that need to be synced together throughout the whole project. It's difficult, but with a good team, we did it, and we're happy. I thank God that you guys are liking [it] so far. We're having good, positive feedback so far.
Here are some things to watch for in Buy It or Build It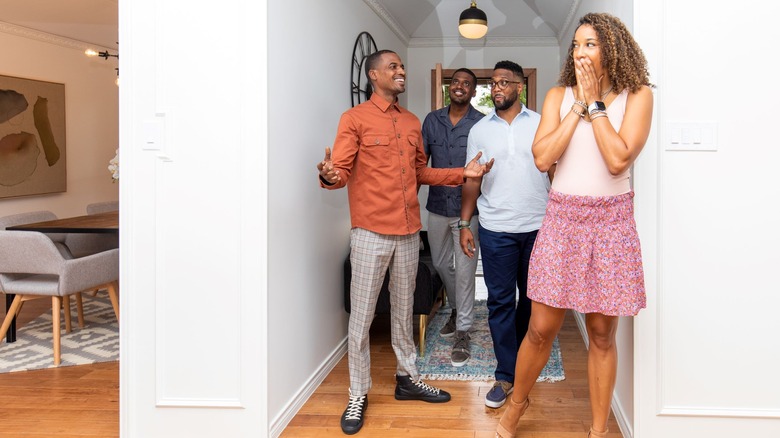 HGTV
What are some of your favorite moments from the show?
Chris: I [don't] want to give too much away because we have only got to one episode. [On] Episode 1, my favorite part of the show was the animation. We don't get to see the show until you guys see the show, so we're all seeing it at the same time. When Cal popped out into that mirror [in] that animation, I was like, "What?" I was a little jealous, like, "Where's my pop-out moment with the animation?" I had to make a call immediately. "Can I get a pop-out moment? Can I get one?"
But that was a fun part of the show that I liked. It's different, and it engages everyone and really brought me in. [It feels like] now we are in a show, and it turned into a real show when I [saw the] animation.
Calvin: They do a great job. My favorite moment overall — I think for Chris, too — is being able to have our kids and our families on the show. I have a daughter. She's in two episodes. You see in the first episode, [Chris'] oldest son was in it — Chris Jr. In another episode, you'll see Chris Jr. and his other son, Jayden. He has two kids, two sons, and I have one daughter. Seeing them on TV with us is cool. I know they're going to like that in the future when they see that they were little TV stars when they were younger.
Follow Chris and Calvin LaMont's latest updates at @TheLamontBrothers, @TheChrisLamont, and @TheCalvinLamont on Instagram, Twitter, and Facebook. New episodes of "Buy It or Build It" air Wednesdays at 9:00 p.m. ET/8:00 p.m. CT on HGTV.
This interview was edited for clarity.