Ivanka Trump Reveals A Surprising Hidden Talent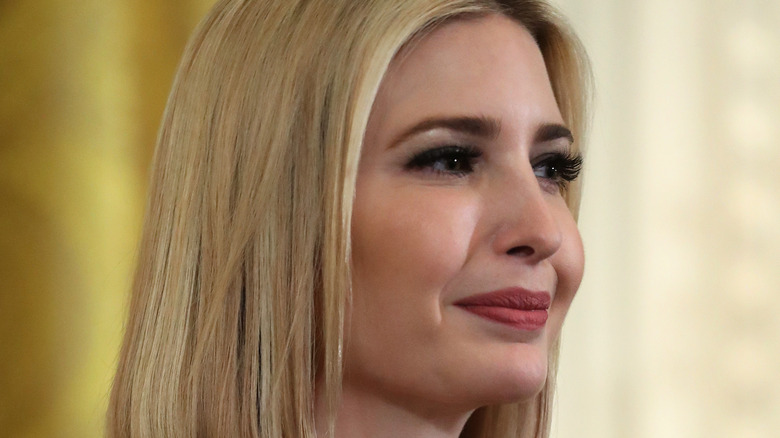 Mark Wilson/Getty Images
Former first daughter Ivanka Trump has many talents, having previously modeled and appeared on her father's reality show, "The Apprentice." The mom of three is also an author of a New York Times Bestseller, "The Trump Card: Playing to Win in Work and Life." The entrepreneur also counts a clothing line among her past successes — although upon becoming a high-profile advisor to the president, she shut down the brand (via The Atlantic).
But a new Instagram post reveals that Trump may possess another far-less-public talent that no one saw coming. Her unknown ability was featured when the Floridian visited Poland to meet with Ukrainian refugees (via New York Post).
"Grateful to have spent the last few days in Krakow and Warsaw to meet Ukrainian and Polish faith leaders who have shown so much compassion and love to Ukrainian families in need," Trump captioned a reel of photos from her visit. She went on to express gratitude to a variety of organizations including No Child Hungry and awe of the families who are surviving the crisis in Ukraine.
In the images, we see Trump spending time with children doing art projects, as well as serving food to families. But it's one snap that stands out as it showcases a talent we didn't know the political daughter had.
Ivanka Trump taught herself to play guitar
In one picture Ivanka Trump shared on her Instagram chronicling her visit to Poland meeting with Ukrainian refugees, we see the 40-year-old playing the guitar with a child. It turns out that during quarantine, the former Washington, D.C. insider learned how to strum the instrument. As Trump said during an interview in 2020, "I took up playing guitar."
She went on to explain that she developed an interest in this hobby because her husband, Jared Kushner, was working long hours and after putting the kids to bed, Trump would complete her work and have nothing to do. "I'm teaching myself how to play guitar," the working mom said.
Since the Russian invasion, Trump has shared both her thoughts and actions to support the Ukrainian people, including delivering meals to affected families. It's obvious these efforts helped — and we're sure the famous daughter's guitar playing managed to lift some spirits as well.