What Is The Snatch Game On RuPaul's Drag Race?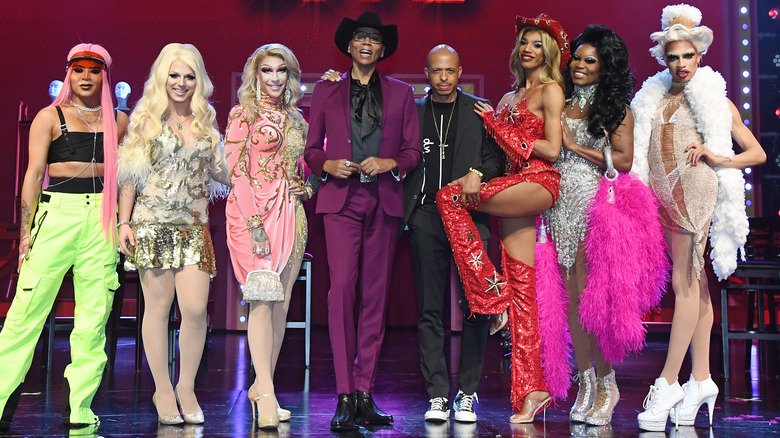 Ethan Miller/Getty Images
"RuPaul's Drag Race" hasn't survived this long by resting on its laurels. As Billboard notes, the hit reality show changes things up every season to keep the competing queens on their toes. Several challenges crop up each time around, from the "Rusicals" to the acting skits. Over several tough weeks, competitors are charged with proving their comedy chops, sewing skills, and plenty more, all while opening themselves up emotionally for the entertainment of fans watching at home. 
In an interview with ABC News, host RuPaul Charles opined, "'Drag Race' is popular because at its core it is the story of the tenacity of the human spirit. We get to see these kids who have been pushed aside by society, who've made a way for themselves to be seen and to be great. And watching them thrive throughout these challenges is captivating, especially knowing their stories. And I know their stories because it's my story. It really is the story of really everyone who thinks outside the box." 
And yet, the Snatch Game is consistently the most popular and highly-anticipated challenge of each season, despite the fact that it's demonstrably the least serious. So, what is it all about anyway?
What's the Snatch Game concept actually based on?
Of all the challenges on "RuPaul's Drag Race," including the iconic lip sync battle, the Snatch Game is undoubtedly the most popular, among fans and participants alike. As TV Guide notes, the concept was introduced in Season 2 and has since been featured in every installment of the main show in addition to "All Stars" and the various international versions. Per iNews, the concept is a parody of "Match Game," a game show known as "Blankety Blank" in the U.K., which involved a group of celebrities competing against each other.
On "RPDR," RuPaul reads out a sentence with a word missing, and the contestants — who are either actual celebrities or judges on the main show, such as Michelle Visage and Ross Mathews — give their responses. Then the queens, all of whom portray heightened versions of various famous stars or popular characters, have to try to match their answers. 
Although Snatch Game might seem easy on the surface, it's one of the show's most formidable challenges (via Los Angeles Times). The competitors must simultaneously impersonate someone effectively, provide laughter, and improvise their responses based on what Ru says. Sometimes, it can be genius, as with BenDeLaCreme's Maggie Smith. And other times, like whenever a queen chooses to impersonate another "Drag Race" star, it's excruciating.
The Snatch Game varies wildly in quality
A plethora of different stars have been impersonated over the years on "Drag Race." In fact, even RuPaul knows who he would emulate if he participated in the Snatch Game. Although there are plenty of lists out there ranking the best and worst of everybody who's come through thus far, the problem with a challenge like Snatch Game is that when it's good, it's great — but on those occasions in which the challenge doesn't go very well, watching can be painful. 
"RPDR'"s Season 14 Snatch Game didn't sit right with fans, for instance, with The AV Club denouncing it as one of the worst editions yet. Per Metro, judge Michelle Visage was so disappointed with the display that she launched an official inquiry into where it all went wrong. Fortunately, "Drag Race" redeemed itself with the "All Stars 7" Snatch Game, which, as Out reported, was highly rated by viewers. Because it boasted a collection of previous winners — all of whom were tasked with bringing two celebrity impressions to the table rather than the usual one — it landed as one of the most entertaining installments overall.
Despite the ups and downs in performances, the key to Snatch Game is really quite simple. As Season 8 winner Bob the Drag Queen explained to Teen Vogue, "Everyone makes up their own rules like, you can't imitate men, you can't do past girls, etc." But in the end, it really all comes down to one rule: "Make RuPaul laugh. It's been like ten years of him saying it at this point."