What The Young And The Restless Star Sharon Case Had To Say About Rey's Shocking Death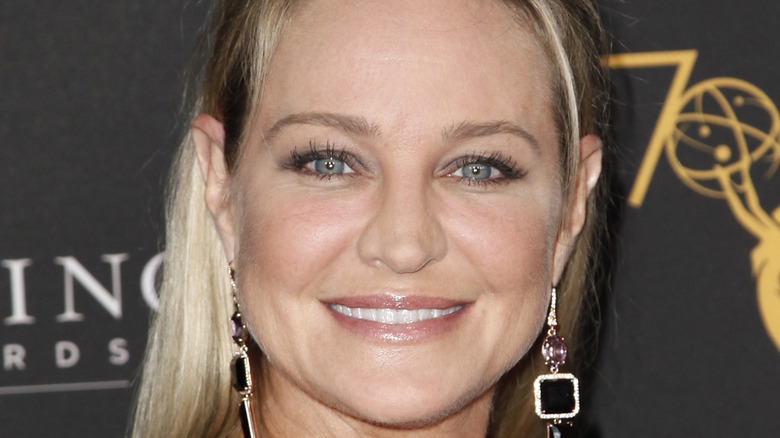 Tibrina Hobson/Getty Images
Now that "The Young and the Restles" Sharon Rosales has watched her oldest daughter, Mariah Copeland (Camryn Grimes), get married after helping her throw a 1970s-style wedding (via TV Insider) for Mariah and her bride, Tessa Porter (Cait Fairbanks), she has to settle into life without her husband, Rey Rosales. Although Mariah and Tessa had offered to postpone their wedding after Rey had a heart attack behind the wheel, resulting in a car accident that killed him (via Soaps.com), Sharon insisted they go ahead with their plans.
Sharon and Rey had only been married for a little over a year after a New Year's Eve wedding to ring in 2021 and had finally settled into marital bliss after arguing over her friendship with ex, Adam Newman (Mark Grossman), for months (via Soaps In Depth). Fans were shocked in March when they learned actor Jordi Vilasuso had been let go and Sharon Case later reflected on losing her character's husband and her scene partner.
Sharon Case heartbreaking scene where Sharon learns that Rey is dead
While Rey Rosales' death came as a shock to Sharon on "The Young and the Restless," it also gave actress Sharon Case some emotional material to play, especially when Sharon's ex-husband, Nick Newman, had to break the news to her that Rey was killed (via Soaps.com). Sharon seemed to already know that she would never see her husband alive again and Case described her character's feelings to Michael Fairman TV.
"Something struck her as soon as Rey didn't return, and Chelsea came in and said, 'Where's Rey? He hasn't returned my calls.' For Sharon, it was that, 'Oh my, God' moment," Case said, describing how it became more clear to Sharon that something had gone terribly wrong. "That continued to progress throughout the episode, and she continued to become more disheveled emotionally and physically...until finally Nick showed up...I think her heart dropped, and she went into shock right away when he walked it."
Case also did several takes of Nick telling Sharon what happened, something not often done on daytime. "We did tape the scene several times, so I had several shots at it...During taping, I think I got a little more dramatic each time we performed the scene. I remember in the final take, my whole face was puffy from crying, and my eyes were red by then, and that one was the most dramatic take."
Sharon Case was sad to say goodbye to another co-star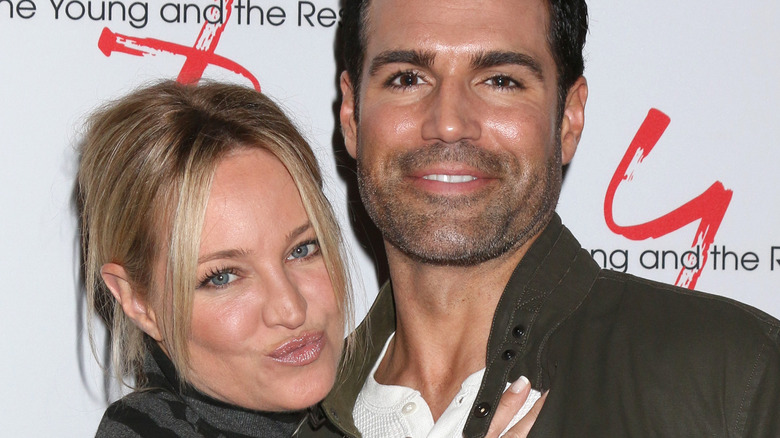 Kathy Hutchins/Shutterstock
Being a member of "The Young and the Restless" cast since 1994, Sharon Case has seen a lot of co-stars and leading men come and go through the decades and it's never easy. She had worked with Jordi Vilasuso as Rey since 2018 when Rey and Sharon became co-workers at the Genoa City PD. After dealing with Rey having to arrest Sharon for being an accomplice in JT Hellstrom's alleged death (he wasn't really dead), as well as Rey's jealous estranged first wife, Mia Gonzalez, Rey and Sharon finally found happiness (via Soaps In Depth). A little over a year later, Case had to say goodbye to Vilasuso.
"It was difficult to shoot the last scene I had with Jordi," Case told Michael Fairman TV. "I worked with Steve Burton (ex-Dylan) for years, and I remember shooting his last scene. It was very heartbreaking. When [Sharon's daughter] Cassie died, losing her was very heartbreaking. So, you know, we are no strangers to this, but it's always very, very sad."