Inside The Truly Startling Account Of Todd Chrisley's Alleged Affair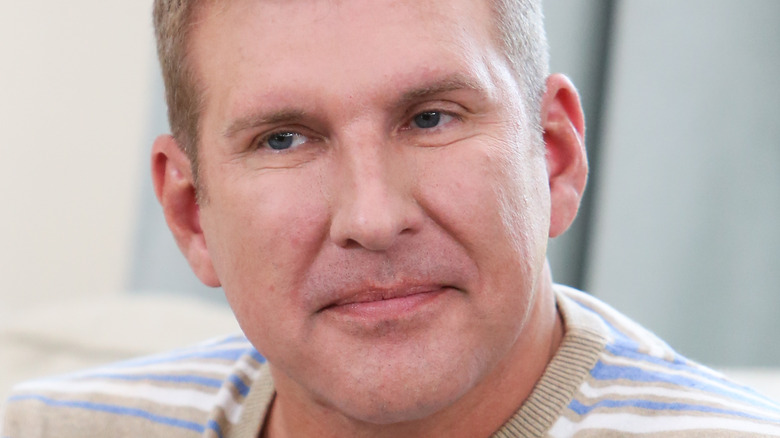 Paul Archuleta/Getty Images
Todd and Julie Chrisley's federal trial, for bank and wire fraud, tax evasion, and conspiracy, began in May 2022, in Atlanta, Georgia, with People noting it's expected to last around three to four weeks total. The celebrity couple was originally indicted in August 2019, and stand accused of falsifying documents to acquire various loans and rental properties. The Chrisleys deny all 12 charges, with Todd accusing one of their employees of creating a whisper network that prevented anybody from coming forward, in order to siphon off money from the family business. As a result, Todd and Julie have been accused of evading almost $2 million in taxes, which were owed from 2008 to 2016.
If convicted, "the IRS can grab everything that they have to fulfill the debt," per tax attorney Dawn Delia. Moreover, the couple could land themselves in prison for up to five years on the tax evasion charges alone. According to Insider, Todd and Julie lived way beyond their means, racking up debts in order to preserve their lavish lifestyle. Todd's former business partner Mark Braddock claimed that, even during the 2008 recession, his foreclosure management company was doing great, but the couple continued to spend more than they were bringing in. "He needed $500,000 to $600,000 a month just to stay even," Braddock said. The Chrisleys, meanwhile, maintain their accountant is the one at fault.
Now, though, they're facing even more eyebrow-raising revelations as Braddock claims he had an affair with Todd.
Todd Chrisley's former business partner claims they had an intimate relationship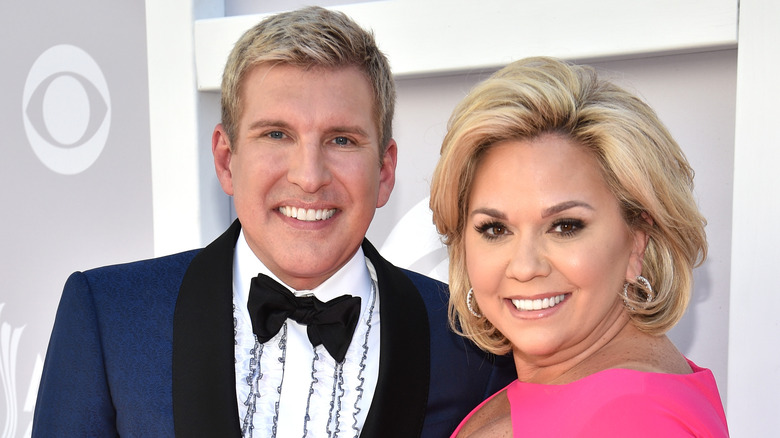 Kevin Mazur/acma2017/Getty Images
Todd Chrisley's sweet relationship with wife Julie Chrisley could be rocked by shocking allegations of infidelity that have emerged in the midst of their federal fraud trial. Insider reports Todd's former business partner alleges he paid off a blackmailer to stop the duo's intimate relationship from being exposed to the world. Mark Braddock testified that the affair, which lasted around a year and took place in the early 2000s, was discovered by an anonymous tipster, who began peppering him with threatening text messages, warning, "Pay cash and we'll shut up."
Braddock ultimately shelled out $38,000 to stop the scandal from surfacing, giving the money to Todd in a bag in a parking garage. The two remained friendly and continued working together, until 2012, even though the reality star's former business partner acknowledges he continued having romantic feelings for Todd. However, he was ultimately the one who turned the Chrisleys in, to the feds, after being cut out of Todd's life. 
Braddock maintains he only agreed to participate in their dubious tax fraud scheme in the first place because of his romance with Todd. The couple's attorney countered that Braddock was "obsessed" with the "Chrisley Knows Best" star. Per Us Weekly, Todd and Julie have been married since 1996 and appearing on their hit reality show since 2014. The proud patriarch claimed he loved Julie from the very first moment he laid eyes on her.
Todd and Julie Chrisley share an unbreakable bond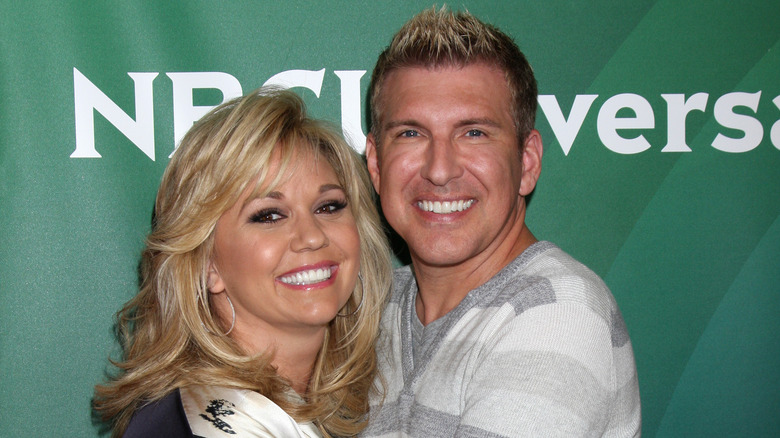 Kathy Hutchins/Shutterstock
While marking his 20th wedding anniversary with wife Julie, Todd Chrisley opened up about what's made their relationship last this long. E! News notes he revealed, "I would say the secret to any relationship... is commitment." Todd continued, "I think you have to be willing to get in there, roll up your sleeves and get your hands dirty and be loyal and faithful and honest with each other and open communication and a lot of sex." Seemingly anticipating the couple's future financial issues, the "Chrisley Knows Best" star also joked he always gifts his lady "something she can pawn or hock" for their anniversary, in case "things get rough." 
The longtime couple bonded further after Julie underwent a double mastectomy, as she told The Tennessean, admitting the aftercare "took our relationship to a whole new level." Todd was the one who encouraged his wife to get a mammogram, following two of his friends being diagnosed with cancer, and Julie credits him with helping doctors catch hers early on.
All these years later, the reality stars continue to work hard to put each other first, with Todd telling Us Weekly they have their moments just like any other couple but, as the proud patriarch explained, "I think that Julie and I've always known we're better together." Naturally, they'll weather this storm just like any other.