The Real Reason Valentine's Day Has Special Significance To Prince Harry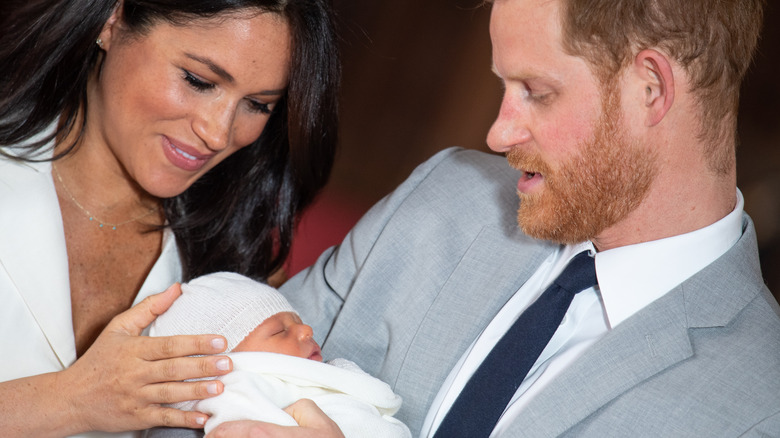 Wpa Pool/Getty Images
Valentine's Day is undoubtedly a special day for lovers all over the world. Couples celebrating their bond do so in many ways. Some give beautiful gifts, others may opt for an intimate dinner at home, and some even celebrate by sharing joyful news with their friends and family. Or, in the case of Prince Harry and Meghan Markle, the entire world.
On Valentine's day 2021, the couple shared that they were expecting a new addition to their family (via The Washington Post). Their daughter, Lilibet Diana, joined big brother Archie in July 2021 and was named in honor of her great grandmother, Queen Elizabeth II, and her late grandmother, Princess Diana. Lilibet was chosen as it was the Queen's childhood nickname (via Marie Claire). The middle name, Diana, was given in honor of Harry's mother, the late Princess Diana of Wales (via Marie Claire). Lilibet is the 11th great-grandchild of the current Queen, and even though she will most likely never occupy her great grandmother's throne, a connection between the two Lilibets will be ever-lasting (via BBC News).
Like mother, like son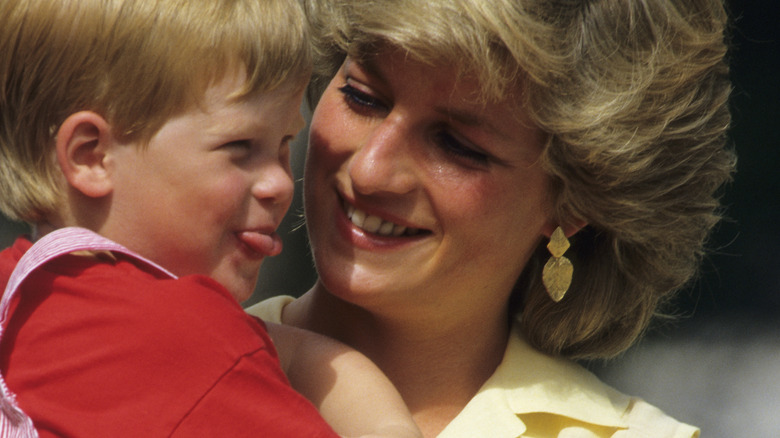 Georges De Keerle/Getty Images
A royal pregnancy announcement is always news heard around the world. However, with the Sussexes, announcing their pregnancy on Valentine's day carries special significance for the couple. On Valentine's Day 1984, Princess Diana announced to the world that she was pregnant with Prince Harry (via UPI). The Royals are known for their love of tradition and giving nods to the past. Harry and Meghan seem to be no exception. The relationship between the Sussexes and senior British Royals has been reported as "tense" following the couple's 2020 decision to leave their royal duties in the U.K. for a private life in southern California. Despite these rifts, the couple is clearly still deeply tied to their roots in England.
The couple's choice to honor Diana's memory through their children was not entirely unexpected. In an interview with People Magazine, Harry says, "I honor my mother in everything that I do. I am my mother's son." Meghan is known to share a similar sentiment about her late mother-in-law, and the two women are often compared for their relative outspokenness about the pressures of royal life. Prince Harry has expressed his belief that his mother would have approved of Meghan and that the two would have been great friends. Other royals believe this would have also been the case. In an interview with Harpers Bazaar, Sarah Ferguson, Dutchess of York, said, "If she were sitting with me right now, I know she would say, 'I am so proud of both of my boys and the wonderful wives they have chosen.'" Unfortunately, Diana died in a car accident in Paris in 1991 but remains an ever-present figure in her sons' lives.
For the love of family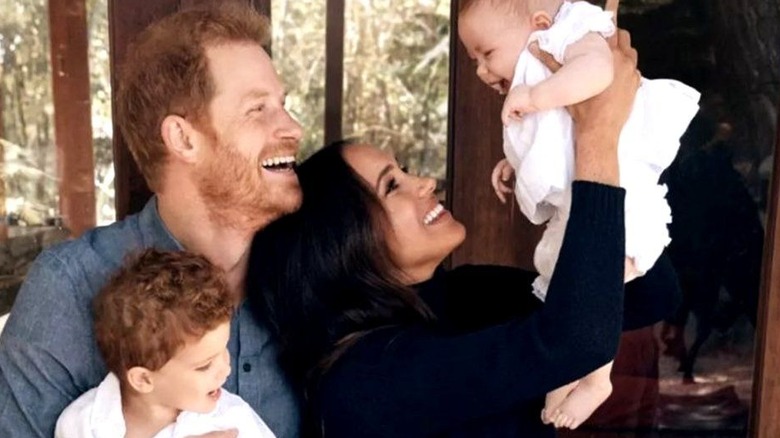 A baby announcement is a difficult Valentine's Day tradition to carry on year after year. As a newly minted family of four and after an Oprah interview in which Megan claims she is done having kids, it's doubtful that we'll see this tradition carried on by them in the future. So what does Valentine's Day look like for the couple going forward? Harry has fully leaned into Meghan's laid-back lifestyle now that they have taken up residence in southern California, and the couple is also incredibly private. 
Opting not to have a presence on social media and publishing the bulk of their public statements through their joint venture, Archewell Foundation, means we will not likely get a play-by-play on the couple's Valentine's Day celebrations in the near future. For now, we'll have to settle for the sporadic glimpses the couple decides to give us into their private lives, but if it's one thing we do know to expect from these nontraditional royals, it is that the day of love will be celebrated as a family.