What Will Happen To Anna Duggar While Husband Josh Is In Jail?
Trigger warning: Sexual abuse towards children.
After a lengthy trial, Josh Duggar of "19 Kids and Counting" fame was charged with possession of child pornography (via CNN). After the case was heard in court, he had to wait several months before he was sentenced. Judge Timothy Brooks sentenced the former reality star to 12 years behind bars, followed by 20 years of supervised release and a hefty fine.
Throughout the trial, members of the Duggar family came forward with their feelings about the charges against Josh. Some of his siblings, like Jill Dillard and Jinger Vuolo, were unafraid to speak out against him (via USA Today). Vuolo made an especially powerful statement on Instagram. "We are thankful to God for exposing Josh's actions and to a legal system committed to protecting the innocent and punishing the guilty in this case. We are grateful for justice," she wrote.
However, not all of the Duggars were against Josh following his charges and sentencing. His parents Jim Bob and Michelle Duggar stood strongly behind him, but no one has supported him more than his wife Anna Duggar. Now that Josh Duggar has been sentenced to over a decade behind bars, all eyes seem to be on her future.
If you or anyone you know has been a victim of sexual assault, help is available. Visit the Rape, Abuse & Incest National Network website or contact RAINN's National Helpline at 1-800-656-HOPE (4673).
Anna Duggar's future is up in the air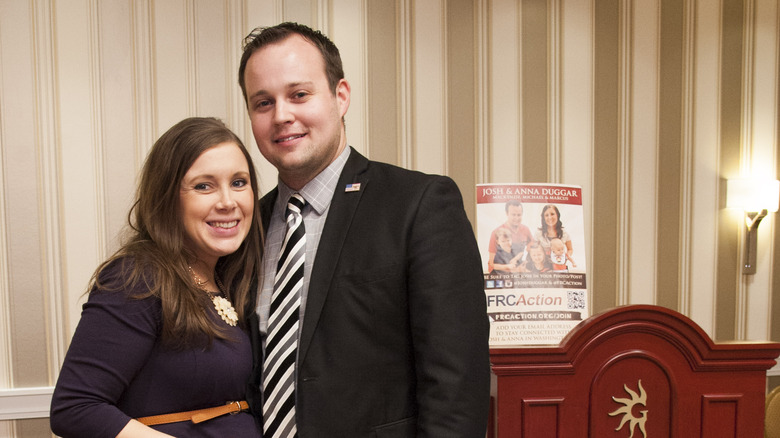 Kris Connor/Getty Images
Anna Duggar has supported her husband throughout his arrest and sentencing (via The U.S. Sun). During the sentencing, she issued a plea on behalf of her husband. "Joshua is an engaged dad who gladly throws a football with his sons, listens to our daughters play a new song they have learned on the piano, helps answer homework questions, or lends a hand sweeping up spilled crackers," she said. Her statement added, "My children and I rely on Joshua for financial, emotional, and physical support. Many others depend on Joshua, too."
Whether her plea was taken into consideration is unknown, but now, all eyes are on her and her children's future. Josh Duggar and Anna share seven children, and the Duggar family is reportedly more than willing to help support them until Josh is out of prison. An insider told In Touch that Anna's decision is going to be difficult. "Anna wasn't shocked. She is relieved that it's over though. Now comes the hard decision, whether to stay and wait for Josh to come out or start her life over without him."
Jim Bob and Michelle Duggar, her in-laws, are not the only ones to offer the family a place to stay. Josh's cousin, Amy Duggar, offered her family a place to crash. However, it's unlikely Anna will accept the offer as Amy has been vocally opposed to Josh's conduct and encouraged Anna to divorce him, according to In Touch.