Jinger Duggar Has Something To Say About The Josh Duggar Verdict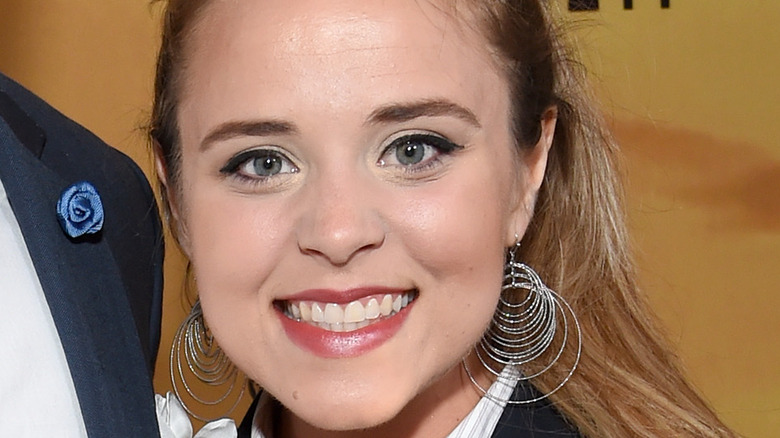 Michael Kovac/Getty Images
The Duggar family put on a smiling face to the world on their TLC shows "19 Kids & Counting" and "Counting On." But behind that cheerful front were some very dark secrets that have been laid bare in the last few weeks. The family's oldest son, Josh Duggar, was recently found guilty of receiving and possessing child sexual abuse material (CSAM for short), and is now in jail awaiting sentencing (via People). 
Several of Duggar's family members have spoken out about the verdict, including sisters Jill Duggar Dillard and Jessa Duggar Seewald. Both expressed gratitude for the justice system, sorrow for all the victims of CSAM, and support for their sister-in-law Anna and her seven children. However, both stopped short of actually mentioning their brother in connection with his crimes. Another sister, Jinger Duggar Vuolo, was more specific on that point.
Vuolo and her husband, seminary student Jeremy Vuolo, released a statement on their Instagram accounts shortly after the trial ended. "We are saddened for the victims of horrific child abuse. We are also saddened for Josh's family, his wife and precious children," they began. Then they spoke out directly against the former reality show star. They accused Josh, who "claims to be a Christian," of hypocrisy and of dishonoring the name of Jesus. His actions, they said, would make the public "question the legitimacy of a Savior whose so called followers privately delight in the sins they publicly denounce." They even hinted of divine retribution: "For Josh, we fear for his soul."
Fans are applauding Jinger Duggar Vuolo's bravery
The Vuolos went on to condemn child sexual abuse as "an evil God hates," and quoted Bible verses referencing Jesus' commands to love and care for children (via Instagram). They concluded, "We are thankful to God for exposing Josh's actions and to a legal system committed to protecting the innocent and punishing the guilty in this case. We are grateful for justice. We are praying for further justice, vindication, protection, and healing for all those who have been wronged."
Jinger Duggar Vuolo's post has received nearly 156,000 likes as of this writing. Her sister Jill indicated a like for Jeremy's duplicate post. Both of them opted to turn off comments for the statement, but fans nevertheless weighed in via a repost on the Without a Crystal Ball account. Host Katie Joy cheered, "Hell Freaking Yes, Jinger! We stand with you!" Many others agreed. "[T]his is awesome," wrote one. "Finally actually mentioning Josh. Holding him accountable. Kudos to both Jinger and Jeremy not holding back." Another noted Vuolo's bravery in risking her relationship with her parents: "Wow. Amazing statement. Absolutely the best I've seen so far. Proud of them for speaking out regardless of the repercussions of her father."
However, yet another commenter on Without a Crystal Ball noted that the only siblings who have spoken up so far have been the older sisters: "[W]e need John David or Joe now as there's a big quiet from the older Duggar boys." Fans will be keeping an eye out for reactions from other members of the famous family.