Beto O'Rourke Crashes Greg Abbott's News Conference And Twitter Is Here For It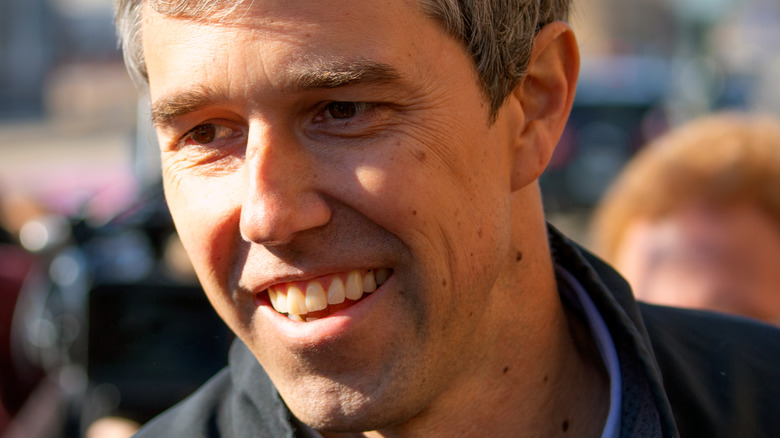 Juli Hansen/Shutterstock
Following the tragic shooting in Uvalde, Texas that left 19 elementary school students and two adults dead (via AP News), there has been a public outcry for change to prevent anything like that from happening again. Government officials are especially putting pressure on their colleagues that are not putting in the effort to bring forth change.
Alexandria Ocasio-Cortez called out Ted Cruz, the Texas Senator, who posted a tweet about praying for the victims. Occasio-Cortez replied by bringing up an event he is due to attend in a few days for the National Rifle Association. In doing so, she put his actions on blast.
She is one of several lawmakers calling for change. Perhaps no one is at the forefront of the issue more than Beto O'Rourke, who is running to become governor of Texas. He has not only been vocal about his stance but is also attending meetings and working for change (per Reuters). He even interrupted the current governor's press conference on the issue and was applauded for his actions.
Twitter couldn't get enough of Beto O'Rourke's interruption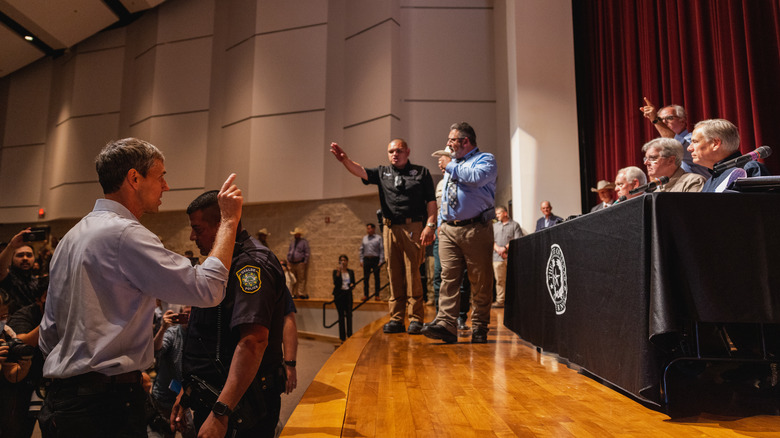 Jordan Vonderhaar/Getty Images
Beto O'Rourke showed up and interrupted Texas Governor Greg Abbott's press conference on the tragic mass shooting at Robb Elementary in Uvalde, Texas (via CNN). O'Rourke is hoping to defeat Abbott in the upcoming gubernatorial race, and he made it clear that they couldn't be more different.
He called out Abbott in front of a crowded press conference. "The time to stop the next shooting is right now and you are doing nothing.," he said. "Hell yes, we're going to take your AR-15, your AK-47. We're not going to allow it to be used against our fellow Americans anymore."
Twitter couldn't get enough of O'Rourke's interruption. Fred Guttenberg, who lost his daughter in the Parkland shooting, tweeted, "You are my hero @BetoORourke. From the bottom of my heart, for my daughter Jaime and all victims of gun violence, thank you." Another Twitter user chimed in. "What Beto O'Rourke did today was simply heroic," they wrote. "He stood up for something he clearly feels deeply about, and didn't second-guess himself about consequences – very unlike most politicians."
Many tweets called for the citizens of Texas to vote for O'Rourke following the press conference moment.