Donald Trump Puts Kellyanne Conway On Blast Over A Big Claim She Made In Her Memoir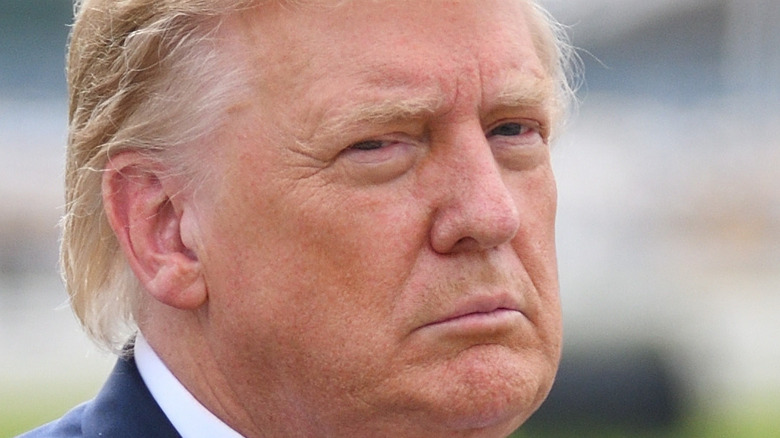 Evan El-Amin/Shutterstock
We may receive a commission on purchases made from links.
From besties to breakup, former President Donald Trump puts his former White House counselor Kellyanne Conway on blast. The controversy stems from Conway's May 2022 memoir titled, "Here's The Deal." Conway famously joined the Trump campaign in the summer of 2016, according to the The Washington Post, as a senior adviser. 
From there, she would grow to be seen as a highly linked and influential part of the Trump White House. The duo were once seen to be so closely intertwined that The New York Times reported even critical campaigns against the POTUS by Conway's husband, George Conway, could not undermine the relationship between Kellyanne and the Trumps.
However, all good things must come to an end as the adage says. Conway left the White House in August 2020, as shared by Politico, citing family and personal issues. And according to the polarizing strategist's new book, her recollections of her time as a political confidant differ in rather explosive ways from those of her former-POTUS boss.
Conway says Trump lost the election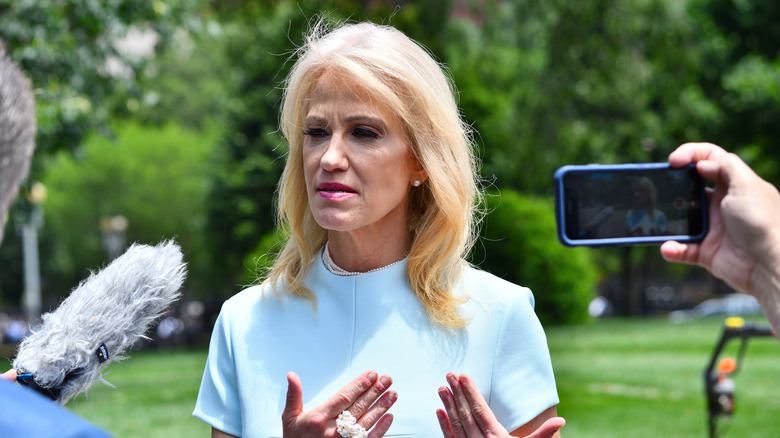 Evan El-Amin/Shutterstock
While no longer a direct employee, strategist and counselor, Kellyanne Conway, was apparently still connected with the Trump family leading up to and after the 2020 presidential election as told in her memoir "Here's The Deal" (via New York Post). In her memoir, she describes her experience with the contested election and the events of January 6, 2021. Conway shares her thoughts regarding the campaign team and how they failed to get Trump re-elected, noting, "The team failed on November 3 and they failed again afterward." 
This election failure, however, has been hotly contested.
Conway shares that Trump's inner circle would not confront the election results, saying, "I may have been the first person Donald Trump trusted in his inner circle who told him that he had come up short this time," as reported in the New York Post. Trump quickly clapped back on Truth Social, "Kellyanne Conway never told me that she thought we lost the election. If she had I wouldn't have dealt with her any longer –- she would have been wrong –- could go back to her crazy husband​."
Continuing his rebuttal, Trump added, "Writing books can make people say some very strange things. I wonder why? Got 12 million more votes than we did the first time, the most votes, by far, of any sitting President. The election was RIGGED. They used COVID to cheat and steal, and the evidence is massive and indisputable​." Trump's statement concludes with a reference to the disputed Dinesh D'Souza film, "2000 Mules."